PSEi plunges to 6,900 level on Omicron worries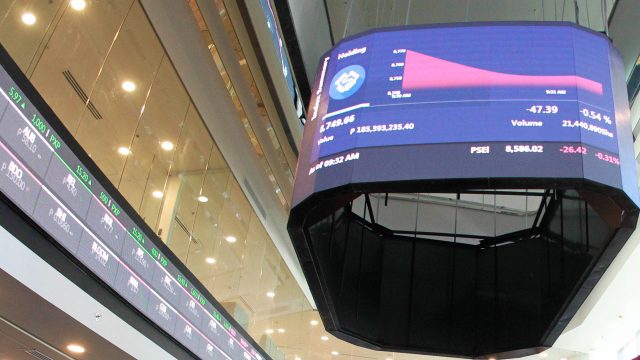 THE MAIN INDEX plunged on Wednesday on worries over the effectivity of vaccines against the new coronavirus disease 2019 (COVID-19) variant and the government's pandemic response.
The benchmark Philippine Stock Exchange index (PSEi) fell 253.82 points or 3.52% on Wednesday to close at 6,947.06, while the broader all shares index went up by dropped 103.75 points or 2.70% to 3,734.38.
"The PSEi declined amid lingering concerns over the Omicron coronavirus variant, especially as much has yet to be known about it and if the existing vaccines and pills are still effective about it, thereby a source of uncertainty for the market," Rizal Commercial Banking Corp. (RCBC) Chief Economist Michael L. Ricafort said in a Viber message.
Moderna, Inc. Chief Executive Stéphane Bancel on Tuesday said the current vaccines may not be effective against Omicron, the new COVID-19 variant, Reuters reported.
"Adding to the concerns is Bloomberg's COVID Resilience Index in which the Philippines remained at the bottom," Philstocks Financial, Inc. Senior Research and Engagement Supervisor Japhet Louis O. Tantiangco said in a Viber message.
The Philippines remained to be the worst place to be during the pandemic for the third straight month in the latest Bloomberg COVID-19 Resilience Ranking released on Tuesday, followed by neighbors Indonesia, Vietnam, and Malaysia.
"On top of this, investors also reacted to US Federal Reserve Chair Jerome Powell's latest remarks before the Senate Banking Committee, wherein [he] said the central bank could speed up its tapering process to end sooner than previously telegraphed in the face of rising inflationary pressures," Regina Capital Development Corp. Head of Sales Luis A. Limlingan said in a Viber message.
High inflation, stalled work force growth, and strong economy is expected to last until mid-2022 as US central bankers will discuss in December whether to end their bond purchases earlier than anticipated, Reuters reported.
All sectoral indices went down on Wednesday. Property plunged 165.26% or 5.01% to close at 3,131,87; services tumbled 73.71 points or 3.71% to 1,912.77; holding firms decreased 226.17 points or 3.26% to 6,706.67; industrials lost 246.72 points or 2.36% to 10,193.03; financials dropped 37.12 points or 2.36% to 1,525.73; and mining and oil declined by 185.19 points or 1.96% to end at 9,255.37.
Value turnover decreased to P14.43 billion with 1.37 billion shares traded on Wednesday from the P28.02 billion with 2 billion issues that switched hands on Monday.
Decliners beat advancers, 165 against 40, while 42 names closed unchanged.
Foreigners turned sellers anew, recording P1.25 billion in net outflows on Wednesday, a reversal of the P651.50 million in net purchases on Monday.
"Next important support at 6,730-6,870 levels to help keep intact the underlying upward trend over the past four months," RCBC's Mr. Ricafort said. — M.C. Lucenio with Reuters