Standard Chartered Bank (SCB), through its global COVID-19 fund aid, donates protective personal equipment (PPE) to help augment the limitedmedical suppliesin the country. In partnership with the Philippine Business for Social Progress and Bayanihan Musikahan, the bank will give more than 6,600 PPE sets which include reusable coveralls, shoe covers and faceshields to 20 hospitals and treatment centers in the National Capital Region.
SCB Head of Corporate Affairs, Brand and Marketing Mai Sangalang, together with employee volunteers, recently led the distribution of 800 PPE sets to San Juan De Dios (SJDD) Hospital in Pasay and Victor R. Potenciano Medical Center (VRPMC) in Mandaluyong City.  These were received by SJDD Medical Director Dra. Mirla Severino and VRPMC Nursing Division Head Mabel Oamil. The hospitals extended their gratitude for the bank's donation as they are currently providing care and treatment to positive and suspected COVID-19 patients.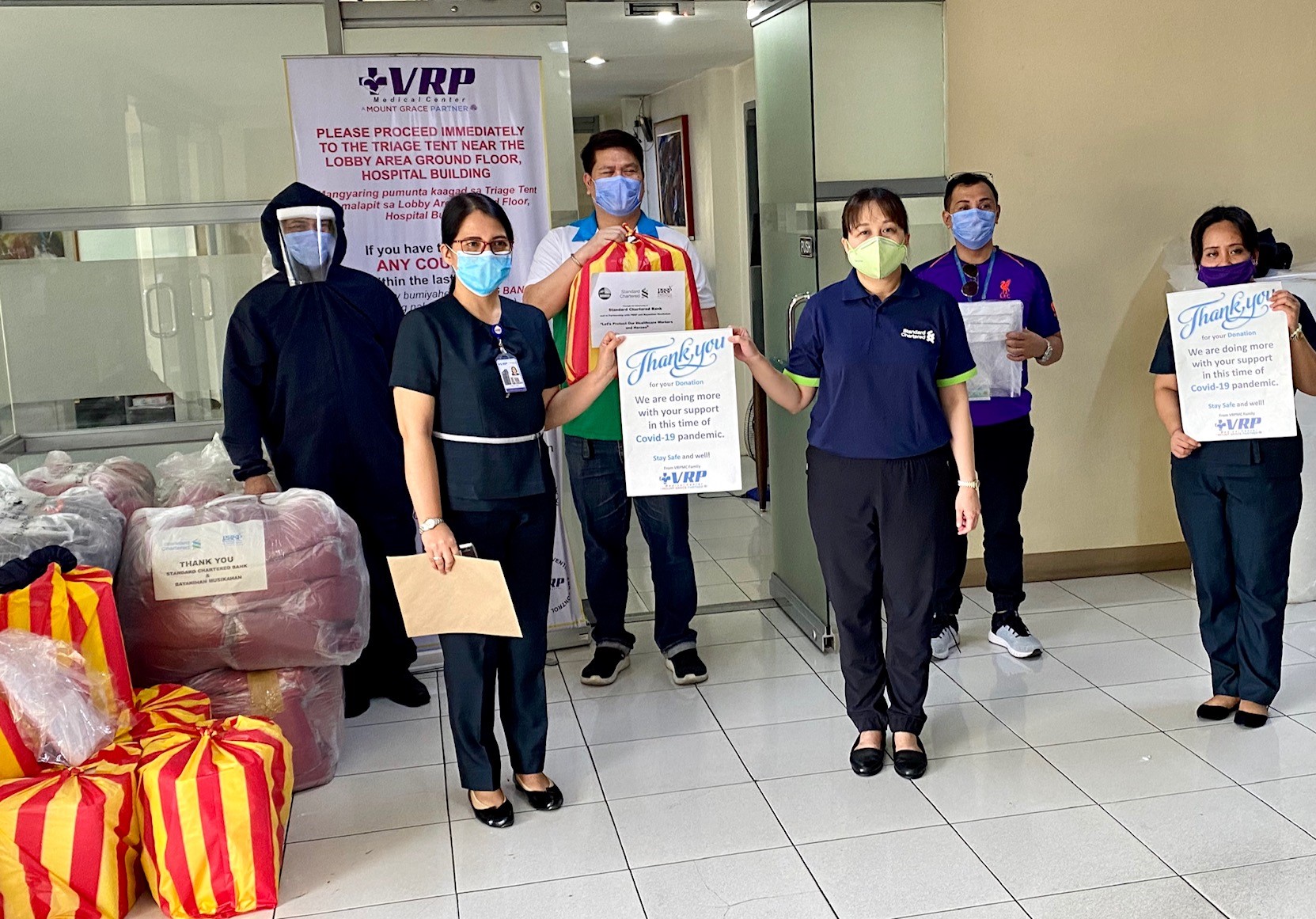 Mai Sangalang said, "There is a global shortage of medical supplies and equipment and many Philippine hospitals are trying to supplement with improvised PPEs. Healthcare workers rely on PPEs to protect themselves but shortages endanger the lives of medical doctors, nurses and other frontline workers. The bank-donated PPEs will help keep healthcare workers safe and somehow relieve the shortage."
Standard Chartered Bank Chief Executive Officer Lynette V. Ortiz highlights Standard Chartered Bank's commitment to help all sectors affected by COVID-19.   "The bank has always been passionate about going beyond banking and we are pleased to be able to extend support for the safety of our health workers.  Globally, the bank's priority is to immediately get the essential products and services to the front line through a $1 billion loan financing on preferential terms to companies that are providing goods and services to help fight COVID-19."
Other beneficiary hospitals are RITM Muntinlupa, San Lazaro Hospital, UP-PGH, Delos Santos Medical Center, Medical Center Muntinlupa, Amang Rodriguez Memorial Medical Center, Rizal Medical Center, San Lorenzo Ruiz General Hospital, Medical Center Taguig, Trinity Medical Center, Cardinal Santos Medical Center, United Doctors Medical Center, World Citi Medical Center, Medical Center Manila, Cruz-Rabe Hospital, Dr. Jose M. Rodriguez Memorial Hospital, Las Pinas General Hospital, and Quirino Medical Center.