Games Today
(Mall of Asia Arena, Pasay City)
10 a.m. — FEU vs ADMU (men)
12 p.m. — FEU vs ADMU (women)
2 p.m. — DLSU vs AdU (women)
4 p.m. — DLSU vs AdU (men)
FINAL Four-bound De La Salle University (DLSU) spikes for a sure top-two finish and a twice-to-beat bonus when it tangles with fellow hopeful Adamson University (AdU) in a vital clash nearing the tailend of the UAAP Season 85 women's volleyball tournament today at the Mall of Asia Arena in Pasay City.
Action sizzles at 2 p.m. with the league-leading DSLU Lady Spikers (10-1) want no complications among their chasers with a win-once incentive that would put them in prime position for a redemption bid after a runner-up finish last season.
Fifth-running Far Eastern University or FEU (5-6), at 12 p.m., is out to keep its slim semifinal hopes burning against also-ran Ateneo de Manila University (ADMU) (5-7) which got a rare boot last weekend for the first time in 14 years.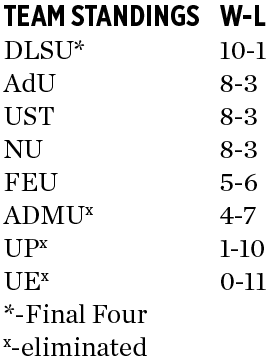 De La Salle as early as last week became the first team to get in the Final Four, leaving only three spots left up for grabs among Adamson (8-3), University of Santo Tomas (8-3), reigning champion National University (8-3) and FEU.
With University of Santo Tomas (UST) and NU still set for their own crucial duel next week that will drag one team to four losses, De La Salle potentially with 11 wins could secure one of the two bonuses if it succeeds in handing Adamson's fourth loss as well.
But the Lady Spikers are not keen on looking ahead, taking it step by step instead after being sent to the ground by the Golden Tigresses for their lone loss that erased all their eliminations sweep and outright finals appearance aspirations.
The Lady Falcons, for their part, vow to be locked-in just to match a formidable De La Salle squad with immense firepower and defensive prowess if they wish to stay in the thick of the top-two race — especially after a 25-22, 14-25, 16-25, 19-25 loss in the first round.
In the men's tilt, FEU (6-5) and De La Salle (6-5) battle Ateneo (5-6) and Adamson (1-10) at 10 a.m. and 4 p.m., respectively, to maintain their spots inside the Final Four in the last three games. Reigning champion NU (11-0) and Santo Tomas (10-1) have already clinched the top two seeds and twice-to-beat incentives. — John Bryan Ulanday