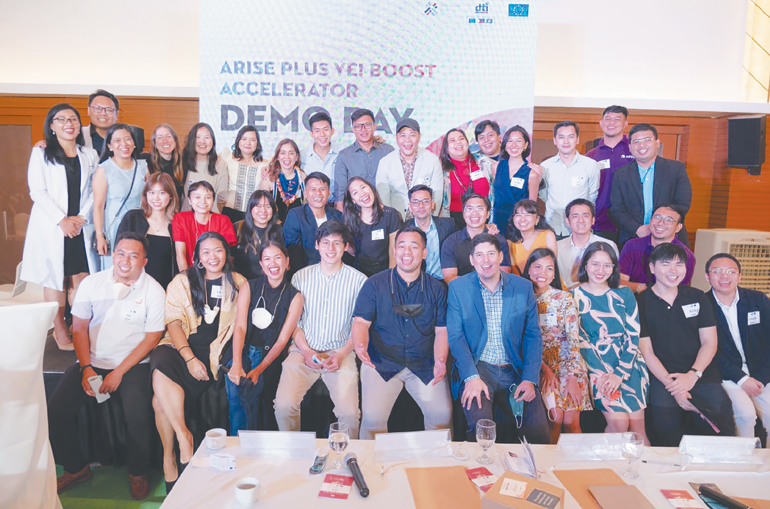 The International Trade Centre (ITC), through the ARISE Plus Philippines project, funded by the European Union, in partnership with the Department of Trade and Industry (DTI) and QBO Innovation Hub, brought together the first-ever cohort of the Arise Plus Ye! Boost Accelerator for an in-person culminating demo day.
Through the ARISE Plus Ye! Boost Accelerator,12 startups were selected as the first cohort this year to undergo a 14-week program aimed to support young entrepreneurs under 35 years old to get their businesses ready for internationalization.
These 12 startups will be able to expand their business globally. ITC created international linkages to support the startup founders' expansion plans and provided international mentors to guide in investor readiness. To further support these efforts, the DTI has invited mentors from the Philippine Trade Training Center to lend their expertise to these startup founders.
The Arise Plus Ye! Boost program has allowed QBO Innovation Hub to enable more young Filipino entrepreneurs to grow & scale their ventures while kickstarting their path towards internationalization. The success of the program wouldn't have been possible without the unwavering support of ITC, who have been instrumental in further strengthening the founders within the local startup ecosystem," Alwyn Rosel, head of Startup Development, QBO Innovation Hub shares.
The program culminated with the organization of an in-person pitching competition last June 29 at the Blue Leaf Events Pavilion, Mckinley, Taguig City. Eight startups participated in the internationalization-focused accelerator showcasing their progress and key program milestones as they pitched live, under time pressure. The event gathered over 100 attendees hailing from various sectors — including investors, venture capitalists, incubators, startup ecosystem enablers, and government representatives.
The panel of judges to the pitching competition, were led by Rene 'Butch' Meily, president, IdeaSpace Foundation and QBO Innovation Hub; Maes Alconcel, National Project coordinator, ARISE Plus Philippines; Miguel Encarnacion, managing director, ICCP SBI Venture Partners; and Melvin Jeffrey Chan, vice-president and head, PLDT Enterprise Innovations and IOT Business Development. Three startups were hailed winners — Panublix, Empath, and Alaga Health, who earned 1st, 2nd, and 3rd place respectively.
Panublix is a sourcing platform connecting designers and creatives with regenerative Philippine tropical textiles & artisan craft, co-created with nature and cultural heritage. Through the Arise Plus Ye! Boost Accelerator, Panublix reevaluated its venture and shifted its focus toward regenerative fashion through the farm to fabric model.
Sharing a piece of advice to aspiring young entrepreneurs, Noreen Bautista of Panublix said, "If you want to be a startup founder, prepare for the long game. This is an endurance sport filled with highs and lows. But if you are not afraid to fail, if you embrace learning, can build a team and support system, and are obsessed [with] solving a problem for your customers, then you are already in a good position to win."
Empath is an online platform providing telemental health and psychoeducation services. During the course of the program, Empath expanded their customer base and roster of psychologists as well as acquired international clients. "Before joining the program, we had plans to scale and internationalize the business but no concrete details and structure. After ARISE Plus Ye! Booster, we gained knowledge from industry experts and became more strategic in scaling the business — from bootstrapping to being open to Angel and Impact Investors," Steph Naval of Empath shared.
Alaga Health is a digital health marketplace & service aggregator that gives patients and healthcare providers end-to-end access to virtual & in-person health services. Through the program, Alaga Health was able to grow its LGU partners from one to 14 and validated Overseas Filipino Workers' need for on-demand consultation with Filipino doctors.
Dr. Dexter Galban of Alaga Health shared, "[The Arise Plus Ye! Boost Accelerator] has led us to effectively reframe and recalibrate our approaches for technology development, marketing, sales & partnership building. Since the hybrid rollout was highly flexible and tailored to our needs, Alaga Health was still able to conduct our first international showcase in Switzerland, establish partnerships with international entities (UN WIPO, IFPMA, ITC, and PH Mission to the UN), conduct several product demonstrations nationwide, forge collaborations with over 14 LGUs, and build our MSME client portfolio." With that, he continued, "Despite external headwinds & growing pains, Alaga Health became even more relentlessly driven to succeed both locally and globally."
As ITC, DTI, and QBO aim to continue supporting Filipino startups to scale their ventures and bring them to international markets — they are set to launch the second cohort of the Arise Plus Ye! Boost Accelerator soon.