MPIC distributes AstraZeneca vaccines to local governments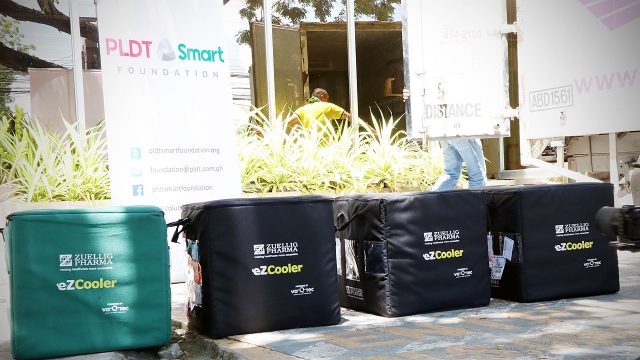 METRO PACIFIC Investments Corp. (MPIC) and PLDT, Inc. are giving and initial 50,000 doses of AstraZeneca vaccines to five local governments, with the cities of General Santos and Davao in Mindanao the first to receive their share.   
"We know that our local executives have been very busy 24/7 and remain at the frontlines as the COVID-19 (coronavirus disease 2019) pandemic continues to endanger lives, especially with new variants arising… we understand that the situation calls for 'all-hands-on deck'," MPIC Chairman Manuel V. Pangilinan said during last week's virtual turnover ceremony for the initial 5,000 doses allocated to Davao City.   
MPIC, in a statement Friday, said the vaccine donation is intended to augment the ongoing vaccination efforts of the government through the supply of 2.6 million doses purchased by the private sector.   
The three other local government beneficiaries are Bacolod City in the Visayas, and Malabon and Navotas in Metro Manila.   
"We join you in our common goal to attain herd immunity as soon as possible. We pray that the pandemic may end soon, but while we might still have a long way to go before we can truly revert to normal, be assured of our support to make the way less painful for our countrymen," Mr. Pangilinan said.   
MPIC said a second batch of 50,000 AstraZeneca doses are expected to arrive early next year. The group has yet to identify the beneficiaries.     
MPIC is one of three key Philippine units of First Pacific, the others being Philex Mining Corp. and PLDT, Inc. Hastings Holdings, Inc., a unit of PLDT Beneficial Trust Fund subsidiary MediaQuest Holdings, Inc., has a majority stake in BusinessWorld through the Philippine Star Group, which it controls. — MSJ