Home
Editors' Picks
Filipinos are googling unapproved COVID-19 treatments instead of vaccines
Filipinos are googling unapproved COVID-19 treatments instead of vaccines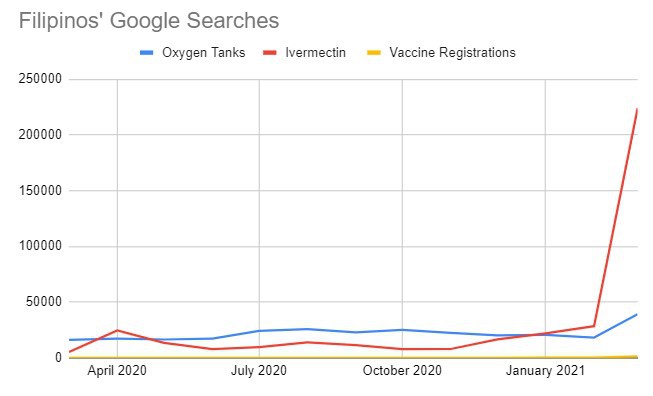 FILIPINOS are googling unapproved coronavirus disease 2019 (COVID-19) treatments instead of vaccine registrations as the recent surge has driven netizens to look for alternative ways to cope with the virus, according to a study by meta-search website iPrice Group.
"This could be problematic for the country's efforts to eradicate the virus, as studies show that an estimate of 50-80% of the population needs to be inoculated to achieve herd immunity," iPrice said in a statement.
DIY TREATMENT
Ivermectin, an unapproved drug for COVID-19, reached a Google search volume of 224,110 in March 2021, an increase of 687% compared to the previous month. Comparing Google search results between March 2021 and November 2020, when awareness of the drug was still low, yields an even higher surge of interest: 2,705%.
"From a scientific standpoint, the recommendatory bodies say there is not yet enough evidence for ivermectin as a treatment or prevention measure for COVID-19," said Dr. Anna Lisa T. Ong-Lim, a professor of the University of the Philippines and the division chief of the Philippine General Hospital's infectious and tropical diseases in pediatrics. Ivermectin, she added in a recent webinar, can be a stand-in for anything, like orange juice.
"We have fear and frustration, so we put our faith into something that people say works," she said. "We need to address this fear and frustration na mahawaan [of being infected]."
Wearing a mask, physical distancing, and hand washing are still the best forms of prevention, she added.
At another virtual event, Dr. Benjamin G. Co, an infectious disease medical practitioner, clinical pharmacologist, and former director of the Center for Drug Regulation and Research, said it was necessary to look at the safety data.
"I'm not for or against ivermectin. I'd like to compare all the data that is out there. Who knows, it [could be] a possibility in the future as we collect more data," he said at a fireside chat organized by the Philippine-American Academy of Science and Engineering (PAASE).
OXYGEN TANKS
Interest in oxygen tanks is similarly experiencing a similar trend, as Google searches for such increased by 115% in March 2021 compared to last month. Searches on oxygen tanks have reached an all-time high of 39,160 throughout the year, or from March 2020 to March 2021, said the iPrice Group report. Oxygen tank searches are still in an upward trajectory in the first weeks of April, according to Google Trends, which predicts about a 376% surge in searches compared to March.
Filipinos who have fallen ill have already resorted to buying oxygen tanks. "We are lucky that we have the resources," Manila resident Jomarlo Moreno told Bloomberg. "What about others who do not?" His family bought an oxygen tank for an asthmatic relative who tested positive for COVID-19 but could not be accommodated in a hospital ward. Many hospitals in Manila have reached capacity from the recent rise of cases.
VACCINE HESITANCY
Vaccine registration queries, meanwhile, are much lower in comparison. Per iPrice Group's research, there were an estimated 1,430 Google searches on the keywords "vaccine registrations" in March 2021 — about 157 times lower than searches on ivermectin, and about 27 times lower than searches on oxygen tanks.
The numbers dovetail with a Pulse Asia survey that found 6 out of 10 Filipinos don't want to get vaccinated against COVID-19 due to doubts about the vaccines' safety, efficacy, and necessity. In all, the Google search volume of vaccine registrations (2,070) from January to March 2021 accounts for 0.0047% of the country's Google population.
Doctors, meanwhile, are assuring the public that the quick development of a COVID-19 vaccine does not mean it is unsafe. "A vaccine may not prevent you from getting infected, but it will certainly prevent severe disease," said Dr. Ruby U. Pawankar, president of the Asia Pacific Association of Allergy Asthma and Clinical Immunology, at an April 13 webinar on COVID-19 vaccines and allergies. "Whatever is available in your country, please take it." — Patricia B. Mirasol
Data on Google searches were obtained from Google Keyword Planner's search volumes from March 2020 to March 2021. The keywords "vaccine registration," "vaccine registrations," "Ivermectin," "oxygen tanks," and "oxygen tank" were recorded. Data on the same keyword searches were observed for April's data in Google Trends.