Filipino Paralympians raring to compete at Tokyo Games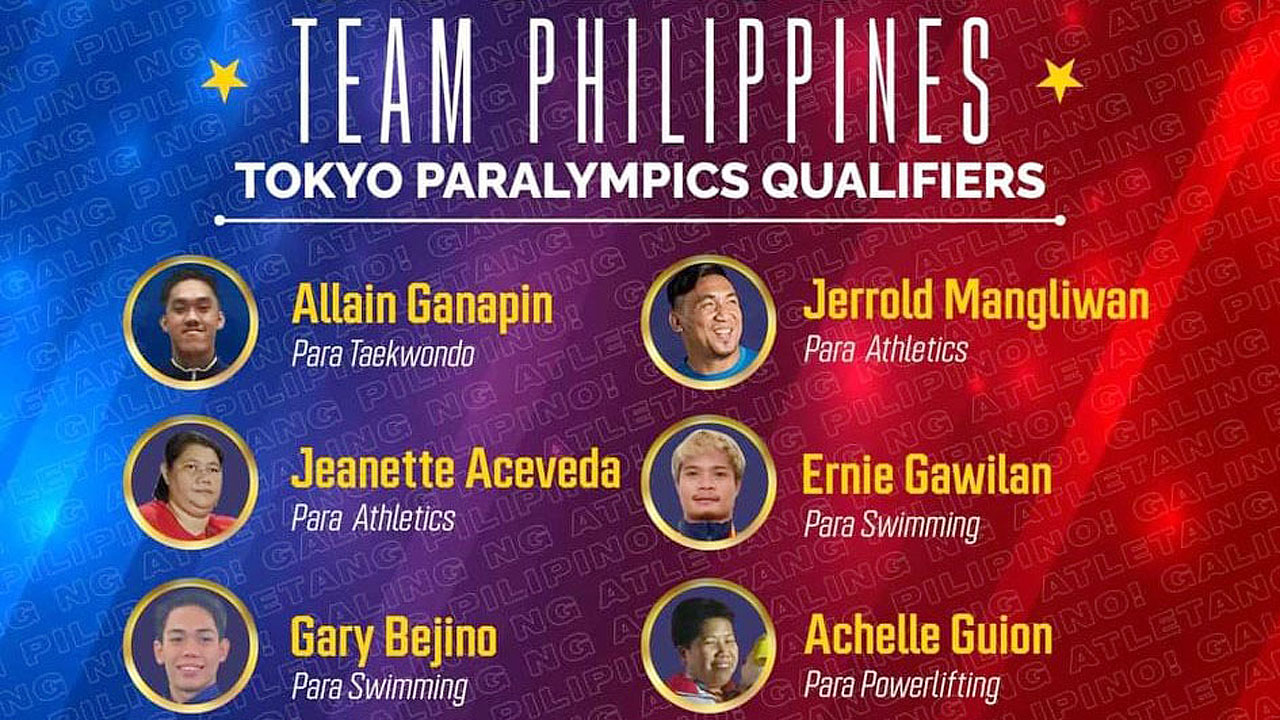 By Michael Angelo S. Murillo, Senior Reporter
AFTER the able-bodied Olympians, it is now the para-athletes' turn to represent the country on the international stage.
Six Filipino Paralympians are set to compete at the Paralympic Games in Tokyo from Aug. 24 to Sept. 5, and all are raring to showcase what they are capable of, Team Philippines Chef de Mission Francis Carlos B. Diaz said.
"All of them are committed to maximizing the opportunity given to them. This is an important event for the athletes. Each one of them knows the significance of their participation in the Paralympics much like our able-bodied Olympians," said Mr. Diaz in a Zoom interview with BusinessWorld.
Team Philippines is bannered by two athletes for para-athletics (Jerrold Mangliwan/wheelchair racing and Jeanette Aceveda/discus throw), two for para-swimming (Ernie Gawilan and Gary Bejino), and one each for para-taekwondo (Allain Ganapin) and powerlifting (Achelle Guion).
Mr. Diaz, also the dean of the College of Human Kinetics at the University of the Philippines, said all the para-athletes are doing well in their respective training "bubbles" and keeping themselves safe and healthy before they leave for Tokyo on Aug. 22.
He also gave credit to the Philippine Sports Commission (PSC) for having their back since the start, providing what they needed as the athletes vied for spots in this year's Paralympics.
"PSC has been magnificent in supporting the athletes. It has been providing provisions for their bubble training and making it possible for our athletes to compete in qualifying events," Mr. Diaz said.
Recently, the PSC gave an additional P100,000 allowance for the para-athletes competing in Tokyo, hiking the total to P150,000 each.
Filipino para-athletes also stand to receive cash incentives if they win a medal, something Mr. Diaz said only serves as added motivation for them.
"Apart from representing the country there, the possibility of being able to change their lives if they win a medal is something at the back of their mind. Of course, they know it is output-based. They have to win first. But at least, it is there for them," the sports official said.
Under Republic Act 10699, or the incentives act, a Paralympic gold medalist will receive P5 million from the government while a silver medalist will get P2.5 million. The bronze medalist will be rewarded with P1 million.
The Manuel V. Pangilinan (MVP) Sports Foundation, meanwhile, has pledged to give the same amount as incentives.
Mr. Diaz said that while the athletes are ready to compete, they recognize that it would not be easy since they are going up against fellow world-class para-athletes. But they remain determined to do well "for the country, their families and God."
"I am a believer that they can win."
The athletes and coaches are part of a 20-man contingent for Team Philippines, which also includes Mr. Diaz and other officials like Philippine Paralympic Committee President Michael I. Barredo and PSC Commissioner Arnold G. Agustin.
Mr. Mangliwan is designated to carry the country's colors in the opening ceremony while Mr. Gawilan will have the same responsibility in the closing.