Home
Agribusiness
Spanish farmers protest against plans to curb water supply for irrigation
Spanish farmers protest against plans to curb water supply for irrigation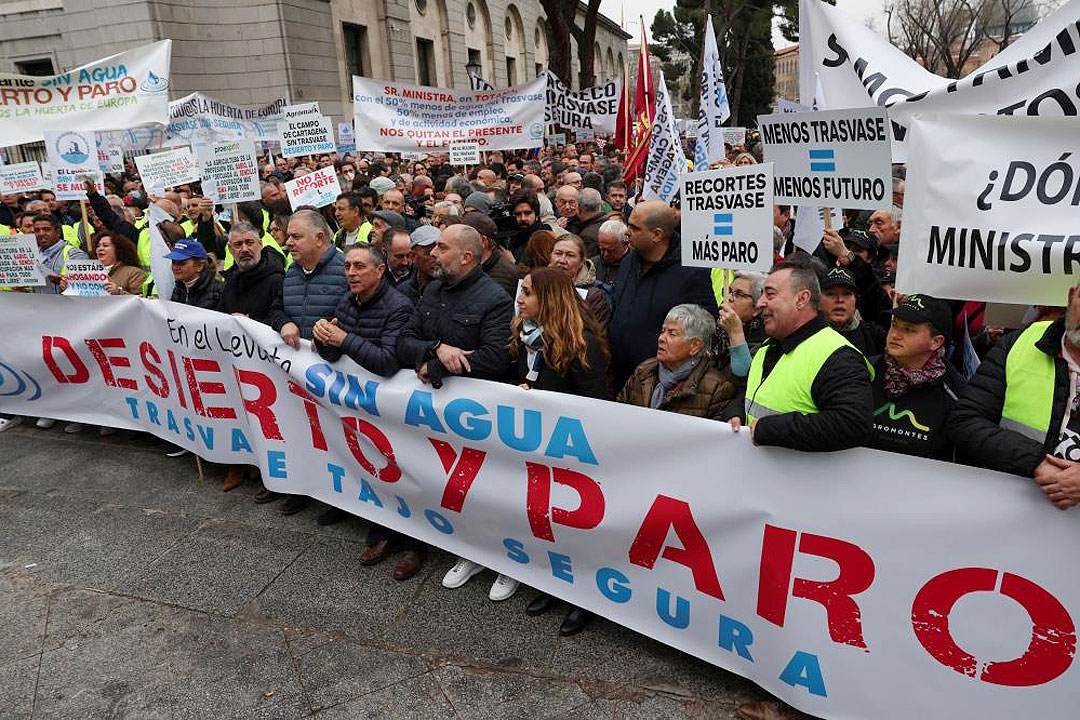 MADRID — Thousands of farmers protested in Madrid on Wednesday over Spain's plan to reduce the amount of water taken from the Tagus river to irrigate agricultural land in the country's southeast.
Spain experienced its hottest year on record in 2022. The heat, accompanied by a long drought throughout most of the year, caused reservoirs to fall to critical levels.
Environment Minister Teresa Ribera said on Tuesday the curbs were necessary to prepare the country for the effects of climate change.
But farmers and regional politicians say it will affect livelihoods given that the region affected is a major food producer dubbed "the orchard of Europe."
Murcia's regional leader, Fernando Lopez Meiras, said at the protest that the water transfer from the Tagus irrigates 70% of the fruit and vegetables exported by Spain.
He warned that 25,000 jobs could be lost if the water transfer is cut off.
The water transfer system via pipes from reservoirs in central Spain to fruit orchards in Valencia and Murcia was one of the largest hydraulic engineering projects ever carried out in the country and contributed to its development as a major fruit and vegetable exporter.
The government is acting after the Supreme Court ruled that the Tagus must have a rate of water flow that's considered "ecological," which technicians say means it must not fall below 8.65 cubic meters per second.
The government, which has not specified how this will affect the transfer of water, said the reduction will be done gradually over five years.
"The environmental excuse and the protection of the natural ecosystem are not enough," Belen Meseguer, an agricultural engineer of the small farmers union, told Reuters at the protests.
The government plans to compensate farmers by investing €8 billion to encourage the recycling of water and increase water desalination production that can be used instead. — Reuters