Philippine wages, skill gaps remain top concerns this year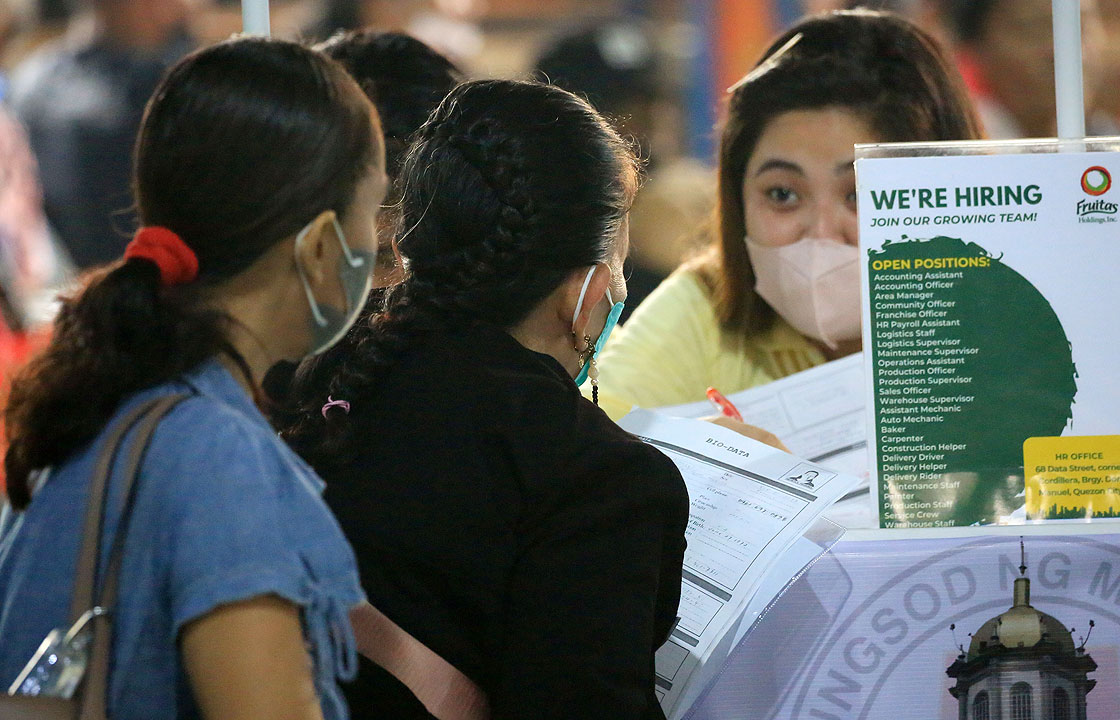 By John Victor D. Ordoñez, Reporter
JANNELLE MICA D. VIDEZ plans to leave her job as a business analyst in the Philippine capital and move to Australia to work in public relations.
"While it's true that the cost of living is also more expensive there, workers are paid better than in Manila," the 22-year-old Filipina said in a Facebook Messenger chat. "Price tags only keep getting higher here, but the quality of life remains stagnant."
Josua T. Mata, a Filipino labor activist, said the government of President Ferdinand R. Marcos, Jr. should boost its public employment program this year.
"Given the lingering effects of the coronavirus pandemic, skyrocketing inflation and a recession that many fear is inevitable, it is unrealistic to count on the private sector to generate all the jobs that we need," the secretary-general of the Sentro ng mga Nagkakaisa at Progresibong Manggagawa said in a Viber message.
The Labor department's emergency employment program is inadequate because beneficiaries don't get permanent jobs, he said. It should instead push green jobs in the renewable energy sector and rehabilitation of coastal areas where workers are badly needed to ease the effects of climate change, he added.
Mr. Mata dismissed the claim of Mr. Marcos, who has said the Philippines is unlikely to experience a recession given the country's improving jobless rate. "Rather than make baseless conclusions that completely deny our exposure to the global economy, we should be preparing our society to weather a possible economic storm."
Philippine unemployment eased to 4.2% in November, the lowest in over 17 years, as firms hired more workers ahead of the holiday season.
However, job quality deteriorated as underemployment, which shows Filipinos seeking more work, slightly rose to 14.4% in November from 14.2% in October.
The government seeks to deploy more Filipino workers overseas as it explores more labor markets, said Migrant Workers Undersecretary Hans Leo J. Cacdac.
"We are optimistic about (2023) since the number of deployments increased by 320% in 2022 compared with 2021," he said in an interview on Zoom. His agency plans to set up more offices in China, Thailand and Eastern Europe to help Filipinos find work, he added.
Land- and sea-based overseas Filipino workers fell to 1.77 million in 2020 from 2.18 million a year earlier amid a coronavirus pandemic, according to data from the local statistics agency.
Cash remittances from migrant workers, a major dollar source for the Philippines, rose to $2.91 billion in October from $2.84 billion a month earlier, according to the Philippine central bank.
Julius H. Cainglet, vice-president of the Federation of Free Workers, urged the government to review its regional wage-setting mechanism.
"The current wages are not enough to deal with inflation, and workers are not getting an adequate slice of the pie to enjoy the fruits of their labor," he said by telephone.
Labor Secretary Bienvenido E. Laguesma earlier said the National Wages and Productivity Commission and Regional Tripartite Wages and Productivity Board were closely monitoring spiraling prices of basic goods, as labor groups continue to ask for higher pay. 
Inflation quickened to a 14-year record of 8.1% in December from 8% in November.
The International Labour Organization (ILO) has said inflation continues to reduce the purchasing power of minimum wage workers.
Labor markets in the Asia-Pacific region have partially rebounded from the coronavirus pandemic, but full recovery remained uncertain, it said. The region lacks 22 million jobs to return to pre-pandemic employment levels.
In January last year, the United Nations agency said unemployment levels would likely remain above pre-pandemic levels until 2023. Global wages fell in real terms in the first half of 2022, the first time in the 21st century, it added.
"The coronavirus crisis, the cost-of-living crisis and the war in Ukraine are all creating enormous uncertainty," Manuela Tomei, assistant director-general for governance, rights and dialogue at the ILO, told a livestreamed briefing on Nov. 30.
The Kapatiran ng mga Unyon at Samahang Manggagawa trade union on Dec. 5 said low-paid workers spend more than they earn due to inflation.
Minimum wage earners who work five days a week earn P11,400 monthly, which is lower than the average monthly expenses of P15,666, it said, citing 2018 government data.
"The best way to ensure a more equitable way of setting wages is by removing all restrictions for workers to organize, collectively bargain and to strike, whenever it is needed," Mr. Mata said.
UPSKILLING
Mr. Cainglet said the government should focus on boosting jobs in the manufacturing sector instead of seeking to create a sovereign wealth fund.
"The Philippines is cash-strapped," he said. "If the government can pool money together to invest, why can't they address the problems of the everyday worker?"
On Dec. 15, the House of Representatives quickly approved on final reading the proposed Maharlika Investment Fund, which has been criticized over the alleged lack of transparency and safeguards.
The ILO has said the Philippines could boost jobs in manufacturing while it recovers from the pandemic. There were 3.667 million workers in the sector in October, lower than 4.45 million a month earlier.
Mr. Marcos said he plans on boosting employment in manufacturing and strengthening local production to reduce the country's reliance on imports.
Domini S. Velasquez, chief economist at China Banking Corp., said the government should prioritize arming the country's workforce with skills in new technologies to improve job quality.
"In this new normal where we rely more on digital technology, the government can work on expanding the physical and digital infrastructure," she said in a Viber message. "Retooling and reskilling the Filipino workforce will help them adjust quickly to this new environment."
Students should be trained in Science, Technology, Engineering and Mathematics (STEM) courses to make the Philippine workforce more regionally competitive, said Michael L. Ricafort, chief economist at Rizal Commercial Banking Corp.
"Students who take more STEM courses could help position the Philippines on the higher end of the global value chain," he said in a Viber message.
In April, the Makati Business Club said 2.4 million jobs could go unfilled if the private sector fails to pursue reforms seeking to upskill workers.
The Labor department would hold more job fairs and skill-building programs this year as part of state efforts to boost jobs, Mr. Laguesma said in a Viber message.
"In light of the current and emerging challenges in the labor market, we will further strengthen our efforts to raise the quality of human resources and ensure that current and future workforce can adapt to the changing demands of the labor market," he said. 
The government would offer more training programs for Filipino entrepreneurs this year, Mr. Laguesma said. Micro, small and medium enterprises account for 99.6% of the country's 1.08 million businesses.
The Labor department is also working with the Department of Migrant Workers and Technical Education and Skills Development Authority to craft upskilling programs, Mr. Cacdac said.
"The government should improve its healthcare and public transportation systems and come up with reasonable employment laws to improve the quality of life and ease the burden on workers," said Ms. Videz, the aspiring overseas worker. "Everything seems to be fixed by band-aid solutions. There are no long-term plans."