Senators slam gov't plan to vaccinate kids without consent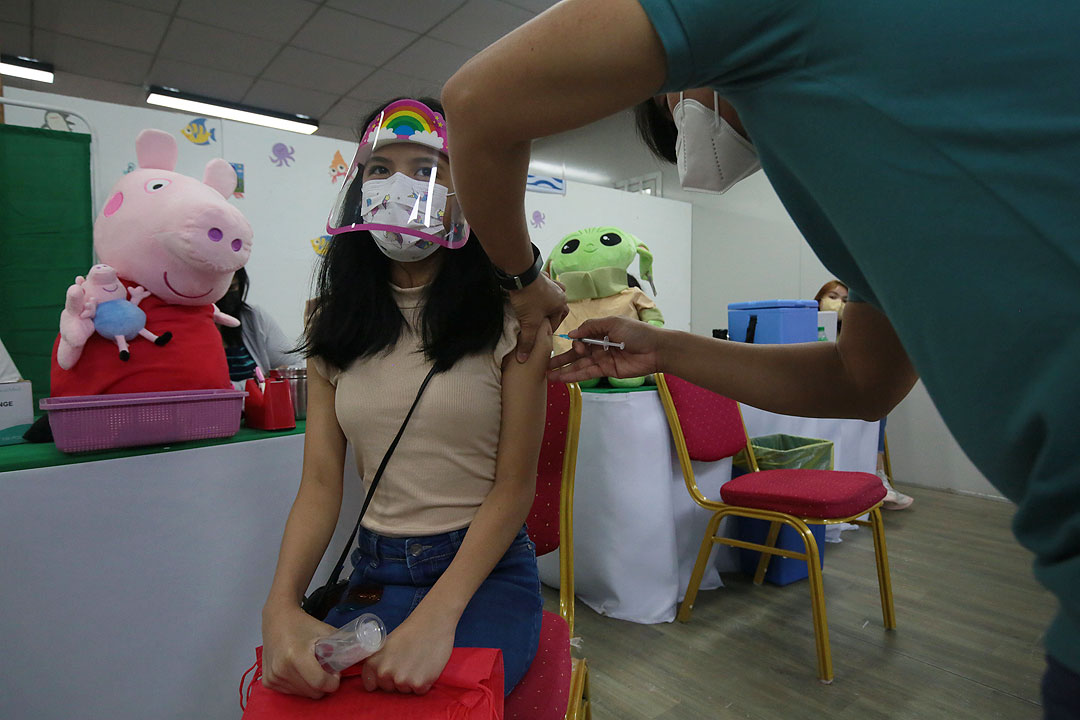 A SENATOR on Monday opposed a government plan to vaccinate children without their parents' consent.
"If the parent is not agreeable to it, it should be respected," Senator Ana Theresia "Risa" N. Hontiveros-Baraquel told reporters at a news briefing in Filipino, adding that the state should use information campaigns to fight vaccine hesitancy.
The Health department earlier issued a memo allowing willing children to get vaccinated without their parents' consent.
Under the memo, the state may act as the legal protector of citizens unable to protect themselves.
The government started vaccinating children aged 5 to 11 against the coronavirus on Monday. It was supposed to start on Feb. 4 but was pushed back after the first batch of vaccine delivery got delayed.
Almost 800,000 doses of the vaccine made by Pfizer, Inc. finally arrived on Friday night.
The Pfizer vaccine is the only shot approved for emergency use by kids aged 5 to 11 years. The vaccine has a lower dosage and concentration compared with the one given to the 12 to 17 age bracket.
The Philippines started vaccinating minors 12 to 17 years in October. The vaccination of children aged 5 to 11 years started in six sites in the capital region.
Vaccination sites included the Philippine Heart Center, Philippine Children's Medical Center, National Children's Hospital, Manila Zoo, SM North Edsa and Fil Oil Gym in San Juan City. It will be expanded to Central Luzon and the Calabarzon region on Feb. 8.
"Even in the midst of a pandemic and recession, parents want confidence when it comes to the health of their children as we are also returning to work and employment," Ms. Hontiveros said.
"This issue also needs to be settled properly," she said, adding that hopefully, it doesn't have to reach the courts.
In a separate statement, Senator María Imelda Josefa "Imee" R. Marcos said the government cannot usurp parental authority. "Parents have the right to decide on the health and safety of their children."
"I hope this push to vaccinate kids is really for their sake and not for the sake of vaccine purchases already made," she added.
Health Undersecretary Myrna C. Cabotaje, who heads the Philippines' National Vaccine Operations Center, had said the government seeks to inoculate 15.5 million children aged 5 to 11 years.
"Let's prioritize the elderly and not lose sight of fully vaccinating the most vulnerable groups before rushing to vaccinate healthy kids," Ms. Marcos said.
She cited the World Health Organization's call for governments to first achieve a high level of vaccination among high-risk groups before vaccinating minors.
As of Friday, 59.8 million have been fully vaccinated against the coronavirus, while 60.7 million have received their first dose. About 8 million people have received booster shots.
The Health department on Friday said more than two-thirds of coronavirus cases among the pediatric group in January were children aged 11 years and younger.
More children got infected with the coronavirus during the recent surge spurred by the highly mutated Omicron variant, it said.
Kids aged 11 years and younger accounted for 56% of the total pediatric cases in September, when the Delta variant spurred a spike in infections. — Alyssa Nicole O. Tan