IATF raises alert levels in more areas until the end of Jan.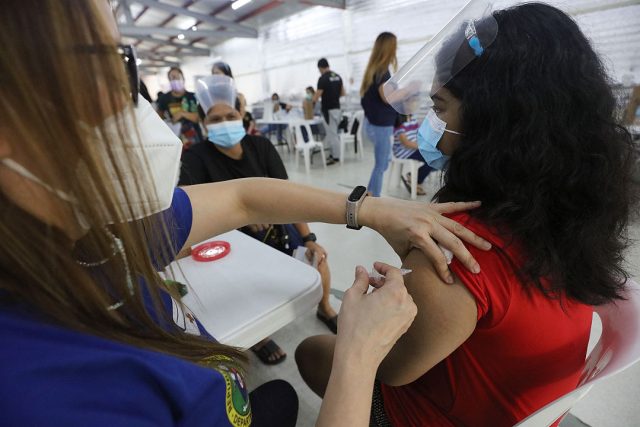 THE INTER-AGENCY Task Force for the Management of Emerging Infectious Diseases (IATF) has raised the alert levels of several areas in the country beginning today until the end of the month to better manage the rising number of coronavirus cases in the country, according to the Presidential Palace.
Alert Level 4 was raised in Kalinga, Ifugao, Mt. Province, and Northern Samar, meaning establishments or activities there will only be allowed to operate at a maximum of 10% capacity for indoor venues and only for fully vaccinated individuals, and 30% capacity for outdoor venues.
It also disallows people under the age of 18 and over 65 from going outside the house. People with underlying illnesses and pregnant women are likewise prohibited from leaving their homes.
Health Undersecretary Maria Rosario S. Vergeire noted during an online news briefing that in these areas, the healthcare utilization rate has hit over 70%.
She pointed out that there are other areas in the country which have reach similar utilization rates but whose Alert Level has not been increased. This was because they also looked at the bed utilization rates and saw that these were only around 30% to 50% for COVID patients.
In comparison, the areas now under Alert Level 4 were allocating close to 80% of their beds to COVID patients and were having a difficult time coping.
ALERT LEVEL 3
Other areas have now been placed under Alert Level 3. They are: Apayao, Puerto Princesa City, Masbate, Siquijor, Zamboanga del Norte, Zamboanga Sibugay, Lanao del Norte, Davao de Oro, Davao Oriental, North Cotabato, Sarangani, Sultan Kudarat, Surigao del Norte, Basilan, and Maguindanao.
Under the third of the five alert levels, establishments will be allowed to operate or activities be undertaken at a maximum capacity of 30% for indoor venues and only for fully vaccinated individuals, and 50% capacity for outdoor venues.
"We urge all those who reside in these areas to please follow the protocols of your corresponding alert levels," said Acting Presidential Spokesman and Cabinet Secretary Karlo Alexei B. Nograles during the same briefing.
"For our fellowmen who are under a lower alert level classification, remain assured but do not be complacent. You can help keep the number of COVID cases low in your areas by continuing to be vigilant," he added in a mix of English and Filipino.
Mr. Nograles also reminded the public to continuously follow minimum health protocols and promote vaccination.
RULES FOR TRAVELLERS
Also on Friday, the IATF began allowing the entry of international Filipino passengers who have recently recovered from COVID-19 but who still test positive in the required pre-departure RT-PCR test.
However, the cabinet secretary said they must present their test results and show a medical certificate proving their completion of the mandatory isolation period, that says they are no longer infectious, and that they have been allowed free movement or travel.
Upon their entry into the Philippines, they will have to undergo the facility-based quarantine applicable to them based on the classification of the territory they came from and their vaccination status. — Alyssa Nicole O. Tan