Japan backs Manila in sea dispute with China, says DFA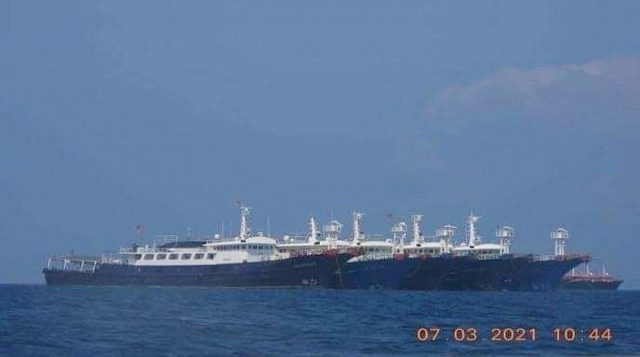 JAPAN'S new foreign minister is backing the Philippines in its sea dispute with China and supports the 2016 ruling by a United Nations-backed tribunal that voided China's claim to more than 80% of the South China Sea, according to Philippines' Department of Foreign Affairs (DFA).
Japanese Foreign Minister Hayashi Yoshimasa spoke with his Philippine counterpart Teodoro L. Locsin, Jr. on Wednesday on the phone, in which he opposed unilateral attempts to change by force the status quo in the East and South China Seas, DFA said in a statement on Monday.
Japan's demonstration of support sends a message of respect for outcomes of diplomatic and legal processes and strengthens the legal order over the seas, Mr. Locsin said in the statement.
He cited President Rodrigo R. Duterte's statement from a previous summit that "there can be no other acceptable basis for a just maritime order but the law, particularly the 1982 United Nations Convention on the Law of the Seas.
"All countries big and small must adhere to the rule of law faithfully and consistently. Otherwise, there will be chaos."
This comes after Chinese ships blocked and discharged water cannons on Philippine supply ships at the Second Thomas Shoal, which the country calls Ayungin.
The South China Sea, a key shipping route, is subject to overlapping territorial disputes involving China, Brunei, Malaysia, the Philippines, Taiwan and Vietnam.
During the discussion, both Japan and the Philippines reaffirmed their commitment to strengthen their strategic partnership that included cooperation not only in maritime security and safety but also on coronavirus pandemic response and the Mindanao peace process, DFA said.
Japan has provided the Philippines with more than three million doses of Japan-manufactured AstraZeneca Plc vaccines in support of the country's vaccination program. In 2020, Japan was the Philippines' top source of development assistance.
This year marks the 65th anniversary of diplomatic relations and the 10th anniversary of the two countries' strategic partnership, the agency said.
The Philippines last month said it would not remove a ramshackle Navy ship grounded on Second Thomas Shoal, rejecting a Chinese demand days after it blocked a Philippine resupply mission.
The shoal lies within the Southeast Asian Nation's exclusive economic zone "where we have sovereign rights," Defense Secretary Delfin N. Lorenzana said.
"That ship has been there since 1999," he separately told reporters. "If there was a commitment it would have been removed a long time ago."
The Philippines and China have been in a fresh word war over the sea dispute after China blocked and fired water cannons at Filipino-manned boats that were carrying supplies for marine troops stationed at the shoal.
Troops intentionally grounded the BRP Sierra Madre — a World War II-era vessel acquired by the Philippines from the US in 1976 — at the shoal in 1999 to reinforce its sovereignty claims in the Spratlys.
A 1980s treaty on sea borders that China had signed awarded the exclusive economic zone to the Philippines in the 1980s, Mr. Lorenzana said. "China should abide by its international obligations that it is part of."
He also cited the UN-backed arbitral award in 2016 that voided China's claim to more than 80% of the  sea based on a 1940s map.  — Alyssa Nicole O. Tan