Call center industry sets sights on countryside expansion
By Beatriz Marie D. Cruz, Reporter
THE Philippine call center industry is aiming to grow in rural areas to support inclusive growth, according to industry leaders.
"With 70% of the workforce in Manila and 30% in the countryside, the vision for 2028 entails a minimum of 40% in rural areas and a maximum of 60% in Metro Manila," Rosario C. Bradbury, managing director of the Contact Center Association of the Philippines, said in an interview with BusinessWorld.
The IT and Business Process Association of the Philippines (IBPAP), along with the Department of Information and Communications Technology and Leechiu Property Consultants, introduced the Digital Cities 2025 initiative in 2020.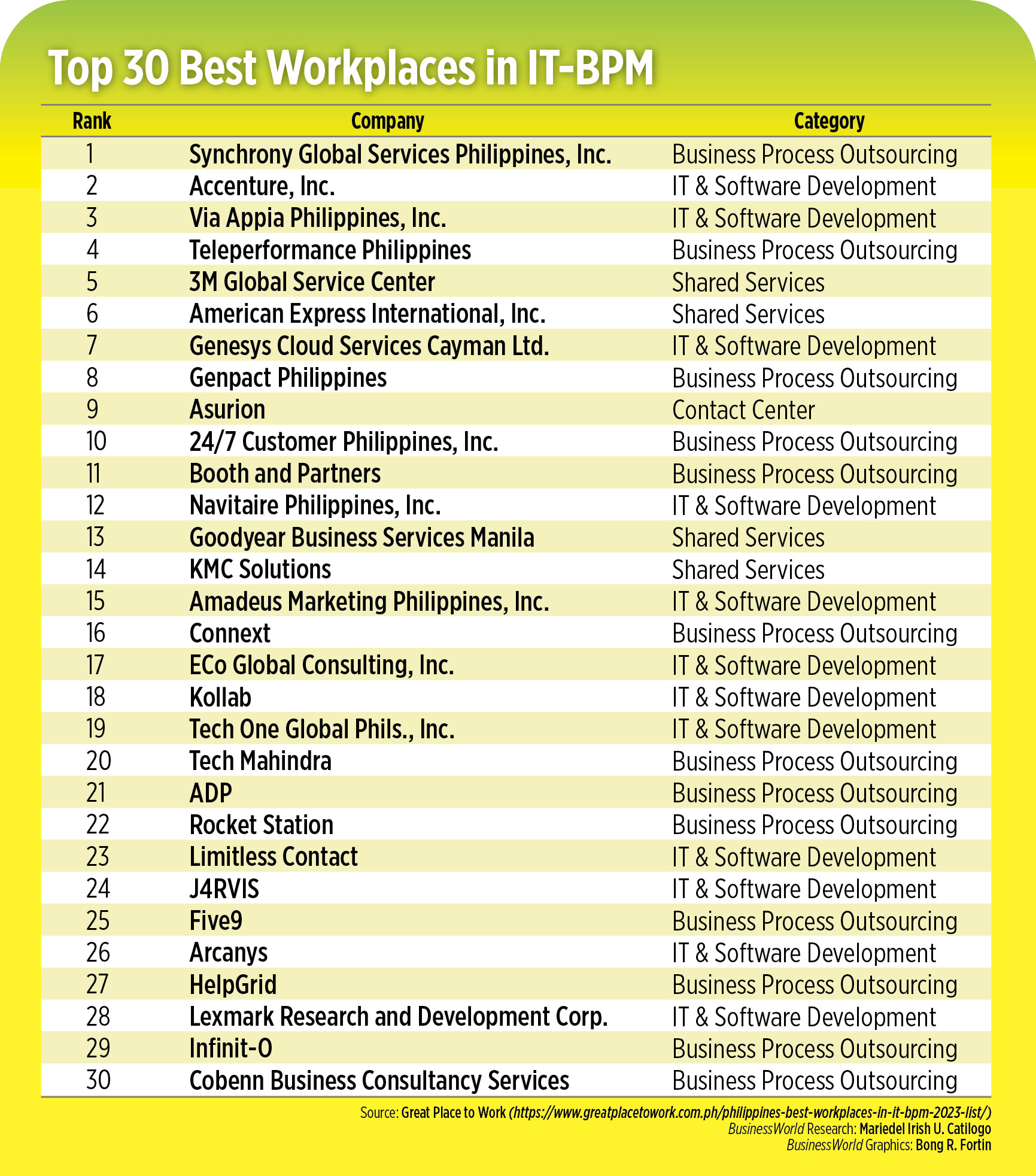 The program aims to transform rural areas into thriving business hubs and prime choices for international investments, according to IBPAP.
The 25 digital cities are scattered across Luzon, Visayas, and Mindanao.
"As an association, our goal is to help enable them to grow," Ms. Bradbury said. "Our vision is to become the world's number one for digital enabled customer services."
This is in line with the 2028 roadmap for the information technology (IT) and business process management industry, which seeks to grow at 2.5 million full-time workers and at P59 billion in revenue by 2028.
In 2022, the industry generated P32.5 billion in revenue, up from P29.5 billion in 2021, and saw an increase in full-time workers from 1.44 million to 1.57 million.
There have been significant countryside expansions in Cebu, Davao, Bacolod, Pampanga, and Laguna, according to IBPAP President and Chief Executive Officer Jack Madrid.
Over 70,000 new jobs were created outside of the capital region, marking a 17% increase from 2021. "By the end of 2022, 31% of the sector's total headcount, or 486,000 full-time workers, were in the countryside," Mr. Madrid said in an email interview.
Four "levers" would expedite the achievement of the industry's 2028 targets — policy support and ease of doing business, talent development, infrastructure, and marketing, Ms. Bradbury said.
Emerging from the coronavirus pandemic, the industry has embraced diverse workflows to enhance service quality, with a specific focus on remote work and new technologies, according to Mr. Madrid.
"Remote work presented numerous advantages, but companies realized that, to make it successful for them, they had to invest in culture, training, and technology," he said.
About 30% to 40% of employees work remotely while 60% to 70% are onsite, he noted.
Amid changes brought about by the pandemic, it was necessary to maintain the quality of the workers' outputs, Concentrix Senior Vice-President and Country Leader Amit Jagga said.
"After the pandemic, we realized all the more that staff experience and engagement make the difference in terms of organizational success, as the pool of available talent is also changing and expanding, and new types of work are created with phenomena like gig economy and freelancing adding to the competitive landscape in the war for talent," Mr. Jagga said in a Viber message.
Some companies have implemented innovative solutions that minimized internet usage.
"We also needed to reassess our collection of software and technology tools. If they operate online, they were designed not to consume excessive bandwidth," said Jenny R. Constantino, Country Manager of RealPage based in Texas.
She also highlighted the importance of nurturing a positive work culture to elevate work quality.
"The work environment affects the way people work, and you really need to adapt to how they manage their personal lives and work within their homes. So, that, to me, is an adjustment we have learned in the process," she said.
GENERATIVE AI
Contrary to popular belief, the industry considers the emergence of generative artificial intelligence (AI) a blessing rather than a curse, according to Ms. Constantino.
"A tool can tell me if a call has a client that's frustrated," she said, noting how AI has even enhanced the services of her company.
"AI is useful for us as we operate in areas of hire, how we manage our operations, productivity and performance…[as well as] thinking of the right tools in order to support the clients that we have," she added.
She said that AI assists call center workers in addressing numerous customer queries in a short span of time.
In the past, a supervisor would listen to calls for quality assurance and feedback, but now AI can handle that task, Ms. Bradbury noted.
"This technology has been present in this industry for a long time… It's a matter of reallocating your personnel to roles where they can contribute greater value to the industry now," stated Ms. Constantino said.
Research and advisory company Gartner said that by 2026, the call center industry will possibly cut costs by up to $80 billion by replacing humans with AI chatbots.
By 2026, the call center industry will possibly cut costs by up to $80 billion by replacing humans with AI chatbots, according to research firm Gartner .
AI "isn't about reducing headcount but upskilling and re-skilling teams to operate smarter and to deliver higher value work," Concentrix's Mr. Jagga said.
Moreover, employees working within the industry still grapple with wage and tenure-related problems, according to a labor group.
"It's actually the workers who are experiencing [the effects of] inflation more because of the higher prices," Emman D. David, co-convenor of Alliance of Call Center Workers, said via phone call. "Our wages are indeed higher than minimum but it's really not enough."
Workers are placed in floating status when companies need to downsize. "Or worse, our performances are used against us," Mr. David said.
Call center workers need to be pushed to speak up against issues plaguing their sector, he added.
"Problems are only addressed collectively if there's an issue that is urgent or pressing."
A proposed law that institutionalizes the Magna Carta for call center workers has been pending at the House Committee on Labor and Employment.
"I think the challenge for us is to be able to renew our organization [to unionize] in order to convince to challenge our fellow workers that this is something that we should fight for," Mr. David said.