Just how many airports does the National Capital Region really need?
By Arjay L. Balinbin, Senior Reporter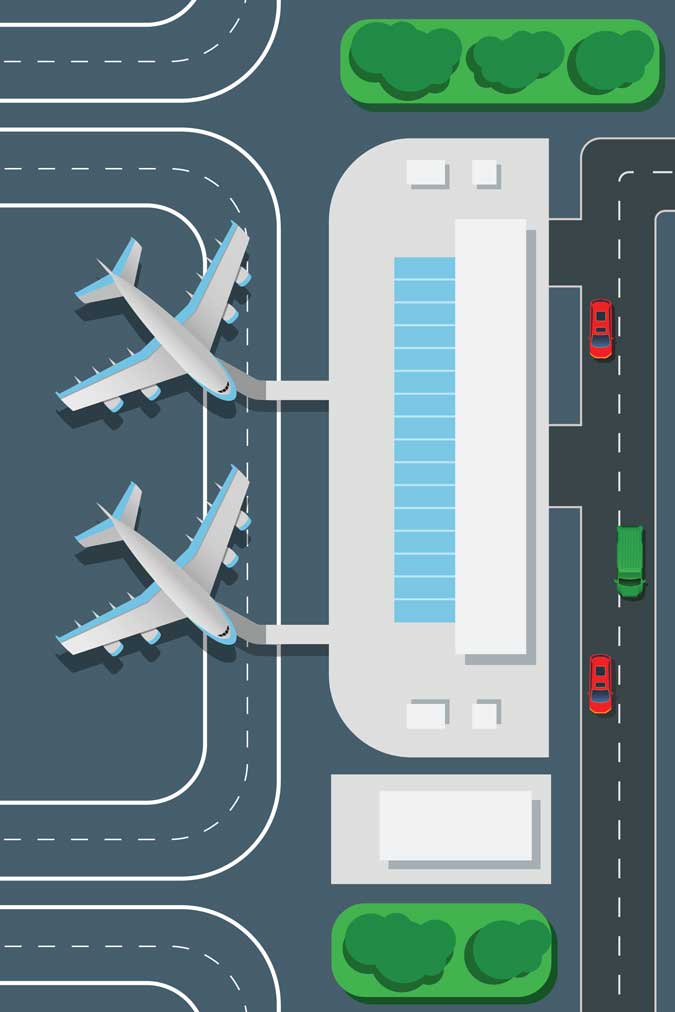 The pandemic found the government in the midst of an airport building frenzy, no doubt based on ambitious assumptions for financial returns before COVID-19 shut the world down. But now that travel demand is going to be depressed for the foreseeable future and the airlines the airports were meant to serve as gleaming new home bases hanging on precariously, many of the projects could be in for a hard rethink, because by the time they are all built or upgraded, the travel volumes they were designed around might not be there for years.
The plan, as it stood before the outbreak, was to increase the capacities of both Ninoy Aquino International Airport (NAIA) and Clark International Airport (CIA) and build Sangley Point International Airport (SPIA) in Cavite and New Manila International Airport (NMIA) in Bulacan. That would give Metro Manila four international airports servicing its travel demand, just two shy of the record holder London, which has six.
Now, people are expressing doubts whether such ambitious plans are still viable.
"With a combination of strict health protocols, travel bans and restricted household incomes, passenger volume has dropped," Infrawatch PH convenor Terry L. Ridon said in an e-mail interview. "The viability of the aviation sector is dependent on a gradual easing of the economy through an immediate and effective vaccination program along with already-proven health and safety protocols."
San Miguel Corp.'s (SMC) Bulacan airport caught a break at least — it was still not operational when the pandemic inflicted massive damage on the travel industry, and can make adjustments based on how its managers project the future of air travel.
"With a construction horizon of five to 10 years, the coronavirus pandemic might be over by then," Mr. Ridon noted.
"We certainly hope that passenger volume will have reverted to pre-pandemic levels. At present, similar to the broader construction sector, we may expect some construction delays due to limited supplies or personnel due to existing restrictions," he said.
Eldric Paul A. Peredo, the Civil Aeronautics Board's Air Operating Rights Division chief, reported at a recent House hearing that international and domestic passengers logged in by air carriers from the first to third quarters of 2020 were only 25% of 2019 levels.
Mr. Ridon believes the government's multi-airport approach remains viable, with the strategy to decongest NAIA showing results, particularly with the expansion of Clark.
Chairman and Chief Executive Officer Edgar B. Saavedra of Megawide Construction Corp., which had previously negotiated with the government for a contract to rehabilitate NAIA, said the Greater Manila area will be needing more airports anyway because annual passenger volume is expected to increase by more than 65 million in the next five to 10 years.
"Any new airport will always augment or add capacity to the country. Since NAIA is in the southern part of Metro Manila, it will cater not only to Metro Manila but also to Calabarzon. The Bulacan airport will also cater to the northern part of Metro Manila, so Clark will cater up to northern Luzon. All of these airports are complementary to each other," he said.
The Manila International Airport Authority (MIAA) board recently rejected the appeal filed by Megawide and its foreign partner GMR Infrastructure Ltd. seeking to overturn the revocation of its original proponent status for the NAIA rehabilitation project. The project had proposed to expand the airport's capacity to up to 65 million travelers annually.
MIAA can rehabilitate NAIA on its own, according to the Department of Transportation (DoTr).
Manila's main airport has been operating beyond its 30.5 million passenger capacity for years, handling 45.3 million passengers in 2018, 42 million in 2017 and 39.5 million in 2016.
CANNIBALIZATION
Avelino D.L. Zapanta, an aviation industry expert, said via e-mail that Clark might pose an obstacle to Bulacan NMIA's bid to become the primary airport.
"At the very least, Clark has captive markets in North and West Luzon," he said. "Passengers from Central Luzon, south of Clark, and north of Bulacan will choose either of the two depending on which would be more convenient for them."
NMIA is a bit of a black box, offering no insight for now on its impact on the travel industry landscape, according to Mr. Ridon. "We cannot yet predict its impact on the airport sector until it becomes fully operational in five to 10 years."
"The Finance department has put its foot down on the matter, stating that market forces should determine whether multiple airports in Mega Manila are viable," he said.
Mr. Ridon believes cannibalization will only be relevant when NMIA becomes operational, by which time Clark will have been generating revenue for up to 10 years.
"If Clark does a great job in operating its airport in the next 10 years in addition to exponential economic growth in the surrounding regions, it will be harder for NMIA to compete for passengers, airlines and third-party vendors," he said.
"Government should concentrate on both areas, which is why the NAIA rehabilitation project should not have been shamelessly rejected by MIAA and DoTr," he said.
NAIA, as the main gateway, is relevant not only to passengers from Metro Manila and southern Luzon, but also to all travelers from across the country making airline connections through its terminals, Mr. Ridon said.
Mr. Zapanta believes NAIA-Sangley is more complementary since Sangley can serve Southern Luzon. "The reality though is Bulacan has a head start on Sangley," he said.
The Cavite government is again seeking bidders for the Sangley airport project after it canceled an earlier deal with MacroAsia Corp. and China Communications Construction Company.
Meanwhile, SMC's airport in Bulacan is expected to begin construction within the quarter, after it was granted an unprecedented legislative franchise that gives the project numerous tax perks.
Mr. Zapanta noted that Clark is at the crossroads of the South Luzon Expressway-North Luzon Expressway Connector, the Subic–Clark–Tarlac Expressway, the Tarlac–Pangasinan–La Union Expressway, and the MacArthur/Pan Philippine Highway, making it accessible from north, south, east, and west, and is thus more geographically strategic than Bulacan. 
"North, West and Central Luzon air passengers will not bypass Clark to go at least 40 kilometers farther south to Bulacan," he added.
Mr. Ridon believes that the Clark airport is going to be a viable alternative to NAIA even for travelers coming from Metro Manila and southern areas once the North-South Commuter Railway (NSCR) project is completed.
"In fact, the construction of the Clark Airport station is part of the NSCR project," he added.
"The key for the continuing growth of Clark is not in its ability to get passengers from Metro Manila and southern Luzon, but for the general economy of central and northern Luzon to continue improving. With New Clark City and the new infrastructure further cutting Baguio and northern Luzon travel times, we are optimistic that economic growth will come to these areas in time," he said.
Economic growth in the capital region has been mainly focused to the south of Metro Manila, away from Bulacan and closer to NAIA, he noted. "We are seeing massive economic development along southern Metro Manila's bay area, currently anchored by Entertainment City and also driving passenger volumes through NAIA."
Cavite and Laguna have more economic zones and metropolitan areas than the provinces north of Manila. "These are factors which will make NMIA a hard-sell proposition for passenger volume in contrast to NAIA," Mr. Ridon said.
'SELL NAIA'
SMC has a proposal to operate and maintain NAIA while it is building the Bulacan airport.
"Our proposal is brought on only by the need to have it running effectively and safely for the Filipino people, until our Bulacan airport project is up. And until our airport is ready, that task needs to be done," SMC President and Chief Operating Officer Ramon S. Ang said in a statement.
According to Mr. Ridon, this move fits into SMC's airport infrastructure agenda to retire and sell NAIA as soon as NMIA is built.
Mr. Ang said the government could better benefit from selling or redeveloping the 646-hectare NAIA complex once SMC completes its Bulacan airport project.
The NAIA property is about 2.5 times the size of Bonifacio Global City, Mr. Ang said, noting that it could "potentially earn the government as much as P2 trillion or more, which it can use for various purposes."
"This posturing exhibits a massive conflict of interest as this seeks to limit growth in another airport to favor their own. Until the current or next government has decided on the fate of NAIA, SMC should focus its energies in constructing their airport in Bulacan," Mr. Ridon said.
Mr. Zapanta said: "Of course, he (Mr. Ang) would go for that.  That's a swell real estate prospect, and he has a good eye for real estate."
"My thought, though, is that NAIA is ideal for the domestic market whose true O&D (origin and destination) is Metro Manila, e.g. business, education, VFRs or the visiting friends and relatives market, and tourism as well. When the volume goes up in the immediate future, the need for NAIA to concentrate on domestic traffic will become more pronounced," he added.