Ripples of the global green movement in the Philippines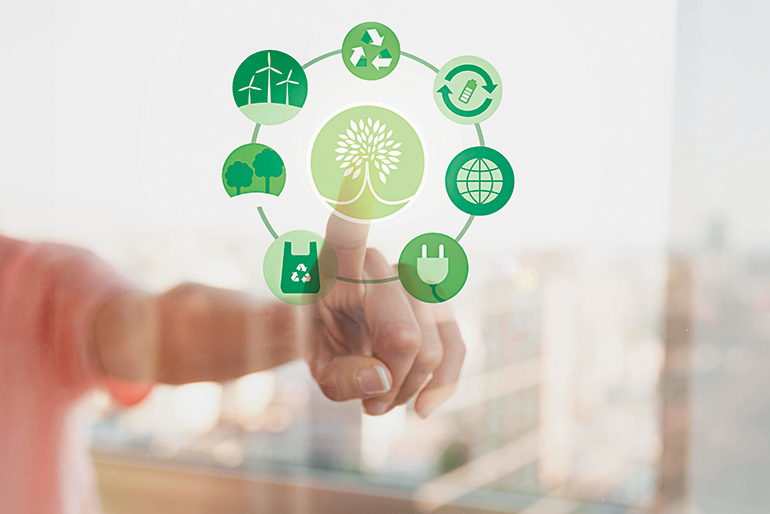 The past years saw climate change, defined by World Health Organization (WHO) as "the change in climate in time due to human activities," becoming a more intensified global issue, as well as a major factor in health risks. Former WHO Director Dr. Margaret Chan said that the climate crisis affects daily livelihood, including the social and environmental food determinants, namely food, water, shelter, and air. On top of that, natural disasters and health risks can be influenced by to climate change.
Climate change has grown further into a global alarm as it started impacting humanity, from social, environmental, and health aspects; and, in response, both the government and private sectors across the globe have been working to address this worsening crisis by developing green infrastructures and initiatives, such as climate and ecological activism, the use of eco-friendly products, and developing sustainable buildings, to name a few. These initiatives and more has been likewise evident in the country.
In a foreword in the Green Infrastructure Investment Opportunities (GIIO) Philippines Report published by Climate Bonds initiative in 2020, Former Securities and Exchange Commission (SEC) Commissioner Ephyro Luis B. Amatong shared that the Philippines has been subjected to many environmental challenges since before, becoming the most vulnerable when it comes to climate change. Additionally, the country has also been dealing with severe natural disasters, including massive droughts and floods.
As a result, Mr. Amatong continued, the Philippine government has strived to build a supportive and enabling environment to establish a sustainable market. With the economic effect of climate change at hand, the SEC encourages the increase of green financing in the market to achieve a more sustainable environment.
"While green finance is relatively new in the Philippines, the first movers in our market have been instrumental in introducing the concept to our domestic investor base and making other local firms aware of the potential for green finance," Mr. Amatong wrote.
"The continued development of the green sustainability bond market is also supported by the Philippines whole government approach to sustainable/green finance," he added.
Alongside these financial initiatives, the Climate Change Act, passed by the Philippine government in 2009, promotes climate resilience, creates a low-carbon economy, and strengthens the nation's climate change position. Thereafter, many laws and policies were implemented to support and raise awareness of ecological issues and initiatives
Climate Bond Initiative's GIIO report further highlighted that as the country was struck down due to the pandemic, the main priority of authorities is to build back better and develop a more sustainable and greener tomorrow for all Filipinos.
Developing green infrastructure now becomes an opportunity for economic and ecological growth for the Philippines. As the significant demand for green investments and green infrastructure continues to increase, this becomes an opportunity for the country to build resiliency and achieve development to recover from the economic crises that the pandemic has brought.
The GIIO report noted that infrastructure investment and developments were executed by the Philippine government and public-private partnerships (PPPs), providing initiatives and climate change mitigation and building a greener future.
"As a top priority for the current Philippine administration, infrastructure development is being heavily supported and promoted in the Philippines. Currently, much of the Philippines' investment in infrastructure is being carried out through public funding and PPP ventures," the report read.
However, the country is still seen struggling in some aspects. For instance, among investors, there is a lack of awareness and understanding of green investments, making it difficult to develop future infrastructure and investment opportunities in supporting the country's goal to shift to a low-carbon economy.
According to the report, the lack of awareness and understanding of green investments can be solved by educating and promoting knowledge on green investments and green financing, which in turn will increase resiliency and help establish a more sustainable country.
The report also shared that the Philippine government has also been developing an action plan that prioritizes green infrastructure development, including timely environmental monitoring, improving waste management, increasing sustainable urban mobility solutions, and promoting resource-efficient and climate-smart practices and lifestyles.
The global green movement has been growing, providing more growth and opportunities for everyone. For instance, more green investments are happening lately because of the global trend of consuming green-labeled products. In addition, green financing is increasing in the Philippines. the government has been establishing national and regional policies that support the growth of green financing in the country.
"The Philippines has been increasingly exploring the use of green debt as well as equity instruments and has been expanding credit enhancement mechanisms and risk sharing options," the report added.
On top of the global green movement's impact on finances, the country is implementing eco-conscious initiatives. Diverting from reliance on imported coal, the government and private sector are investing in more renewable energy as an alternative source to help meet the country's energy needs and goals. Low-carbon transportation modes are also starting to be used such as national and urban passenger rails, electric vehicles, and bicycle transport systems, which are seen to produce low or zero direct carbon emissions to restrain air pollution. Green buildings that are also beginning to help achieve energy efficiency and establish a safer environment, and the country has also been modifying older buildings to become more energy-efficient by adopting green building codes. Finally, as tourism starts bouncing back after the pandemic and the number of tourists is gradually increasing again, sustainability in tourism is becoming more crucial, the Sustainable Tourism Development Project has been implemented, where the Department of Tourism collaborates with local government unities, communities, and private sectors in promoting sustainable practices in the sector. — Angela Kiara S. Brillantes