Shares to move sideways ahead of Q2 earnings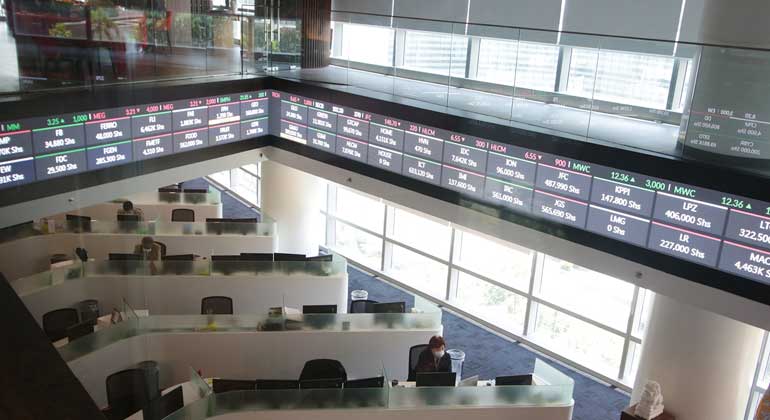 PHILIPPINE SHARES are expected to trade sideways this week as investors await companies' earnings reports for the second quarter (Q2)  and as the country continues its coronavirus disease 2019 (COVID-19) vaccination program.
Bargain hunting is also expected in the coming days following the heavy selling activity seen last week.
The bellwether Philippine Stock Exchange index (PSEi) declined by 90.07 points or 1.3% to close at 6,834.92 on Friday, while the broader all shares index lost 40.12 points or 0.93% to 4,234.54.
Week on week, the index shed 167.34 points from its 4,234.54 finish on July 2.
"The week started on a good note as investors bought shares ahead of the release of the country's latest inflation data. However, the bourse trended lower due to a lack of fresh positive catalysts in the local scene," Timson Securities, Inc. Trader Darren Blaine T. Pangan said in a Viber message on Saturday. "Losses were tempered by last-minute bargain hunters last Friday."
"The market ended lower for the week and has been in the red for the past four sessions amid recovery jitters," AB Capital Securities, Inc. Junior Equity Analyst Lance U. Soledad said in a separate Viber message on Friday.
"Negative news [last] week include reports that some LGUs (local government units) suspended first dose vaccinations due to supply problems, as well as concerns over new COVID-19 variants," he added.
The Health department said on Friday that as of July 8, around 3.2 million Filipinos have been fully vaccinated against the disease or 4.53% of the country's population. Over 12.70 million jabs have been administered so far.
The Philippines received COVID-19 jabs developed by AstraZeneca Plc last week. Japan's donation of one million doses arrived on Thursday, while 2.028 million vaccines arrived from the World Health Organization's COVAX facility on Friday.
Meanwhile, 132,200 Sputnik V vaccines from Russia's Gamaleya National Research Center of Epidemiology and Microbiology arrived on Friday night and 37,800 more doses arrived on Saturday evening.
"Once vaccinations resume with the recent arrival of supply…then sentiment will improve," First Metro Investment Corp. Head of Research Cristina S. Ulang said in a Viber message on Friday.
Investors are also expected to pick up bargains this week.
"As we march on with July, bargain hunters might come in to pick up heavily battered shares from the selling activity experienced last week," Timson Securities' Mr. Pangan said.
He expects the PSEi to trade between 6,800 to 7,060, while AB Capital Securities' Mr. Soledad placed the market's resistance level at 7,000.
"We expect sideways trading for now as investors await second quarter earnings season," Mr. Soledad said. — Keren Concepcion G. Valmonte