Shares decline as trading volume remains low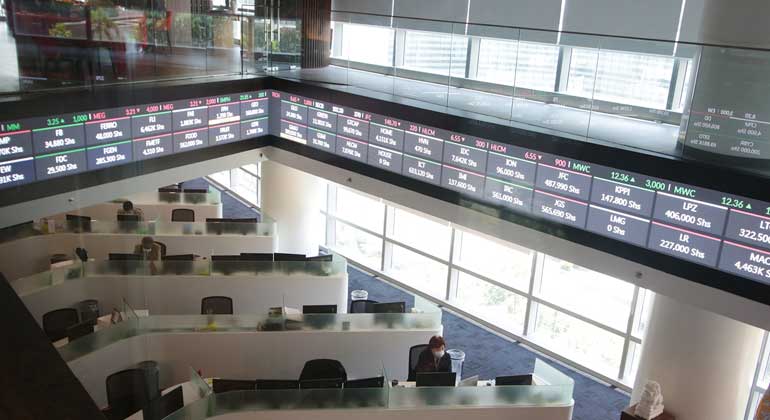 STOCKS snapped their three-day rally on Tuesday despite a better-than-expected June inflation print on weak trading volume and as investors booked profits from the market's recent climb.
The Philippine Stock Exchange index (PSEi) shed 43.95 points or 0.62% to close at 6,992.43 on Tuesday. The broader all shares index lost 16.95 points or 0.39% to end at 4,298.66.
"Philippine shares slipped below the 7,000 mark as investors sold on news with the release of June CPI (consumer price index) which was an improvement from the previous reading," Regina Capital Development Corp. Head of Sales Luis A. Limlingan said in a Viber message.
"There was very little excitement about the confirmed continuing deceleration of inflation, which means that it was already priced in by the market," AAA Southeast Equities, Inc. Research Head Christopher John Mangun said in an e-mail.
"Trading volumes remain below the daily average and just about half of what we saw when the market rallied at the beginning of the year. This tells us that risk appetite may be peaking, which is also how the technicals are looking," Mr. Mangun added.
Value turnover increased to P5.1 billion on Tuesday with 2.51 billion issues traded from the P4.31 billion with 1.79 billion shares switched hands the previous day.
The Philippine Statistics Authority reported that headline inflation stood at 4.1% in June, easing from the 4.5% logged in May and the slowest rate in six months or since the 3.5% recorded in December 2020. However, this was above the 2.5% recorded in June last year.
The June figure was lower than the 4.3% median in a BusinessWorld poll conducted late last week. It likewise fell within the 3.9%-4.7% estimate given by the Bangko Sentral ng Pilipinas for the month, but was still higher than the central bank's 2-4% target for the year.
"Investors may have chosen to remain on the sidelines while the US markets were closed on Monday," Timson Securities, Inc. Trader Darren Blaine T. Pangan added in a Viber message.
Majority of sectoral indices closed in the red on Tuesday except for services, which went up by 8.02 points or 0.49% to 1,628.06.
Meanwhile, property went down by 35.15 points or 1.03% to 3,368.25; holding firms declined by 51.78 points or 0.73% to 7,010.53; industrials lost 48.39 points or 0.49% to close at 9,738.24; financials inched down by 3.51 points or 0.23% to 1,512.42; and mining and oil shaved off 9.42 points or 0.09% to 9,867.90.
Decliners beat advancers, 112 against 96, while 52 names closed unchanged.
Net foreign selling slowed to P37.55 million on Tuesday from P82.10 million on Monday.
Timson Securities' Mr. Pangan expects the index to trade between 6,820 and 7,080 on Wednesday.
"The lack of potentially positive catalysts in the short term will incite profit taking," AAA Southeast Equities' Mr. Mangun said. "The PSEi is looking toppish around the 7,000 area and may pull back towards stronger support levels." — Keren Concepcion G. Valmonte