Shares decline on concerns over virus variant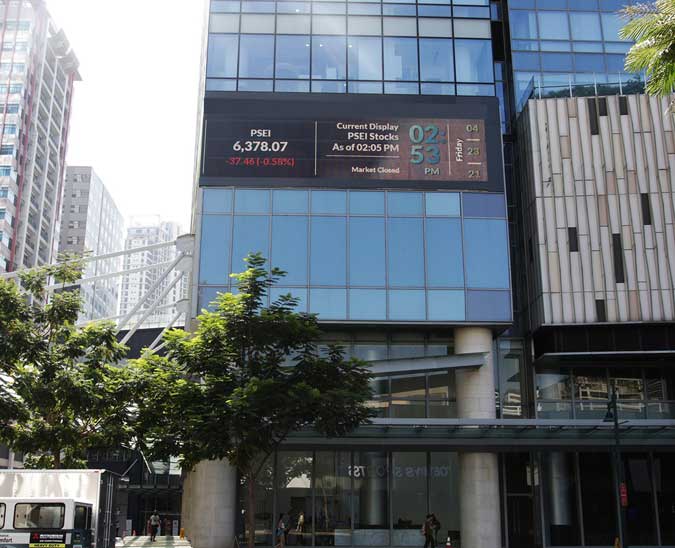 Philippine shares declined on Friday after the country's Health department reported more cases of a more transmissible coronavirus disease 2019 (COVID-19) variant and as the country released updated quarantine classifications.
The Philippine Stock Exchange index (PSEi) declined by 34.1 points or 0.5% on Friday to close at 6,693.83, while the broader all shares index went down by 45.08 points or 1.07% to finish at 4,137.94.
"Philippine shares slumped as many watched vigilantly the number of COVID cases from the new Delta variant strain," Regina Capital Development Corp. Head of Sales Luis A. Limlingan said in a Viber message.
On Friday, the Health department reported 16 new COVID-19 cases of the more transmissible Delta variant.
Eleven of the new Delta COVID-19 cases were detected in Mindanao, Metro Manila, Central Luzon, and the Visayas. Meanwhile, five are from Filipinos who returned from Qatar, the United Arab Emirates, and the United Kingdom.
"The market closed lower following the government's announcement of the quarantine measures to be implemented in the country until the end of the month," Darren Blaine T. Pangan, trader at Timson Securities, Inc., said in a separate Viber message.
Metro Manila was placed under the general community quarantine (GCQ) classification until the end of the month, along with Bulacan, Cavite, and Rizal. Meanwhile, Laguna remains under GCQ with heightened restrictions.
AAA Southeast Equities, Inc. Research Head Christopher John Mangun said investors are turning cautious despite the easing of some restrictions in Metro Manila.
"The easing of restrictions, which was cheered by investors not long ago, may be having the opposite effect on the market right now due to fears of a more deadly
surge in cases," Mr. Mangun said in an e-mail.
"Investors are downsizing positions until more of the population has immunity," he added.
All sectoral indices closed in the red on Friday except for services, which inched up by 0.4 point or 0.02% to 1,585.15.
Meanwhile, mining and oil lost 231.54 points or 2.34% to 9,650.11; holding firms shed 110.76 points or 1.63% to 6,651.3; industrials went down by 116.52 points or 1.22% to end at 9,393.85; financials declined by 1.34 points or 0.09% to 1,453.75; and property inched down by 1.97 points or 0.06% to 3,200.36.
Value turnover surged to P7.59 billion with 2.4 billion shares switching hands on Friday, from the P4.89 billion with 982.45 million issues switched hands the previous day.
Decliners outnumbered advancers, 164 versus 48, while 34 names closed unchanged.
Net foreign selling increased to P939.35 million on Friday from the P551.11 million on Thursday.
Timson Securities' Mr. Pangan expects the market to trade between 6,600 to 7,080, while AAA Southeast Equities' Mr. Mangun expects the index to trade towards its next support at 6,600 after failing to hold at 6,775. — Keren Concepcion G. Valmonte