PSE index drops on fears of a fresh surge in cases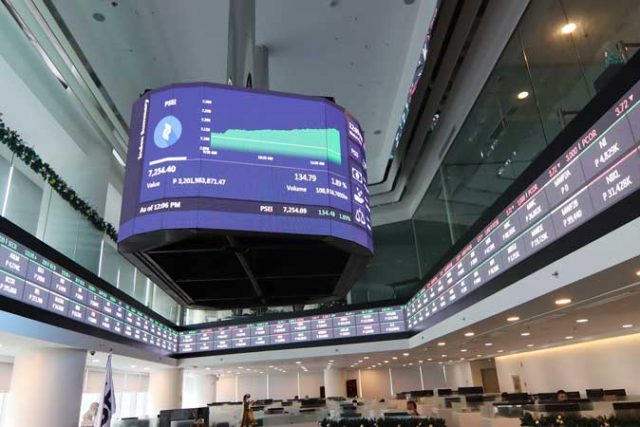 PHILIPPINE shares started the week in the red as concerns over the Delta variant of the coronavirus disease 2019 (COVID-19) continued to dampen market sentiment.
The Philippine Stock Exchange index (PSEi) lost 106.63 points or 1.59% to close at 6,587.20 on Monday, while the broader all shares index declined by 53.39 points or 1.29% to 4,084.55.
"Philippine shares were sold again ahead of the holiday and as investors keep vigilant on the Delta variant spreading globally and more key data set to be released," Regina Capital Development Corp. Head of Sales Luis A. Limlingan said in a Viber message.
Financial markets are closed on Tuesday, July 20, in observance of Eid'l Adha or the Feast of Sacrifice.
"Market still had some lingering growth downgrade hangover and so the selling. The Delta plus variant spread is another concern," First Metro Investment Corp. Head of Research Cristina S. Ulang said in a separate Viber message.
"A wall of worry seems to have built up in the approach to ghost month which is traditionally a weak period," she added. "But dropping US Treasury yields create a more benign backdrop for local liquidity, supportive of both fixed and equities markets."
Fitch last week revised its outlook for the Philippines from "stable" to "negative" while maintaining its "BBB" rating for the country, citing the impact of the prolonged coronavirus pandemic.
The "negative" outlook means Fitch may downgrade the Philippines' credit rating if it reverses reforms or departs from the prudent macroeconomic policy framework that leads to continued higher fiscal deficits.
Meanwhile, the Health department on Friday reported 16 infections of the Delta variant of COVID-19, with 11 of these being cases of local transmission. The country has recorded 35 Delta cases so far.
Health experts from the OCTA Research Group have warned of a fresh surge in COVID-19 infections once the more transmissible variant spreads in Metro Manila.
The country reported 5,651 new cases on Monday, bringing the total infection tally to 1,513,396. Active cases stood at 47,561 while deaths were at 26,786.
All sectoral indices closed lower on Monday. Property shed 96 points or 3% to 3,104.36; services dropped by 27.42 points or 1.73% to close at 1,557.73; holding firms went down by 79.05 points or 1.18% to 6,572.25; financials shaved off 16.94 points or 1.16% to end at 1,436.81; industrials lost 53.24 points or 0.56% to 9,340.61; and mining and oil inched down by 36.81 points or 0.38% to 9,613.30.
Value turnover decreased to P6.54 billion with 2.11 billion shares switching hands on Monday, from the P7.59 billion with 2.4 billion issues traded on Friday.
Decliners outnumbered advancers, 159 against 43, while 48 names closed unchanged.
Net foreign selling declined to P362.2 million on Monday from the P939.35 million logged on Friday. — Keren Concepcion G. Valmonte