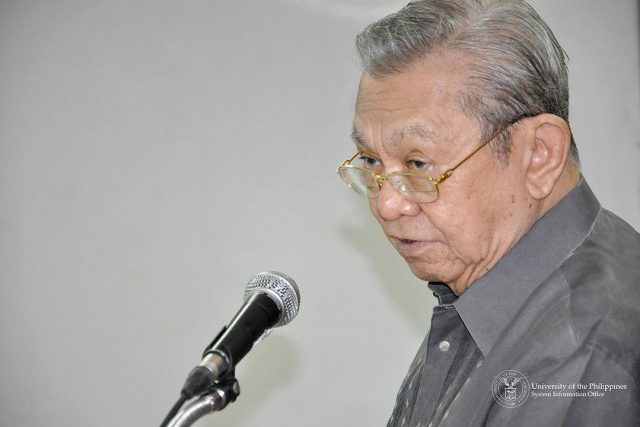 On the morning of Jan. 1, 2022, as the country greeted the new year, it also lost one of its notable luminaries in international law — Merlin M. Magallona. He was 87 years old. Most people knew him as lawyer, a law professor, and Dean of the UP College of Law. He was also a diplomat and public servant, having served not only at UP but also at the Department of Foreign Affairs with Vice-President Teofisto Guingona, Jr.
Dean Magallona was never my teacher at UP Diliman. But I was fortunate to have known him on a more personal level. Two of his sons — Bonifacio and Crisanto — were my friends at the state university. Also, Dean Magallona and I shared something more personal: we traveled together abroad one time, and together had an experience that I can honestly claim as uniquely ours.
Sometime in the mid-1990s, I was invited to attend a legal conference in Bangkok where Dean Magallona and a few other Filipino legal luminaries were also invited to lecture. In the Philippines group were Dean Magallona, the late Jesuit priest and constitutionalist Joaquin Bernas, then Supreme Court Associate Justice Vicente Mendoza, and myself. I was the only non-lawyer in the group; I was invited there as a reporter for BusinessWorld to cover the event.
Dean Magallona, Fr. Bernas, and I were all together on the flight to Bangkok from Manila, and then shared a cab from the airport to the hotel. When the cab had a flat tire while we were on the Bangkok Skyway, not one of us went down as the driver changed the tire since we were engaged in humorous conversation at the time. I was in my 20s and it was my first time in Bangkok, a trip made more memorable by these legal giants.
During our stay, one evening Fr. Bernas excused himself to have dinner with his sister, who at the time, I believe, was a Bangkok resident. Justice Mendoza was likewise busy. That left Dean Magallona and myself with not much to do. He thus broached the idea of visiting Patpong, the entertainment district in Bangkok's Bang Rak district, which was popular among foreign visitors. A night market ran there every evening. Patpong is also world famous as Bangkok's red-light district.
Being a young man, single at the time, and on my first trip to Bangkok, I readily said yes to the Dean's invitation. I had heard a lot about Patpong from media colleagues, and he was just as curious as I was to see the place. We had never visited Patpong in the past; we were a pair of "virgins," so to speak. But I cautioned him about being haphazard about the "adventure," having heard many horror stories from friends who had been victimized by unscrupulous merchants and establishments while on a Patpong ocular.
I thus suggested hiring a hotel car, rather than taking a cab to Patpong, and making the hotel car park in the area and wait for us while we went around. That way, in the event of an emergency, the car would just be waiting, and the driver could help translate for us, when necessary. To our delight, the hotel car available that night was a Mercedes Benz limousine — and at a cost only slightly higher than that of a cab.
Being the family man that he was, our first trip that night was to a reputable jewelry store. Dean Magallona wanted to get something for his wife. The limousine driver brought us to a store just outside the King's Palace, which was still open despite the relatively late hour. I don't recall now if Dean Magallona did find a fitting gift for the mother of his children. I, on the other hand, managed to get a small piece for my girlfriend back then.
From the store, we were then driven to one end of Patpong and dropped off. The hotel car looked for suitable parking in the area and waited. Patpong can be intimidating for the uninitiated, and, unsurprising for first-timers like us, we were generally hesitant to go into any of the establishments there.
So, we agreed to just peek rather than patronize, and to look more at the night market instead. And so that was how it went. Uneventful really, as we simply walked up and down the long street and checked out the market, while taking prolonged peeks at goings on inside the bars. We opted to "observe" activities at a safe distance. It turned out we were not as adventurous as we thought we could be. But it was an inexpensive way of experiencing Patpong, using first-class transportation.
Decades passed and of that group in Bangkok, Fr. Bernas was the first to go, in March 2021. I recall a funny incident with him in late 2002, when my fiancée and myself went to see him at the Jesuit residence to ask if he would be available to officiate at our wedding. My wife was his student in Ateneo Law, while my late mother-in-law was his contemporary on the faculty of the Ateneo. He declined to marry us, offering the explanation that his busy schedule could not allow him that opportunity. But he also consoled us by jesting that most couples he married eventually separated, anyway. So, we would be better off asking someone else.
And now, its Dean Magallona's turn to make the trip to the Great Beyond. Even after that Bangkok trip, on few occasions that I would chance upon him as I passed his house in UP Campus, he would invite me in for drinks. I always declined, feeling awkward about invading his personal space. I regret that decision now, realizing that I wasted the opportunity to learn more from a learned man. If only I can go back in time.
A number of legal luminaries are known to enjoy a drink or two in the company of journalists. The late Sandiganbayan Justice Francis Garchitorena used to invite us to his chambers after work for drinks and banter. He didn't usually talk shop, and would just shoot the breeze during those nights. Except that one time that he took that unguarded moment to scold me for quoting him on a story that was supposed to be off-the-record.
The late Supreme Court Chief Justice Andres Narvasa was a man of tennis, and also of good whisky. In the summers, en banc sessions are usually held in Baguio City. For more important en banc hearings, journalists go up to the City of Pines to attend. On occasions when journalists would stay for a night or two, the late magistrate would actually invite some of us to his cottage for drinks. As I recall it, Royal Salute was among the drinks of choice.
As I look back, I cannot help but smile when I recall those few unguarded moments in the past with these legal luminaries. Yes, they were legal eagles. But they were also people with a sense of community and camaraderie. And I consider myself more fortunate than most to have enjoyed their company in situations more personal than professional.
On this note, please allow me to raise a glass to toast my two Bangkok traveling companions, Dean Magallona and Fr. Bernas, as well as Justice Narvasa and Justice Garchitorena. I bid you all farewell. And thank you all for the pleasure of your company. Enjoy your well-deserved rest. Until we all meet up again. But not soon, I pray.
Marvin Tort is a former managing editor of BusinessWorld, and a former chairman of the Philippine Press Council