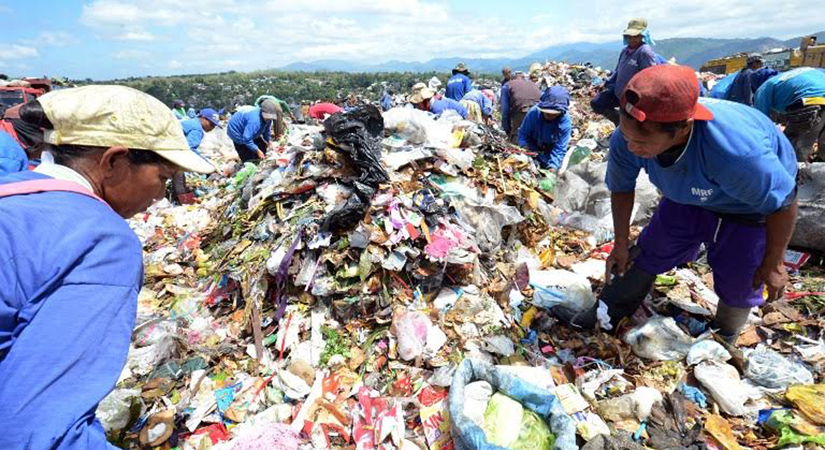 WASTE LEVELS are estimated at nearly 22 million tons next year, growing 4% from current levels, making waste-to-energy facilities a "compelling" option, an environment official said.
The facilities need to come onstream with sanitary landfills unable to handle waste, Jesus Enrico Moses B. Salazar, assistant secretary at the Department of Environment and Natural Resources (DENR), told reporters after a Senate hearing on Tuesday.
"What we are saying is, we will be needing landfills in the next few years only because the landfills that are now being used will decline later," he said.
Waste in the Philippines is expected to amount to 21,844,080 tons by 2021, up 3.9% from the current 21,016,523 tons, he said during the hearing. Metro Manila will generate about 3,527,484 tons, up 3.5%.
"It was projected based on population growth," said Mr. Salazar, who is DENR assistant secretary for LGU concerns.
Sanitary landfills total 186, serving around 407 local government units (LGUs). The number translates to about 25% coverage of all LGUs, forcing the others to use unregulated dump sites, which is against the law.
Despite the DENR's efforts to close the dump sites, about 331 remain, taking in the waste generated by LGUs that cannot afford the fee charged by landfill operators, Mr. Salazar said.
"That is a compelling reason for us to consider waste-to-energy (WTE) as one of the alternative modes of disposal at the same time generating energy from waste," he said.
During the hearing, Senator Sherwin T. Gatchalian asked Mr. Salazar to submit the DENR's estimate of how much landfill space is needed based on projections for waste generation.
"This is in consideration that we have landfills, but we all know marami pa ring dump site (there are still many dump sites)," said Mr. Gatchalian, who chairs the Senate energy committee.
Mr. Salazar said the DENR will still seek to implement Republic Act No. 9003 or the Ecological Solid Waste Management Act of 2000, which recommends reduction, reuse and recycling of waste, with only the residuals being fed into the waste-to-energy facility or placed in the landfill.
"It is very difficult to enforce the law. It is also very difficult for LGUs to comply with the requirements, but we have seen this happen in other areas in the Philippines," he said.
"WTE is only one alternative, an option. It should not be the option. There are several things that we can still do," he added.
DENR is the implementing agency of a study conducted by the National Economic and Development Authority to identify sites that are "highly economically viable" for waste-to-energy facilities, Mr. Salazar said.
The identified sites are: Hermosa, Bataan; Victoria, Tarlac; San Fernando, Pampanga; Meycauayan, Bulacan; Rodriguez, Rizal; Cabuyao, Laguna; Trece Martires, Cavite; Vitas transfer station in Metro Manila; and Cabanatuan, Nueva Ecija.
In terms of project cost, the largest would be the one in Vitas and Rodriguez at a budget of P11-12 billion. Four are considered medium-scale projects requiring an investment of P3.6 billion: Meycauayan, Cabuyao, Trece Martires, and San Fernando.
The rest are small-scale WTE facilities requiring a budget of P1.2 billion each.
Mr. Gatchalian, who said in a previous hearing that Senate Bill No. 363 was "complicated" to tackle because of related financial and environmental issues, has also raised during the hearing the monitoring and regulation of WTE facilities.
His proposed legislation seeks to establish a national energy policy and framework for facilities using waste-to-energy technologies. — Victor V. Saulon