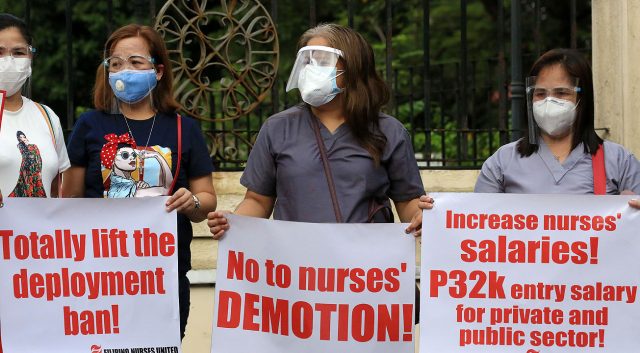 A LABOR agreement between the Philippines and Germany will allow Filipino nurses to leave despite the deployment cap instituted by the Duterte administration.  
Signed on June 3 by Karl Lauterbach, Germany's federal minister of health, and Silvestre H. Bello III, the Philippines' Department of Labor and Employment secretary, the memorandum of understanding (MoU) aims to improve the recruitment procedures for Filipino nurses under the private recruitment track, and ensure the fair treatment and protection of Filipino healthcare workers who apply through the German Agency for Health and Care Professionals, a nongovernment institution.  
"The aim in coming up with this MoU was to provide an avenue for deployment through private agencies despite the deployment cap," said German ambassador Anke Reiffenstuel in a June 17 virtual roundtable organized by the GPCCI (German-Philippine Chamber of Commerce and Industry).  
The MoU will provide a common legal framework for the two countries involved, added Delmer R. Cruz, labor attaché from the Philippine Overseas Labor Office, in the same event. It will also direct the recruitment and placement of healthcare workers (HCWs), he said.  
GLOBAL DEMAND
Meanwhile, 3,714 Filipino nursing graduates indicated their desire to practice their profession in the US by taking the said country's licensure examination for the first time in the first quarter of 2022, according to Cebu Rep. Eduardo R. Gullas in a June 19 press release.  
The number is 147% more than the 1,501 Filipino nursing graduates who took the NCLEX (National Council Licensure Examination) for the first time in the same quarter in 2021.  
There were 6,616 examinees who passed the Philippine Nurse Licensure Examination in May 2022. Only 50–60% of Filipino nursing graduates become professional nurses eligible to practice their profession in the country. Less than half (46%) of Filipinos registered as nurses in the Philippines are able to pass the NCLEX on their first take.  
Passing the NCLEX is the final step in the US's nurse licensure process, and an indicator of how many Filipino nurses plan to enter its labor market.  
"Our universities should invest more aggressively in training entry-level nurses if we want to supply the global demand for new practitioners while also fulfilling the local requirement," said Mr. Gullas, also a member of the House committee on higher and technical education.   
"Our single biggest advantage in foreign labor markets is that we are teaching our Bachelor of Science in Nursing program in English, the world's bridging language," he added in the same press release.   
The flight of HCWs hampered the coronavirus disease 2019 (COVID-19) response in the Philippines and has forced health institutions to downsize their operations, according to a paper published this May in the Journal of Global Health.  
A shortfall of 18 million HCWs is projected in low- to middle-income countries by 2030, according to the World Health Organization. — Patricia B. Mirasol