Nike moves forward with Infinity Run and Adapt BB 2.0 shoes
NIKE'S thrust of providing consumers with quality products by tapping the latest in technology continues with the launch of its new running and basketball shoes — the Nike React Infinity Run and Nike Adapt BB 2.0 shoes.
Set for local release in the coming weeks, the shoes, Nike said, are designed to churn out optimum performance while exuding some freshness into how they are presented.
The Nike React Infinity Run is made to reduce runners' injuries by hemming in two technologies found in the brand's past shoes, namely the Zoom Vaporfly 4% and Nike React, which were released in 2017.
The Infinity Run boasts of the fine-tuned blend of biomechanical efficiency (Vaporfly) and cushioning (React) — for a more democratic solution to stability.
With the combination of the two elements, a runner can instantly feel the impact.
Slip the shoe on, and it feels at once stable and energetic, the spring in the React foam ready to fuel miles. The Infinity's rocker-geometry encourages a slight lean forward, moving a runner's foot strike from heel to midfoot, or even forefoot; this creates a natural forward feel of propulsion.
The wider platform, and the supportive foam that accompanies it, provides a reassuring feel — the shoe gently guides the foot in a smooth, straight line, reducing side-to-side wobbling and movement.
The Nike React Infinity Run retails for P8,095. It was exclusively made available on Jan. 23 for Nike Members at the Nike Park Mall Of Asia opening.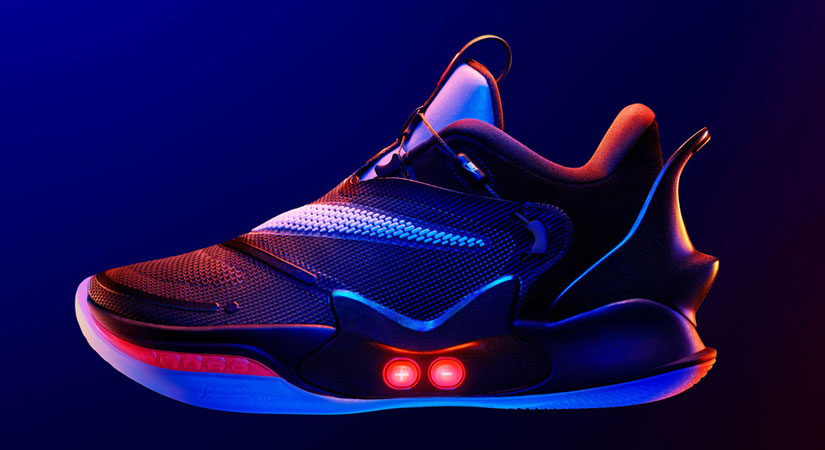 Its retail launch is set for Jan. 30. For more details, visit https://news.nike.com/news/react-infinity-run.
NIKE ADAPT BB 2.0
Meanwhile, the power-lacing Nike Adapt BB 2.0 is set to hit the local market in February.
Recently debuted by Memphis Grizzlies rookie guard Ja Morant in their National Basketball Association game versus the New Orleans Pelicans, the Nike Adapt 2.0 has it building on the features of the original Nike Adapt BB which was released last year.
The latest iteration of the Adapt BB has a bouncier court fell, Nike said, with its designers adding Air Zoom Turbo to the forefoot of the 2.0, similar to the Kyrie line.
It also promises a better ride after the designers reconfigured the midsole stack height, resulting in an improved transition from heel to toe while moving.
The Nike Adapt BB 2.0 has the Flyknit shroud in the original removed, opening up the collar and integrating a stretchable ballistic mesh throughout the upper, making putting on the shoe simpler.
Visually, the shoe has a more immersive detailing. It has a larger Swoosh which at a closer look reveals a combination of pixelated textures, a deliberate choice by material designers to balance the shoe's über-tech performance ideal with a more grounded opportunity to sense the shoe in ways beyond fit. — Michael Angelo S. Murillo