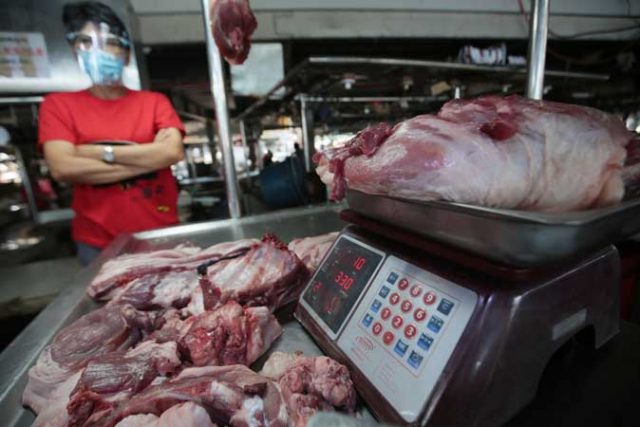 REDUCTIONS in the pork import tariff rates have not lowered the retail price of pork, a farming industry official said.
Samahang Industriya ng Agrikultura (SINAG) Executive Director Jayson H. Cainglet said in a phone message that pork retail prices have not fallen more than two months since the tariffs on imported pork products were adjusted.
The Tariff Commission is scheduled to hear SINAG's petition to increase tariffs on pork imports on June 25.
SINAG had proposed in March to increase the tariff on pork imports within the minimum access volume (MAV) quota to 40% and that on out-of-quota imports to 44%.
According to Mr. Cainglet, the farmgate price of pork fell because of the decline in tariffs on imports. Imports have been the government's recourse after pork prices rose due to constrained supply in the wake of the African Swine Fever outbreak.
"The farmgate price varies per province, but from P200 to P240 per kilogram before the EO, it was reduced by P15 to P20 pesos. The farmgate prices of hog raisers fell (because) viajero-traders are getting pork from importer-traders," Mr. Cainglet said.
Mr. Cainglet said the landed cost of imported pork is currently at P80 per kilogram.
"Prior to Executive Order (EO) 128, the landed cost ranged from P115 to P130 per kilogram. There are pork imports that have entered the country under the lower tariffs before they were adjusted," Mr. Cainglet said.
In EO 134 signed on May 15, President Rodrigo R. Duterte reset the tariff of pork within the MAV quota to 10% in the first three months of implementation and 15% in the following nine months.
Tariffs for out-of-quota pork imports were set 20% for the first three months and 25% in the next nine months.
MAV imports pay a favorable tariff rate under the World Trade Organization system.
EO 134 was issued after lengthy discussions among legislators, the farm industry, and the government about EO 128, which was signed on April 7. EO 128 reduced the tariff on in-quota pork imports to 5% and 10%, and out-of-quota pork imports to 15% and 20%, respectively.
Before EO 128, in-quota pork imports were charged 30% while out-of-quota pork imports paid 40%.
It was then amended by EO 134 after the order met with resistance from the industry and legislators.
"Tariff reductions, as the livestock and agricultural groups have argued during the marathon legislative hearings, have only benefitted the importers and those that avidly pushed for it — but never the consumers nor the backyard raisers," Mr. Cainglet said.
Mr. Duterte also signed EO 133, which increased the MAV quota for pork imports to 254,210 metric tons (MT) from 54,210 MT previously.
According to the Bureau of Animal Industry, meat imports in the five months to May period rose 26.7% year on year to 440,018.87 MT, driven by pork imports amounting to 215,883.30 MT. — Revin Mikhael D. Ochave