Proposal to reform wage-setting system finds union backing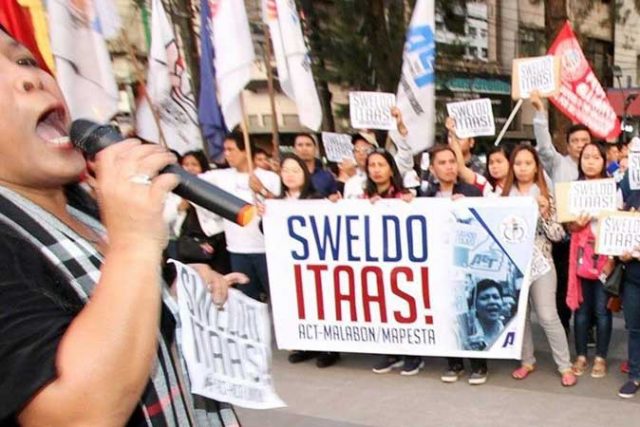 UNIONS have declared their support for a proposal put forward by a legislator to reform the current wage-setting process in light of the vulnerability of any wage gains to erosion during major emergencies that dampen the economy.
Agusan del Norte Rep. Lawrence H. Fortun on Saturday called for a review of current law governing minimum wages, as well as other labor laws.
The current wage determination system is governed by Republic Act 6727 or the Wage Rationalization Act.
"I appeal for a joint legislative-executive review of our laws and regulations on minimum wage and working conditions. Given the pandemic economic shocks and its effects which will last for years to come, the need to review and reform our current legal architecture on wages and working conditions is an exigency," he said in a statement.
Unions backed the review of the wage-setting mechanism, which was enacted over three decades ago.
In a mobile message to BusinessWorld Sunday, Partido Manggagawa Chairman Renato B. Magtubo said the proposal is "very much welcome" adding that RA 6727's… objectives and mechanisms should be evaluated with the end in view of addressing the gap between workers' nominal wage and the cost of living and satisfying the constitutional mandate of granting workers a living wage."
He said labor unions should be involved in the review since it affects their wages.
Associated Labor Unions Spokesman Alan A. Tanjusay told BusinessWorld in a social media message that the law is not well-suited to current times, and supports an across-the-board minimum wage. The law currently authorizes wage boards to set rates regionally.
"It has to be national. The time is ripe to abandon regional wage setting. Our aspiration is to do away with minimum wage-setting and replace it with a living wage (which) must be uniform," Mr. Tanjusay said.
An economist called into question the urgency of the reforms, saying that business survival is currently a higher priority.
University of the Philippines Economics Professor Rene E. Ofreneo told BusinessWorld by phone Sunday, "Review of the law will be a continuous thing but the urgency is in the survival of industries."
He added that the most urgent thing that can be done to help workers deal with their eroding purchasing power is "integrative bargaining" between the management and workers.
"Actually the situation calls for more dialogue for industry and labor. If wages of minimum wage earners are eroded, even more so (are) the incomes of businesses," he said, adding most businesses are micro, small and medium enterprises severely hit by the pandemic.
Dialogues should be conducted on an industry-to-industry or company-to-company basis for now, overseen by the Department of Labor and Employment, he said. — Gillian M. Cortez