COL Financial sets PSEi target at 8,400 in 2022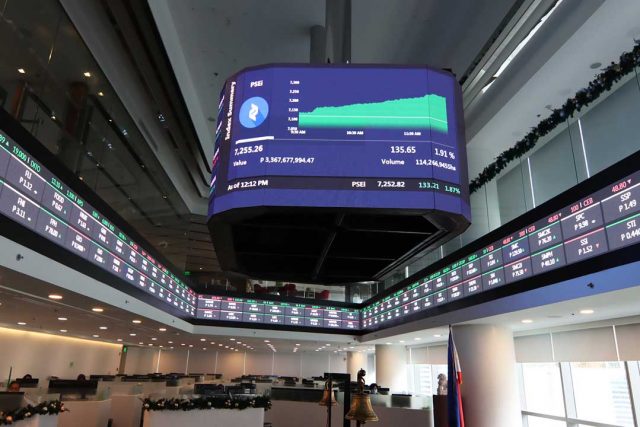 COL Financial Group, Inc. is expecting the bellwether Philippine Stock Exchange index (PSEi) to reach a high of 8,400 this year on the back of the country's recovery story.
"We remain bullish. We feel that the reopening of the Philippine economy will drive economic growth faster and drive profits higher," COL Financial Group First Vice-President April Lynn C. Lee-Tan said in a briefing on Monday.
"Our PSEi target for this year is 8,400," she added. "But that said, buy on dips. We feel that volatility will remain, as you know there are a lot of concerns."
COL Financial Group Chief Technical Analyst Juanis G. Barredo noted that under the PSEi's weekly performance, the index is in a "wave 1" of a rally. He placed the index' current resistance at 7,475 and its next resistance at 7,800 to 8,250.
Major support for the PSEi, meanwhile, was set to 6,950 and 6,600. The easing of restrictions is among the catalysts for the local stock market.
Ms. Lee-Tan noted that a lot of individuals remain cautious when investing in the local stock market, considering the uncertainty of the coronavirus disease 2019 (COVID-19) pandemic, the upcoming national elections, global inflation, and higher interest rates.
However, she added that "there's no point in being bearish because the cautious views are already priced in."
Government initiatives such as allocating for higher spending this year by 11.5% to P5.02 trillion and the passage of more "pro-FDI (foreign direct investments) legislation" are also seen to be positive developments for the market.
Meanwhile, for stock picks, Ms. Lee-Tan said they prefer larger capitalized stocks as these "usually lead recoveries" and the "safer" value stocks. Stocks that benefit from reopening plays would be preferred.
Investors are also told to avoid expensive stocks, which are seen to be more "vulnerable" to rising interest rates.
"For the cheaper stocks, we are conscious about valuations at this point," Ms. Lee-Tan said. "On the large-cap issues, we prefer them over the small-cap issues because usually during a market recovery, they are the first ones to go up." — Keren Concepcion G. Valmonte