PHL prepares for digital, branchless banks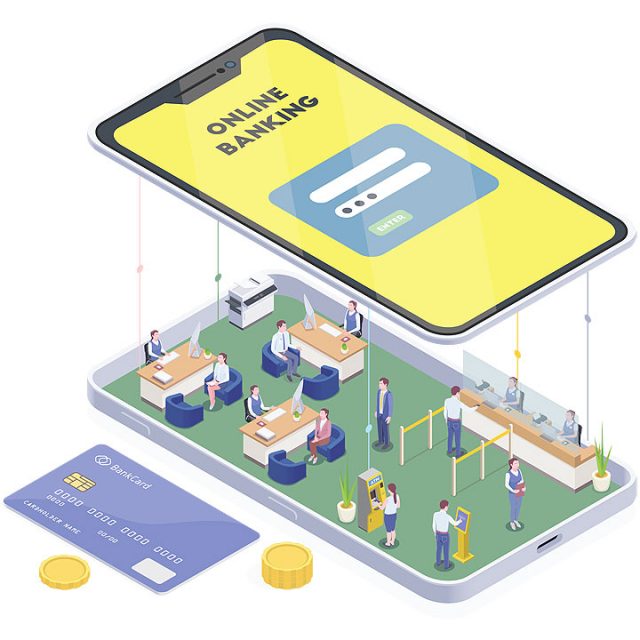 By Luz Wendy T. Noble, Reporter
While online banking is not new in the Philippines, banks without physical branches could sooner or later become the norm in the country as the central bank distinguishes digital-only banks from those with brick-and-mortar presence.
This distinction was made clear in Circular 1105 that was released by the Bangko Sentral ng Pilipinas (BSP) in December last year. Just as with traditional banks, digital banks will be allowed to grant loans, accept savings, time deposits and foreign currency deposits, invest in securities, issue e-money products and credit cards, sell micro-insurance products, and buy and sell foreign exchange currencies, among others.
Lenders that will be granted a digital bank license are required to put up a minimum capital of P1 billion, a physical office in the country to serve as the main point of contact for stakeholders and regulators, and are subject to the same regulatory requirements as traditional banks.
Existing banks converting to digital banks will be given a period of three years from the BSP's approval to meet the minimum capital requirement and implement the transition, which include divesting or closing branches or branch lite units; limiting stocks of foreign individuals or nonbank entities, Filipino individuals or local nonbank parties, and family groups at 40% of the voting stocks; and phasing out activities not associated with a digital-only bank and submitting the amended Articles of Incorporation and By-Laws registered with the Securities and Exchange Commission within six months from the date of receipt of the approval notice.
These all-online banks are expected to help the BSP reach its goal to bring 70% of Filipino adults into the banked population and 50% of payments done online by 2023.
Initially, the BSP limited the number of digital bank licenses to five for the next three years as it wants to monitor these new lenders as well as gain experience on digital banking. This was later expanded to seven in August.
As of this writing, the BSP has granted five digital bank licenses: the state-owned Overseas Filipino Bank (OFBank); the Singapore-based Tonik Digital Bank, Inc. (Philippines); UNObank; the UnionBank of the Philippines, Inc.'s Union Digital Bank; and a partnership between the Singapore-headquartered Tyme and Philippine-based Gokongwei Group's GOtyme.
The central bank is still evaluating two more applications as the window for applications is set to close on Aug. 31. Still, BSP Governor Benjamin E. Diokno has said the chances for other firms to get a digital bank license or convert their existing banking licenses at this point are "very slim" given the applications are processed on a first-come, first-served basis and that the two applications would have to be disqualified or would be unable to comply with all requirements for other applications to be considered.
As noted in the BSP Circular, the authority to establish a digital bank "shall be automatically revoked" if the lender is not organized and opened for business within one year after it receives the approval of its application from the central BSP's Monetary Board. It can also be revoked if the BSP has determined that the bank "provided false or misleading information" during the processing of the application.
Still, there have already been banks in the Philippines offering no-branch banking services through their apps prior to having the digital bank as a new and separate category. For instance, CIMB Bank Philippines and ING Bank N.V. Manila provide all-online retail banking services, even as they currently have an existing commercial and universal bank license, respectively.
CIMB Philippines Chief Executive Officer (CEO) Vijay Manoharan said in a Zoom interview that since they started in 2019, their clients' behavior has evolved in how they evaluate digital banking services and carry out their transactions. In particular, he noted how their clients are now using their accounts to transfer funds, pay bills, and mobile top-ups as compared with just pouring in savings and visiting their accounts once a month prior to the pandemic.
Mr. Manoharan also noted CIMB Philippines already has close to 800,000 loan customers coming from just about 10,000 in early 2020.
"They're [clients] now asking for more. They seem to be able to compare and contrast versus our other fellow digital banks and then also weigh their options and evaluate which offering is more relevant to them," he said.
Meanwhile, Rizal Commercial Banking Corp. (RCBC) Executive Vice-President and Chief Innovation and Inclusion Officer Angelito "Lito" M. Villanueva said in an e-mail that their DiskarTech app has been utilized to disburse P16.3 billion in financial aid from the government's social protection programs for 4.5 million low-income families across 73 of the 81 provinces. He added that eight out of 10 of DiskarTech users are in the provinces, showing how the app has become inclusive of providing financial services to the countryside.
RCBC's DiskarTech, which was launched in July of last year, allows users to open a basic deposit account that does not require an initial deposit amount and a maintaining balance. It also features card-less ATM withdrawals, allows deposits and cash-outs from agent partners, and includes a Taglish (a mixture of Tagalog and English) and Cebuano version of the app.
Mr. Villanueva noted that despite these efforts, digital banks and other financial institutions still have a long way to go to make Filipinos appreciate the value of formal financial services.
"While there has been an increase in digital transactions or utilization of the platform globally because of the pandemic here in the Philippines, most are actually done as a pass-through channel, or a means to… send and receive money. We still haven't been fully successful in keeping their money within the digital finance system," said Mr. Villanueva.
PERKS OF A NO-BRANCH MODEL
For digital banks, not having to maintain a physical branch means less operating costs, which they believe is a big advantage over traditional lenders.
"We can take this perspective that given the very nature of it being digital, the use of a digital platform from end to end of its business model will afford it a wider coverage of its market at a lesser cost," BSP Deputy Governor Chuchi G. Fonacier said in a Viber message.
UNObank co-founder and CEO Manish Bhai hopes this very nature of a digital bank will be key not just for their business to flourish, but also for consumers to benefit from their services as well.
"By leveraging a branch-less structure and latest agile technology, which directly leads to significant savings in operational costs, it will also be able to make loans and lower much more competitive rates than traditional lenders," Mr. Bhai said in an e-mail.
Mr. Bhai added that they were particularly interested in the Philippines considering organized credit penetration in the country is significantly smaller than other markets in Southeast Asia. Despite this gap, he said, the bank sees opportunity for digital banking in the country given its relatively high mobile penetration rate.
Another advantage of digital banks over traditional banks is the former's capacity to offer higher interest rates compared with the latter. Since starting their all-online retail banking services in the country in 2019, CIMB Philippines and ING Bank have been luring clients through all-online applications and higher interest rates. East West Banking Corp. and RCBC, through their respective apps Komo and DiskarTech, are also positioning themselves with similar digital banking services.
CIMB Philippines' Mr. Manoharan believes the bank will be able to do so in the long run beyond just having to entice people into signing up.
"We will always pay a much more attractive savings rate vis a vis traditional banks. Why? Because our cost-structure enables us to do that. For traditional banks, their [employee-to-customer] ratio is 1 to 500. For digital banks like us, our ratio is 1 to 30,000," he said, noting they have about 200 employees.
Maybank Philippines, Inc., a commercial bank, also acknowledges how digital banks, in their own way, help bring financial inclusion by focusing on credit disbursement. 
"The emergence of digital lenders and other fintech companies would likely promote accessibility to loans and other financial products and services. We've seen that those new lenders are moving into key areas where they can compete and position themselves, especially in micro-financing," Maybank said in an e-mail.
Maybank has partnered with payment providers and key merchants for their prepaid top up facilities such as Autosweep RFID, EasyTrip, Meralco (Manila Electric Co.) prepaid load, PLDT, Inc. and Cignal TV, Inc.
"Our present digital roadmap already covers products and services that a digital bank can offer at this time, but we support efforts for digital bank licensing. The bank has been fortunate that it has invested early and heavily on digital banking, which has allowed us to gain significant traction in our online products," Maybank said.
DIGITAL BANKS AS MAINSTREAM?
The full impact of these digital-only banks on the economy may take a while, but their success in the first few years of their operations would determine future applications.
The OFBank, which was granted the first digital bank license in late March, started operations in June 2020 using its existing license to operate as a thrift bank.
Meanwhile, TONIK Digital Bank officially launched last March following its pilot launch in November 2020 for select and limited customer reach. Previously, it had a rural bank license that was granted by the BSP in September last year.
UNObank became the third bank granted a digital license and is the first to receive a license outright to operate as a digital bank. It was granted the license in June and is targeting to set up shop by the first quarter of 2022.
The UnionBank subsidiary Union Digital Bank is expected to start its operation formally by the second quarter of 2022, UnionBank Executive Vice-President and Chief Mass Market and Financial Inclusion Executive Manuel G. Santiago, Jr. said at an online forum.
"The digital bank will be a vehicle for financial inclusion. It will run on the latest and best technologies available so that UnionDigital can reach a wider segment of the population, particularly unbanked and underbanked Filipinos, in a cost-effective way through its digital proposition," parent lender UnionBank said in an e-mail.
For their part, GOtyme President and CEO Elmer "Jojo" M. Malolos said they will tap on the Gokongwei Group's retail footprint where they can set up digital kiosks to allow people to have the option to register there apart from their app. He said the digital bank will likely start its operation in the second quarter of next year.
"GOtyme will leverage the Gokongwei Group's extensive ecosystem that is highly integrated into the daily lives of Filipinos — where they already shop, eat and spend family time. This distribution strategy will assist in the democratization of financial services, addressing the needs of all Filipinos regardless of age, income, or geography," Mr. Malolos said in a statement.
Prior to the BSP's announcement of its deadline and limit for digital bank license applications, Philippine National Bank (PNB) President and CEO Jose Arnulfo A. Veloso said they are prioritizing completing the application requirements to secure a digital bank license within the year.
"Of course, the digital bank will be innovating financial solutions aimed at new, younger, more sophisticated and demanding markets. But we also intend to offer innovations to our existing clients to help make their banking experience more convenient and safe, especially in the 'New Normal,'" he said in an e-mail.
PNB Senior Vice-President and Special Assistant to the President on Digital Bank Initiative Paolo Eugenio J. Baltao said that with PNB having the widest global footprint among local banks, they plan to focus on retail lending that would benefit local borrowers as well as overseas Filipinos and their remittance recipients in the country.
"Likewise, we would like to offer online investment solutions. The product and service lineup is still in the drawing board as we identify how we could best serve our clients and attract new ones," he said.
Meanwhile, RCBC's Mr. Villanueva said they are not yet looking to apply for a digital license in the near future.
"RCBC does not see the immediate need to apply for a digital bank license, as we have already been, and continue to provide our customers, quality banking services using our innovative, interoperable, and inclusive digital platforms," Mr. Villanueva said.
Back in June, RCBC President and CEO Eugene S. Acevedo stated at an online briefing their plans for applying for a new license, albeit he did not provide a timetable. He added the bank is currently incubating "at least one" of their business including DiskarTech that they can potentially spin off in the future as a separate digital bank.
Incumbent players that are offering all-online digital services believe there is still much growth for the sector despite more entrants coming in.
"To capture the underbanked and underserved Filipino market, financial services should be 'non-intimidating, simplified, secure, and innovation-driven,'" Tonik Digital Bank President Maria Lourdes Jocelyn S. Pineda said in a BusinessWorld Insights session back in July, adding that not all of the population are comfortable with using technology to do banking transactions.
CIMB Philippines' Mr. Manoharan believe the new players will awaken the incumbents to raise their game and push them to the next level.
"We are not even close to anywhere even addressing the early adopters [as] they are still coming in big waves. We have not yet reached that part where we are now searching for the 50 and above. Those below 35 are still coming in very active and in high volume," he said.
For RCBC's Mr. Villanueva, current conditions point to the ever-increasing importance of technology as more customers start using or increase their usage of online banking services.
"[W]e believe technology can help promote synergy among banks, regulators, and financial industry partners. More automation is necessary to lessen or manage human contact, which is a banking setup the industry must be able to implement moving forward, if we are to make our business pandemic-proof," he said.