Peso weakens vs dollar as Fed mulls earlier rate hikes to fight inflation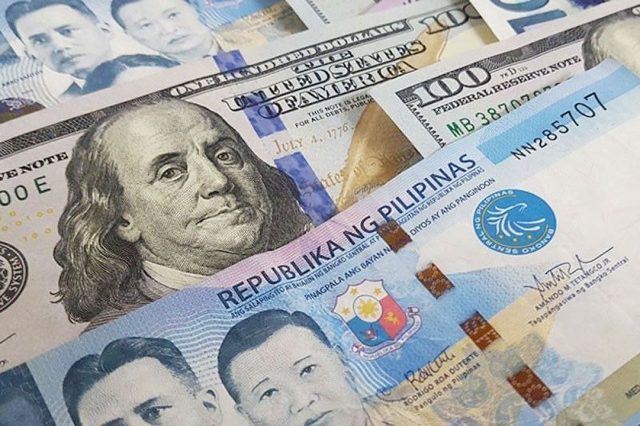 THE PESO retreated anew versus the greenback on Thursday as the US Federal Reserve signaled earlier rate hikes to combat elevated inflation.
The local unit finished trading at P51.18 per dollar on Thursday, shedding 22 centavos from its P50.96 close on Wednesday, based on data from the Bankers Association of the Philippines.
The peso opened Thursday's session weaker at P51.03 versus the dollar. Its worst showing was at P51.23, while its intraday best was at P50.99 against the greenback.
Dollars traded declined to $1.151 billion on Thursday from $1.209 billion on Wednesday.
The peso weakened following the release of the minutes of the Fed's latest policy review, which showed officials discussing a possible need for earlier rate hikes amid elevated price increases, Rizal Commercial Banking Corp. Chief Economist Michael L. Ricafort said in a Viber message.
Both elevated inflation and the "very tight" labor market were considered by Fed officials to support their view to raise interest rates sooner rather than later, Reuters reported.
"Participants generally noted that, given their individual outlooks for the economy, the labor market, and inflation, it may become warranted to increase the federal funds rate sooner or at a faster pace than participants had earlier anticipated," the minutes of the Dec. 14-15 meeting of the Federal Open Market Committee showed.
Meanwhile, a trader said the surge in local cases also weighed on the peso.
Active infections rose by 17,220 to 56,561 on Thursday, based on data from the Department of Health. This is higher than the 10,775 new cases tallied on Wednesday. The positivity rate also surged to 36.9% for the 59,847 tests reported.
For Friday, Mr. Ricafort gave a forecast range of P51.05 to P51.25 per dollar, while the trader expects the local unit to move within P49.95 to P51.20. — LWTN with Reuters