Trade deficit reaches record high in Dec.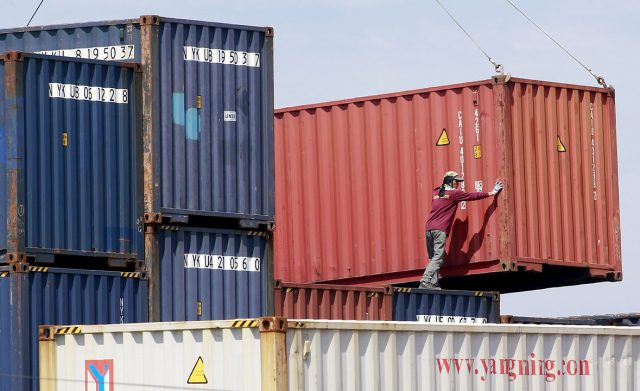 THE PHILIPPINES' trade-in-goods balance hit another record deficit in December as merchandise imports continue to grow by double digits, reflecting robust domestic demand.
The value of outbound shipment of goods grew by 7.1% year on year to $6.27 billion in December, preliminary data from the Philippine Statistics Authority showed.
The December growth was faster than the 1.8% increase in the same month in 2020 and the 6.6% growth in November 2021.
December's export growth was the highest in four months or since the 18.9% expansion logged in August.
Meanwhile, merchandise imports rose by 38.3% to $11.48 billion in December, faster than the 36.8% growth seen in the month prior. This also marked a reversal from the 4.7% decline in December 2020.
This was the highest import print in six months or since the 43.4% growth in June.
This brought the trade-in-goods deficit to a record $5.21 billion in December, wider than the $2.45-billion shortfall recorded in December 2020, as well as the $4.71-billion gap in November last year.
For 2021, the trade balance ballooned to a $43.13-billion deficit, almost double the $24.60-billion trade gap in 2020.
Exports grew by 14.5% year on year to $74.64 billion in 2021, missing the revised 16% growth projected by the Development Budget Coordination Committee.
Imports reached $117.78 billion last year, climbing by 31.1% year on year. This pace was slightly above the government's also revised 30% assumption.
Exports of manufactured goods, which accounted for 84.1% of the total overseas sales for December, rose by 5.5% to $5.27 billion.
Electronic products, which made up nearly 70% of manufactured goods and more than half of the total merchandise exports that month, inched up by 1.8% to $3.67 billion. Semiconductors, which the bulk of electronic products, reached $2.76 billion, up by 1.6% year on year.
Meanwhile, agro-based products surged by 46.1% to $496.43 million, while forest products dipped by 3.9% to $29.28 million.
Exports of mineral products were flat at $374.20 billion. In contrast, petroleum products plunged by 96.5% to $352,619.
All major import items showed a positive annual growth in December.
Imports of mineral fuels, lubricant, and related materials more than doubled to $1.67 billion that month. Similarly, raw materials and intermediate goods grew by 49.2% to $4.72 billion.
Purchases of capital and consumer goods were valued at $3.24 billion (up 13.3%) and $1.78 billion (up 17.6%) in December, respectively.
Rizal Commercial Banking Corp. (RCBC) Chief Economist Michael L. Ricafort attributed the growth in exports to the more relaxed mobility curbs for much of the fourth quarter.
December's record trade deficit was "largely brought about by the further reopening of the economy towards greater normalcy until end-December 2021 that led to increased economic/business activities that led to higher importation activities as well as elevated global oil prices," he said in an e-mail.
Metro Manila and nearby areas were placed under a more relaxed Alert Level 2 starting November, as the number of new coronavirus disease 2019 (COVID-19) infections declined.
Meanwhile, Bank of the Philippine Islands Lead Economist Emilio S. Neri, Jr. noted in a Viber message that imports grew massively in the last three months of 2021 due to the drop in COVID-19 cases and deaths, which led to more relaxed quarantine protocols.
"The accelerated vaccination played a large role as supplies got better. Higher oil prices and continuous imports also boosted the ramp up," Mr. Neri said. "Exports are slowing because of raw materials, supply chain issues."
He expects the imports to grow by "at least 15% as the government has committed to ramp up its fish imports just as pork import mandate stays."
"Continuous reopening of the economy will also lead to higher imports of oil as well as consumer items as schools gradually reopen," Mr. Neri said.
In January, Agriculture Secretary William D. Dar pushed for the need to import fish after the damage brought by Typhoon Odette (international name: Rai) to the fisheries sector, as well as the supply deficit amid the closed-fishing season.
In December, the Department of Finance Secretary Carlos G. Dominguez III said he is backing a proposal to extend the validity of Executive Order 133 to increase pork import volumes until end-2022.
For RCBC's Mr. Ricafort, "imports and exports could still continue to grow as the economy further reopens towards greater normalcy amid increased vaccinations/booster doses that would help further reduce new COVID-19 cases from spreading further." — Mariedel Irish U. Catilogo