Comelec says it will probe missing canvass certificates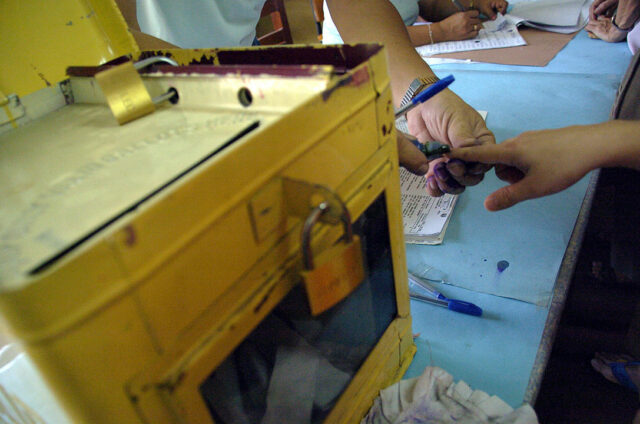 THE COMMISSION on Elections (Comelec) will investigate why several ballot boxes sent to Congress for the canvassing of votes for president and vice-president did not contain certificates of canvass, an election commissioner said.
"We will look into what happened, whether they were misplaced inadvertently or on purpose," Election Commissioner Marlon S. Casquejo told a news briefing on Wednesday. "It is one of the clear jobs given to our elected officers and part of our general instructions."
He said Comelec would decide whether to sanction the election officers responsible for the lapse. "If it is justifiable, we can probably look past it, otherwise we can make sanctions based on Civil Service rules," Mr. Casquejo said in Filipino.
Meanwhile, Comelec as the National Board of Canvassers on Wednesday afternoon finished processing all 173 certificates of canvass after including Lanao del Sur province in the official tally for this year's senatorial and party-list race, according to a live-streamed video.
Comelec will proclaim the winners of the party-list race on Thursday afternoon, except for party-list groups facing disqualification cases, Election Commissioner George Erwin M. Garcia said during the live-streamed vote-canvassing session.
He told a separate press briefing they have yet to resolve petitions seeking to disqualify some party-list organizations and a complaint that questions the computation process in deciding the number of party-list seats.
Special elections were held in several villages in Tubaran, Lanao del Sur on Tuesday after a failure of elections was declared in the southern town due to violence.
"We were so successful yesterday, no untoward incidents or machine failures were reported," Mr. Garcia said. "All precincts were able to transmit election results by 4 a.m. on Wednesday."
The mayor and other local officials in Tubaran were also proclaimed on Wednesday, Comelec Deputy Executive Director for Operations Teopisto E. Elnas, Jr. told the same briefing.
He added that about 850 cops and 150 soldiers were deployed for the special elections held across 12 villages and 15 voting centers.
Lawmakers earlier found that several certificates were missing due to human error made by Comelec supervisors.
Senate Majority Leader Juan Miguel "Migz" F. Zubiri and House Majority Leader Martin G. Romualdez had to call provincial officials to send the missing certificates via Viber, authenticate them through a video call and require them to send the official documents to the House of Representatives immediately after.
The problem was found in several provinces including Surigao Del Sur, Pampanga, Sultan Kudarat, Mandaluyong, Sulu, Manila, Cagayan de Oro and Taguig-Pateros.
"It's a constitutionally mandated duty of the Comelec to deliver the provincial certificates of canvass (COC) to the Senate so that we may canvass them on time during the National Board of Canvassers and joint session of Congress," Mr. Zubiri said during the joint session on Wednesday.
"How difficult is that to do?" he asked. "The Comelec is now in the Senate trying to apply for confirmation under the Commission on Appointments. How can we confirm them when they can't even deliver to us, today, the COCs needed to canvass the votes for president and vice president? — John Victor D. Ordoñez and Alyssa Nicole O. Tan