Home
Editors' Picks
IATF now accepting national COVID-19 vaccination certificates from 15 more countries
IATF now accepting national COVID-19 vaccination certificates from 15 more countries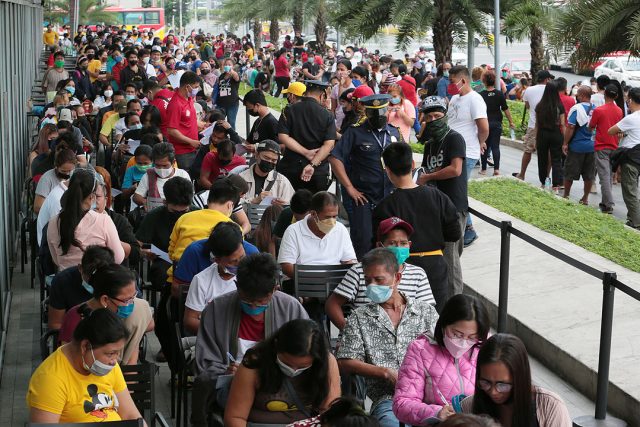 The Inter-Agency Task Force for the Management of Emerging Infectious Diseases (IATF) will now be accepting the national COVID-19 vaccination certificates of 15 more countries, the Presidential Palace said on Friday.
The proof of vaccination of the following countries — Argentina, Azerbaijan, Brunei Darussalam, Cambodia, Chile, Denmark, Ecuador, Indonesia, Macau SAR, Myanmar, Papua New Guinea, Peru, Portugal, Spain, and Syria — will now be recognized in the Philippines, said Acting Presidential Spokesman and Cabinet Secretary Karlo Alexei B. Nograles at a televised news briefing.
He also noted that 455,140 Pfizer vaccine doses that were purchased by the national government for the adult population arrived at the NAIA Terminal 3 on Thursday night. On Wednesday, 780,000 Pfizer vaccine doses, purchased through the financial assistance of the World Bank for five- to 11-year-old children, were received.
During the same briefing, Health Undersecretary Maria Rosario S. Vergeire said that over 329,000 children between five to 11 years old have been vaccinated against the coronavirus 2019 (COVID-19) as of Thursday.
"We are expecting more parents to register their children in the coming days as they realize how COVID-19 vaccines help keep their children safe and protected against the virus," she added.
Ms. Vergeire also said that over 3 million Filipinos nationwide have received their primary doses and booster shots under the third Bayanihan, Bakunahan program, which ends today.
She noted that 2.67 million jabs were administered to the general population, 551,392 of which were the first dose, 1.08 million were the second, and 167, 677 were single-shot doses. A total of 864, 287 booster shots were given.
"Vaccine efficacy after a booster dose shows significant impact on preventing severe diseases and hospitalizations," the health undersecretary said. "It also provides 25 times more protection against the Omicron variant."
As of Thursday, 62.2 million people have been fully vaccinated against COVID-19, while 61.55 million have received their first dose. 9.49 million have received their top-up shots.
IS A 2ND BOOSTER NEEDED?
Meanwhile, infectious diseases expert Dr. Edsel Maurice T. Salvaña said that they are still looking into the need for second booster shots.
"We all know that vaccines protect us in three ways: first they can decrease transmission, number two is they can decrease infection… and the third is the protection against severe disease," he said in a televised news briefing on Friday.
Mr. Salvaña said that while the first three doses assured the recipients of those benefits, a second booster shot will barely increase protection against severe diseases. In this case, it's likely that it will only be used for the most vulnerable population, including the old and those with comorbidities, as well as individuals who are highly exposed to the virus such as healthcare workers.
The highest priority should still be given to the primary series of the vaccines – the first two doses – he added, because these provide the most significant protection against COVID-19.
"Do not get the fourth dose – a second booster – first because its efficacy is still uncertain as well as any possible side effects, said Mr. Salvaña, noting that there may also be more advanced vaccines in the future that become better alternatives for a fourth shot.
COVID-19 ALLOWANCE
Meanwhile, Ms. Vergeire clarified that the P7.92 billion released by the budget department to the health department on Thursday for the One COVID-19 Allowance is a streamlined version of the allowances already received by healthcare professionals in the past.
With this, she said the validation and computation process will be lumped according to their classification, making the process faster and ensuring that chances will be lower of delays in providing benefits to the healthcare workers.
Eligible for the allowance are 526,727 healthcare and non-healthcare workers involved in the COVID-19 response. The allowance will be providing each worker with P3,000, P6,000, or P9,000 monthly depending on their level of risk at their jobs.
Now that the budget has been released, Ms. Vergeire said, benefits will be distributed to health professionals as soon as the processing is completed. — Alyssa Nicole O. Tan