Philippines to use six Metro Manila areas to vaccinate kids 5-11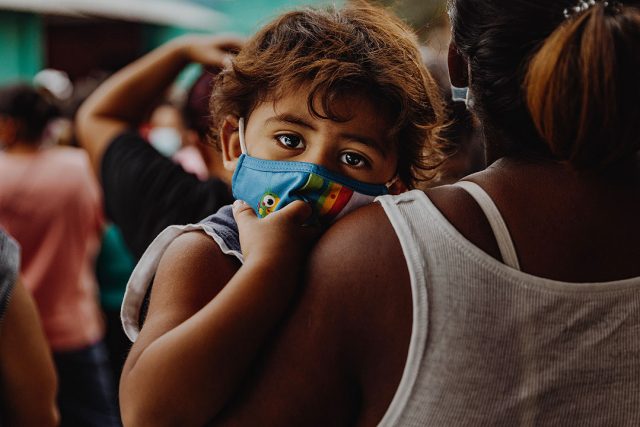 By Kyle Aristophere T. Atienza, Reporter
THE PHILIPPINES will use six commercial and public sites in Metro Manila to vaccinate children aged five to 11 starting Feb. 4., according to the presidential palace.
The vaccination will be done in several areas in the capital region, including the Philippine Heart Center, Philippine Children's Medical Center and National Children's Hospital, Cabinet Secretary Karlo Alexei B. Nograles told a televised news briefing on Monday.
It will also be held at the Manila Zoo, SM North EDSA and San Juan Gym, he added. "This is important in our preparation for the return to face-to-face classes."
The first batch of Pfizer, Inc.'s COVID-19 vaccines for Filipino kids will arrive this week, Mr. Nograles said.
Philippine health authorities earlier said 168,355 children aged five to 11 have registered for vaccination.
The government earlier said 780,000 doses of coronavirus vaccine for children were set to arrive on Jan. 31.
Mr. Nograles said about 7.5 million children aged 12 to 17 years had been fully vaccinated against the coronavirus as of Jan. 29.
The Philippines had fully vaccinated 58.79 million people as of Jan. 30, while 60.34 million have received their first dose, the palace official said. Almost 7.34 million booster shots have been given out.
Meanwhile the tourism industry has been ready to safely reopen even before an inter-agency task force decided to resume international travel on Feb. 10, Tourism Secretary Bernadette Romulo-Puyat told the same briefing.
She said 100% of tourism workers in the country have been fully vaccinated against the coronavirus.
Ms. Puyat said only fully vaccinated leisure travelers from visa-free countries would be allowed to enter the country.
The Philippines aims to fully vaccinate 77 million Filipinos by the end of the quarter.
The Department of Health (DoH) posted 14,546 coronavirus infections on Monday, bringing the total to 3.56 million.
The death toll hit 54,003 after 112 more patients died, while recoveries rose by 26,500 to 3.32 million, it said in a bulletin.
It said 28.4% of 52,013 samples on Jan. 29 tested positive for COVID-19, still above the 5% threshold set by the World Health Organization (WHO).
There were 190,818 active cases, 8,239 of which did not show symptoms, 177,584 were mild, 3,126 were moderate, 1,540 were severe and 329 were critical.
DoH said 70% of the latest cases occurred from Jan. 18 to Jan. 31. The top regions with new cases in the past two weeks were the Davao region with 1,381, Metro Manila with 1,053 and Central Visayas 973 infections. It added that 96% of deaths occurred in January.
DoH said 24 duplicates had been removed from the tally, 11 of which were recoveries, while recoveries were relisted as deaths. Three laboratories did not submit data on Jan. 29.
The agency said 46% of intensive care unit beds in the country had been used, while the rate for Metro Manila was 38%.
The government has lowered the virus alert in the Philippine capital and nearby cities to level 2 starting Feb. 1.
OCTA Research fellow Fredegusto P. David said the government should have kept Metro Manila under Alert Level 3.
"I might have taken a slightly more cautious approach and maybe waited one or two weeks," he told an online forum. "One to two weeks in the scheme of things will not be a long wait."
Mr. David said the transition to a more relaxed alert level should be done gradually.
The OCTA fellow, meanwhile, said the country's pandemic task force might have based its decision on different metrics.
He noted that during infection surges spurred by the Delta, Alpha and Beta variants last year, the government had to wait for cases to go down below 2,000 daily before easing the lockdown. "We calculated that number to be the threshold based on the number of people getting hospitalized."
Mr. David said the country's health system is not facing the same threats as before "because of the predominantly mild cases."
"The surge capacity is probably much higher," he said. "What that means is 3,000 cases a day in the National Capital Region, even if we're going to have that level for a while, that will be a level of cases that will not really threaten our hospital care system."
Meanwhile, Mr. Nograles said Bacolod, Cebu and Iloilo in central Philippines are expected to use pharmacies as vaccination cites starting this week. Baguio City was the first local government unit outside Metro Manila to use drug stores as vaccination sites.
The pandemic task force earlier said only booster shots would be given at participating pharmacies during the initial rollout. — with Revin Mikhael D. Ochave