DoH chief says COVID cases may be slowing; 28,471 more infected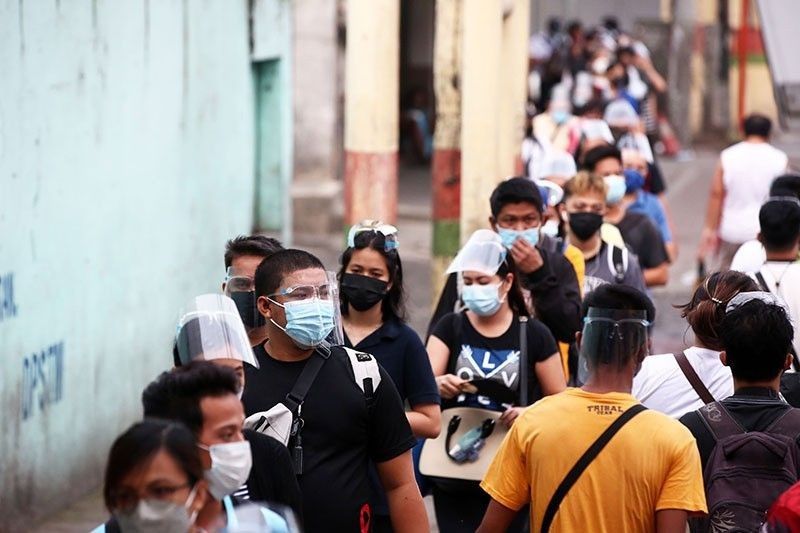 THE PHILIPPINES posted 28,471 coronavirus infections on Tuesday, bringing the total to 3.27 million.
The death toll increased by 34 to 52,962, while recoveries rose by 34,892 to 2.93 million, the Department of Health (DoH) said in a bulletin.
It said 43.4% of 51,738 samples on Jan. 16 tested positive for coronavirus disease 2019 (COVID-19), way above the 5% threshold set by the World Health Organization (WHO).
There were 284,458 active cases, 8,930 of which did not show symptoms, 270,784 were mild, 2,957 were moderate, 1,484 severe and 303 were critical.
DoH said 97% of the latest cases occurred from Jan. 5 to 18. The top regions with new cases in the past two weeks were Metro Manila with 9,887, Calabarzon with 6,671 and Central Luzon with 2,970 infections. It added that 97% of deaths occurred in January.
The agency said 87 duplicates had been removed from the tally, 57 of which were reclassified as recoveries and one was tagged as a death, while four recoveries were relisted as deaths. Five laboratories failed to submit data on Jan. 16.
It said 49% of intensive care unit beds in the country had been used, while the rate for Metro Manila was 53%.
Daily coronavirus infections were decreasing, but the country remains at critical risk from the virus, Health Secretary Francisco T. Duque III said at a taped Cabinet meeting on Monday night.
He said Metro Manila, Ilocos, Cagayan Valley, the Cordillera Administrative Region, Central Luzon and Calabarzon were still under critical risk.
The country had an average 314 cases from Dec. 21 to 27, spiked more than eight times with 2,592 cases from Dec. 28 to Jan. 3 and rose almost eight times with 20,462 cases the following week, Mr. Duque said.
The average daily cases rose by 71% from Jan. 11 to Jan. 17, he said, adding that infections have started to plateau.
"But we still don't know if cases will spike again or continue plateauing," he said. "Hopefully, cases will decline."
Daily infections in the country have reached a record this month amid the spread of the heavily mutated Omicron variant.
Health Undersecretary Maria Rosario Vergeire said coronavirus infections in various regions continued to increase.
"There is an upward trend in COVID-19 cases in other regions. Case increase affects all island groups," she told an online news briefing on Tuesday.
She also cited a steep increase in hospital admissions in Metro Manila in the past week. "With bed utilization now at 60% and intensive care unit utilization at 58%, it is important to mitigate the risks of Omicron to protect the most vulnerable and the entire system."
Ms. Vergeire said 90% of samples in the latest genome sequencing had tested positive for the Omicron variant, which had become predominant.
"Overall, the most common lineage is still the Delta variant," she said. "But at this time period, Omicron is now the predominant variant, most especially in the National Capital Region where most of the Omicron cases have been detected."
Ms. Vergeire said it was too early to say that coronavirus infections in Metro Manila were decreasing.
The Health department does not look at daily changes in COVID-19 data because it could be influenced by certain variables such as laboratory submissions, she told ABS-CBN TeleRadyo.
"If we look at the data, we can see that there is a slight decrease in transmission. When we started with our Omicron situation, our case doubling time was just two days, but now, it takes four days before cases double," she said.
She said cases remained high. "This means we still have to take care and continue the interventions we are doing to prevent the cases from increasing." — Kyle Aristophere T. Atienza