Home
Editors' Picks
Distribution of temporary shelter materials, repair kits underway — DHSUD
Distribution of temporary shelter materials, repair kits underway — DHSUD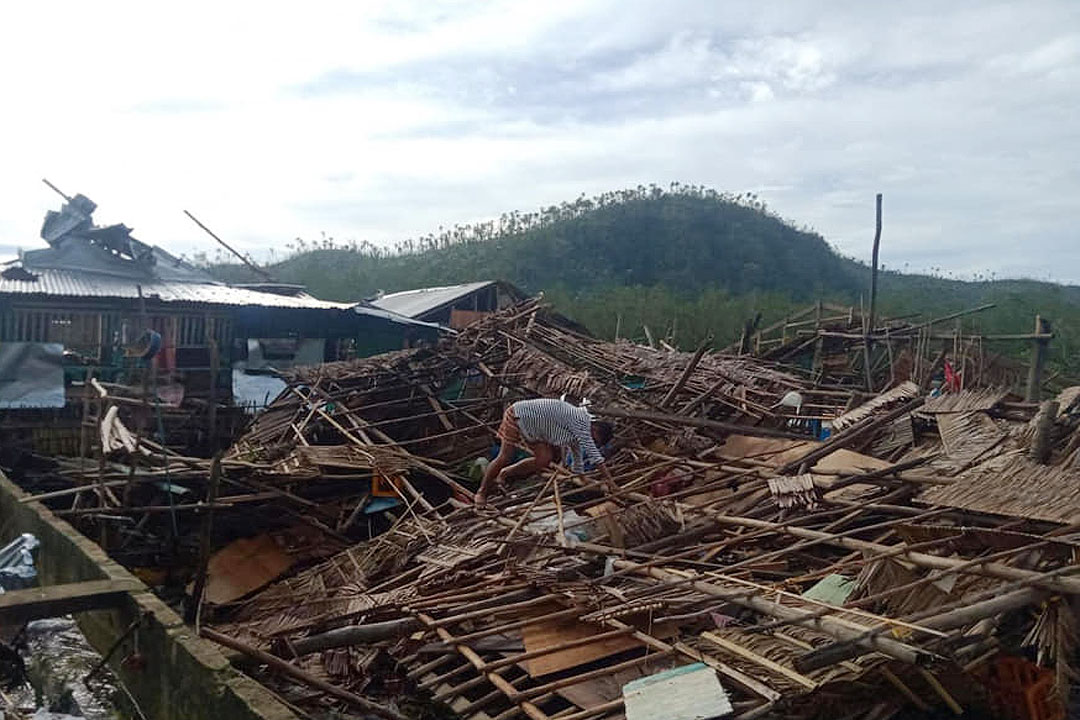 THE PHILIPPINE government, in partnership with humanitarian organizations, has already started distributing temporary shelter materials and repair kits for damaged houses in areas affected by Typhoon Rai, locally known as Odette, according to the housing department.  
The government estimates that more than 500,000 residential structures were affected by the super typhoon, including over 167,417 that were completely destroyed and 341,368 that were partially damaged. 
A total of 5,598 shelter-grade tarpaulin sheets were handed over to local government units in Cebu, Bohol, Southern Leyte, and Caraga region, the Department of Human Settlements and Urban Development (DHSUD) said in an emailed statement.
The agency said authorities also distributed 14,000 more shelter-grade tarpaulin sheets, 250 modular tents for evacuation centers and 1,310 solar lamps in other typhoon-hit areas.
It added that 700 shelter repair kits, which contain corrugated galvanized iron sheets, lumber, plywood, tarps, nails and carpentry tools were sent to the Caraga region on Monday, while 300 more kits are set to arrive in Maasin City, Southern Leyte on Friday. 
President Rodrigo R. Duterte on Monday night asked the Department of Social Welfare and Development (DSWD) to use tarpaulin sheets and lumber from uprooted coconut trees as materials for the shelter of people displaced by Odette.
The purchase of the materials should be done within 48 hours, Mr. Duterte said at a taped Cabinet meeting. 
"Buy trapal, the appropriate size for a family of maybe six people," the President told Social Welfare Secretary Rolando Joselito D. Bautista, saying that he "saw in some areas that people are sleeping with only plastics over their heads." 
"Don't conduct bidding process," he said. "But it's also okay if they want it… But it will delay the assistance needed for the situation." 
WATER 
Assistance for water supply, one of the most pressing needs among typhoon survivors, has also been continuously coming in from various sectors.  
The Manila-based Norwegian Training Center, recognized as a world-class institution that mainly caters to Filipino seafarers, said on Tuesday that its social responsibility arm brought bottled water and other supplies to Cebu. 
It also said the Norwegian Shipowners' Association, which established the training center in 1990, has also provided financial assistance to the Philippine Red Cross, which has been carrying out emergency and relief operations. 
In Negros Occidental, communities have been using a Japanese technology for water purification as supply lines have yet to be fully restored.  
The Japan International Cooperation Agency (JICA) said in a statement that the city government of Sagay, which was its pilot site for the Aqua Cube technology, has shared the portable facility to other localities.  
Aqua Cube, developed by Japanese firm INADA Inc., can purify as much as 2,000 liters per hour. 
"JICA welcomes the use of Japanese technology to help supply fresh drinking water in Typhoon Odette-hit areas. It's worth noting how partnerships with private sector, local government, and international bilateral partners can impact the recovery of affected areas and address their basic needs in this difficult situation," said JICA Philippines Chief Representative Azukizawa Eigo. — Kyle Aristophere T. Atienza