Stocks to move lower as Delta variant cases rise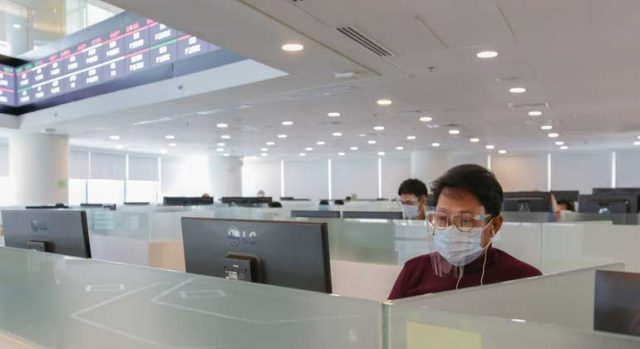 SHARES could trade lower this week, with investors seen remaining cautious as the local transmission of the Delta variant of the coronavirus disease 2019 (COVID-19) dampens market sentiment.
The Philippine Stock Exchange index (PSEi) declined by 55.88 points or 0.85% to close at 6,520.74 on Friday, while the broader all shares index went down by 36.43 points or 0.89% to end at 4,038.51.
Week on week, the bellwether PSEi lost 173.09 points from its 6,693.83 close on July 16.
"The local bourse declined… as the government tightens once again the restrictions in Metro Manila and other provinces due to the Delta variant threat," Philstocks Financial, Inc. Research Associate Claire T. Alviar said in a Viber message on Friday.
"We think that many investors now are staying on the sidelines monitoring the COVID-19 cases and the action of the government against the spread of the COVID-19," she added.
The government on Friday placed Metro Manila and the provinces of Ilocos Norte, Ilocos Sur, Davao de Oro, and Davao del Norte under general community quarantine "with heightened restrictions" until the end of the month to help curb the spread of COVID-19.
The Health department on Saturday reported 17 new cases of the Delta variant, with 12 of which said to be local cases and one a returning overseas Filipino. The other four cases are still being verified. Three of these newly reported Delta variant cases are said to be active, while 14 have recovered.
The country now has a total of 64 Delta variant cases.
The market is expected to trade with a downward bias this week as fears over the spread of the more transmissible Delta variant of COVID-19 are likely to affect investor sentiment.
"If more confirmed local cases with the Delta variant are reported [this] week, then we may see heavy sell-offs in the market," Philstocks Financial, Inc. Senior Research Analyst Japhet Louis O. Tantiangco said in a Viber message on Saturday.
"[This] is also expected to weigh on the market," Mr. Tantiangco said. "This is due to the economic losses anticipated from the imposition of relatively tighter measures against the productive capacity of the biggest contributor to our GDP (gross domestic product)."
Mr. Tantiangco expects the benchmark index to trade at around 6,400 to 6,600, noting that "trading may remain lethargic."
"Investors may continue to watch out for the second quarter corporate results for clues," he added.
Meanwhile, Diversified Securities, Inc. Equity Trader Aniceto K. Pangan said the PSEi could move between 6,450 and 6,700.
"Market will continue its volatility with a downward bias as infection rates increased with the pandemic virus, [coupled] with the government doing ways to contain the spread of the virus through stricter measures," Mr. Pangan said in a text message on Saturday. — Keren Concepcion G. Valmonte