PSE index to move sideways on income reports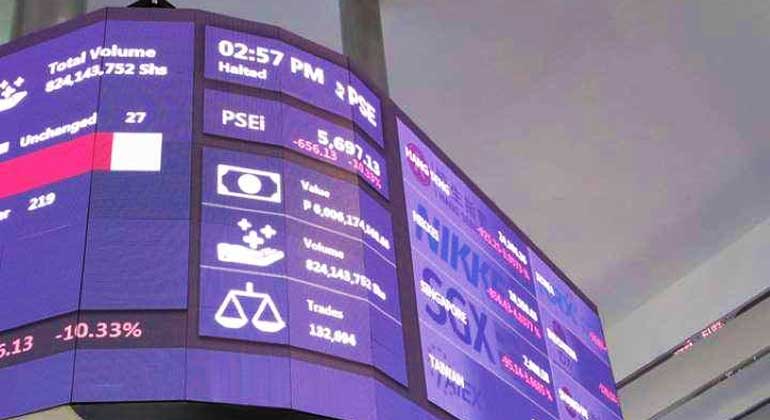 SHARES are expected to move sideways this week as earnings reports from companies at home and abroad are released and as investors continue to monitor the government's coronavirus disease 2019 (COVID-19) vaccination program.
The Philippine Stock Exchange index (PSEi) went down by 45.15 points or 0.69% to end at 6,494.81 on Friday. Week on week, the PSEi lost 50.36 points from its 6,545.17 close on April 8.
The previous week saw an average of 3.43 billion shares switching hands, with Tuesday recording the lowest at 1.93 billion issues traded. Friday saw the most number of trades at 6.77 billion.
"This week's market move is likely due to persistent investor disinterest in the local market, as evidenced by soft trading volumes," China Bank Securities Corp. Research Director Rastine Mackie D. Mercado said in an e-mail on Sunday.
"One bright spot in the last trading week was the energetic activity in mining stocks following the surprise gov't announcement on the easing of mining restrictions," Mr. Mercado said. "We expect this development to drive fund flows into the sector in the near term, buoying further rallies."
Mining stocks improved last week after President Rodrigo R. Duterte finally lifted the nine-year moratorium on new mineral agreements, in a bid to boost revenues as the country recovers from the pandemic.
Executive Order (EO) No. 130, signed by Mr. Duterte on April 14, allows the government to enter into new mineral agreements and review existing mining deals for possible renegotiation.
The new EO amends the one issued by then-President Benigno S. Aquino III in 2012 which prohibited the grant of new mining deals in several protected areas, while awaiting the passage of a law that would increase the government's share in mining revenues.
Republic Act No. 10963 or the Tax Reform for Acceleration and Inclusion Act doubled the excise tax on minerals, mineral products and quarry resources to 4%, starting 2018.
Timson Securities, Inc. Trader Darren Blaine T. Pangan, meanwhile, said the market could continue trading sideways this week.
"Investors across the globe [will] continue to monitor the upcoming earnings and guidance reports from companies both local and abroad, to somehow get a sense of the pace of recovery of the economy," Mr. Pangan said in a Viber message on Sunday.
"Lack of catalysts will keep PSEi on a tight volatility band," Ms. Cristina S. Ulang, head of research at First Metro Investment Corp., said in a Viber message on Friday.
China Bank Securities' Mr. Mercado said he expects the PSEi to trade within the 6,440 to 6,650 range.
"We do see some opportunity in accumulating index issues at prevailing prices, especially as the recovery story picks up over the coming weeks as more COVID-19 vaccines arrive," Mr. Mercado said.
Meanwhile, Timson Securities' Mr. Pangan pegged 7,300 as a major resistance for the index. — Keren Concepcion G. Valmonte