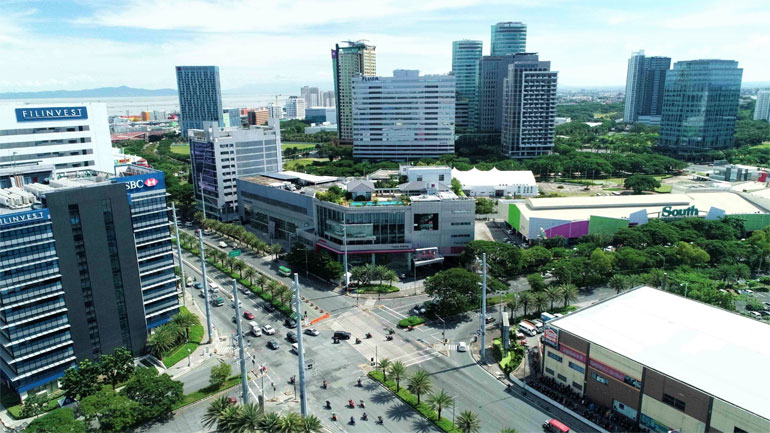 Following Filinvest's flagship development — Filinvest City in Alabang, its sustainability trademark continues in other townships
Sustainability can no longer be regarded as an additional feature; it is the path forward, especially for those who create, construct, and maintain developments — from the vast spaces right up to the single units.
Especially as the world recognizes that there is a more pressing need to reduce — if not totally eliminate — carbon emissions, green buildings and cities are one of the many investments that will pave the way for a better quality of life in the future.
With global and local recognition certifying its efforts in building a green central business district in Alabang, Muntinlupa, Filinvest City took the lead in creating greener and more livable cities in the country. Filinvest does not stop with this long-running development in South Metro Manila, however, as other Filinvest townships outside the metro start embracing the smart and sustainable practices that made Filinvest City a highly-recognized green city.
A benchmark for green cities
The 244-hectare (ha) Filinvest City is surrounded by green spaces and parks near almost all dwellings. The city has public parks and numerous pocket parks and tree-lined streets. Filinvest City is also notable for its connected streets, with paths allowing for convenient pedestrian movement — an indication of inclusivity on the road.
Filinvest City also adopts several technologies that make it possible for resources to be maximized within the township. With its District Cooling System, considered the largest in the Philippines, offices can save as much as 40% in energy costs. Filinvest City also has an expanded Sewage Treatment Plant for better health & sanitation in the community; and fully-integrated electric-powered 360 Eco-Loop vehicles for efficient public transport and, at the same time, reducing greenhouse gas emissions.
These people- and eco-friendly features in Filinvest City fit well with the manner it incorporates affordable and diverse housing; retail, dining, and entertainment spaces; as well as essential facilities like police stations, a fire station, and hospitals in a single community. On top of these, to ensure safety and connectivity, the city also provides free Wi-Fi for the community and strategically located CCTV cameras partnered with its 24/7 security team.
Testifying Filinvest City's integration of sustainability are its Leadership in Energy and Environmental Design LEEDv4 Gold for Neighborhood Development (LEEDv4 ND) certification by the US Green Building Council in 2020 and, more recently, its 3-star Building for Ecologically Responsive Design Excellence (BERDE) Certification by the Philippine Green Building Council.
Filinvest City is the first Philippine CBD to be accorded with these certifications, which also affirm its commitment to building a greener city and to raising the benchmark for future sustainable developments in the Philippines.
"Developing prime communities that marry business and nature has always been in Filinvest townships' DNA. This has taken shape in the form of Filinvest City," Don Ubaldo, first vice-president for project development-townships of Filinvest Alabang, Inc., said.
Replicating the green
Following its flagship development in Alabang, Filinvest continues its embracement of sustainability in its other townships in the country.
In Pampanga, Filinvest Mimosa+ Leisure City is naturally blessed with a backdrop of running mountains, abundant trees, sparkling lakes, and well-maintained landscape. The sprawling 201-ha property is widely known for its 128-ha golf course, a deluxe hotel, and residential villas. On top of these, the township seeks to further enhance its green spaces with the addition of safe and wide pedestrian paths, biking zones, and outdoor parks, the heart of which is the beautifully landscaped Acacia Park. The city also continues to be a thriving business and leisure destination that is patronized by both local and foreign visitors.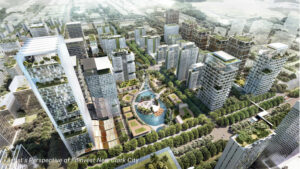 Within the 9,450-ha New Clark City in Capas, Tarlac, Filinvest New Clark City is poised to be an eco-friendly, world-class metropolis as it is surrounded by scenic mountain views. The 288-ha development has a smart-planned ecosystem that combines innovation with sustainability. Envisioned to be a LEED-certified township, the city is planned to have mixed-use districts — industrial, residential, educational, and commercial — that aim to create a vibrant live-work-play-learn environment. One notable part of this township is the 120-ha Filinvest New Clark City Innovation Park, which is projected to be a pioneering logistics and light manufacturing hub and a key progress catalyst in the north of Metro Manila.
Sitting on a prime location within the 300-ha South Road Properties in Cebu City, City di Mare begins reflecting Filinvest's sustainability trademark outside Luzon. As it brings a vision of complete balanced living, the 58-ha community features self-contained green communities with spacious living areas, expansive greenery, and the essentials of modern living within a resident's reach. The area's eastern sea coast and scenic mountain views provide a beautiful backdrop for City di Mare, which is envisioned as the next premier residential, commercial, and economic center of Cebu City.
Greener opportunities
Altogether, these developments from Filinvest offer great opportunities for investors and businesses to join the growing push for building a green future.
With their affinity with green spaces, as well as their maximizing of building materials and energy sources, green cities contribute to better physical and mental well-being of pedestrians, employees, and especially residents who get immersed in nature while not having to leave the city.
"Being in close proximity to your residence, workplace, essential establishments, and transport hubs is a major consideration for residential hunters these days, as they want a community that won't put them at risk for any health issues," Mr. Ubaldo said.
Green open spaces also create a venue for the community to come together and engage — whether in sharing food, selling and exchanging items, celebrating and appreciating art, or even conversing over a cup of coffee. With such opportunities, green cities can create neighborhoods that make people feel at home even outside the walls of their residence.
In turn, green cities now have a greater possibility of boosting the value of properties as they have a better case of attracting businesses with a better look and character for themselves, as well as amiable work-life environments for tenants.
All these are compelling reasons for green cities as a sensible investment, especially now that people have a clearer view of what they actually need in a community. Sustainable property developments have recently seen higher market values as well. Filinvest City properties, for instance, have been enjoying increased asset values through the years, with an annual growth rate of over 22% over the last 10 years.
As a trailblazer in sustainable property development, Filinvest's cities offer better choices for individuals and companies, as well as concrete resilience for businesses.
Explore these green opportunities by visiting filinvestcity.com and filinvest.com.
---
Spotlight is BusinessWorld's sponsored section that allows advertisers to amplify their brand and connect with BusinessWorld's audience by enabling them to publish their stories directly on the BusinessWorld Web site. For more information, send an email to online@bworldonline.com.
Join us on Viber to get more updates from BusinessWorld: https://bit.ly/3hv6bLA.