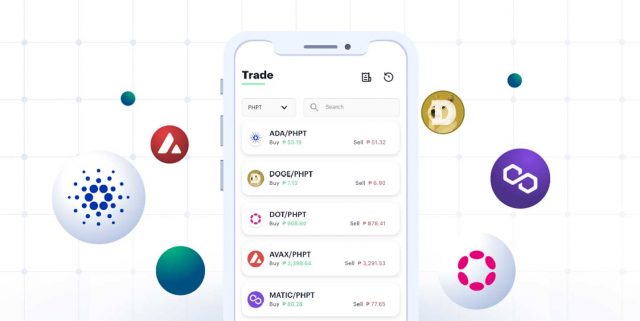 PDAX, a cryptocurrency exchange licensed by the Bangko Sentral ng Pilipinas (BSP), added five more coins to its listed cryptocurrencies on Feb. 3 to meet the demand of its Philippine market. It now has 19 coins available on its mobile app.
The new coins are Polygon (MATIC), Cardano (ADA), Dogecoin (DOGE), Polkadot (DOT), and Avalanche (AVAX).
"We see the Philippines as a hotbed for mass crypto adoption and digital transformation, which is why our team is constantly seeking new ways to improve our products and services," said PDAX Chief Executive Officer Nichel O. Gaba, in a statement Jan. 31. "We're set on listing more coins soon and take advantage of our growth as a company to grow the local crypto community as well."
In August 2021, the crypto exchange also raised P630 million from a funding round led by a UK-based venture capital firm and joined by BC Group, a Hong Kong-based financial technology company. PDAX's volume of cryptocurrency transactions reached 20 million in June 2021.
 "Our team is grateful for our investors' confidence in our business. We will continue to take their support to grow PDAX as a homegrown cryptocurrency exchange that local crypto investors can fully trust," Mr. Gaba added.
Over 4.3 million Filipinos — or 3.98% of the total population — own cryptocurrency. This adoption is more than its neighboring countries like South Korea (3.79%) and Australia (3.36%), according to TripleA, a Singapore-based cryptocurrency payments company.
Virtual currencies (VCs) have proven to be useful in remittances, payments, and gaming in the Philippines. Among the brands that accept crypto payments are Starbucks, Booking.com, and Burger King.
In a March 2021 interview, Mr. Gaba said, "Between December 2020 and today, something happened to put bitcoin and crypto into a space where even traditional portfolio managers need to consider them. We are living in interesting times in crypto."
The country has at least 17 cryptocurrency exchange service providers approved by the BSP. The central bank issued Circular No. 944 on February 6, 2017, requiring companies that intend to transact VCs to register as remittance and transfer companies. — Patricia B. Mirasol