One of the promises or hypotheses of all these hurried vaccines is that as more people are vaccinated, COVID-19 cases and deaths will decline as people will no longer suffer severe cases of infection. Has this been achieved?
I personally wanted to see a quantitative answer to this question. I got data on vaccination by country from https://ourworldindata.org/covid-vaccinations. I chose countries with high vaccination rates. Then I checked their respective COVID-19 cases by country from https://www.worldometers.info/coronavirus/#countries.
The result is interesting, or confusing. There are countries with high vaccination rates (at least one dose) of 45% to 69% of their total population and yet have rising cases. These are the Seychelles, the Maldives, Bahrain, and Mongolia.
Then there are countries that followed the promise and hypothesis, high vaccination rates of 44% to 63%, and cases-deaths are falling. These are Israel, the United Kingdom, the USA, and Hungary (see Chart A).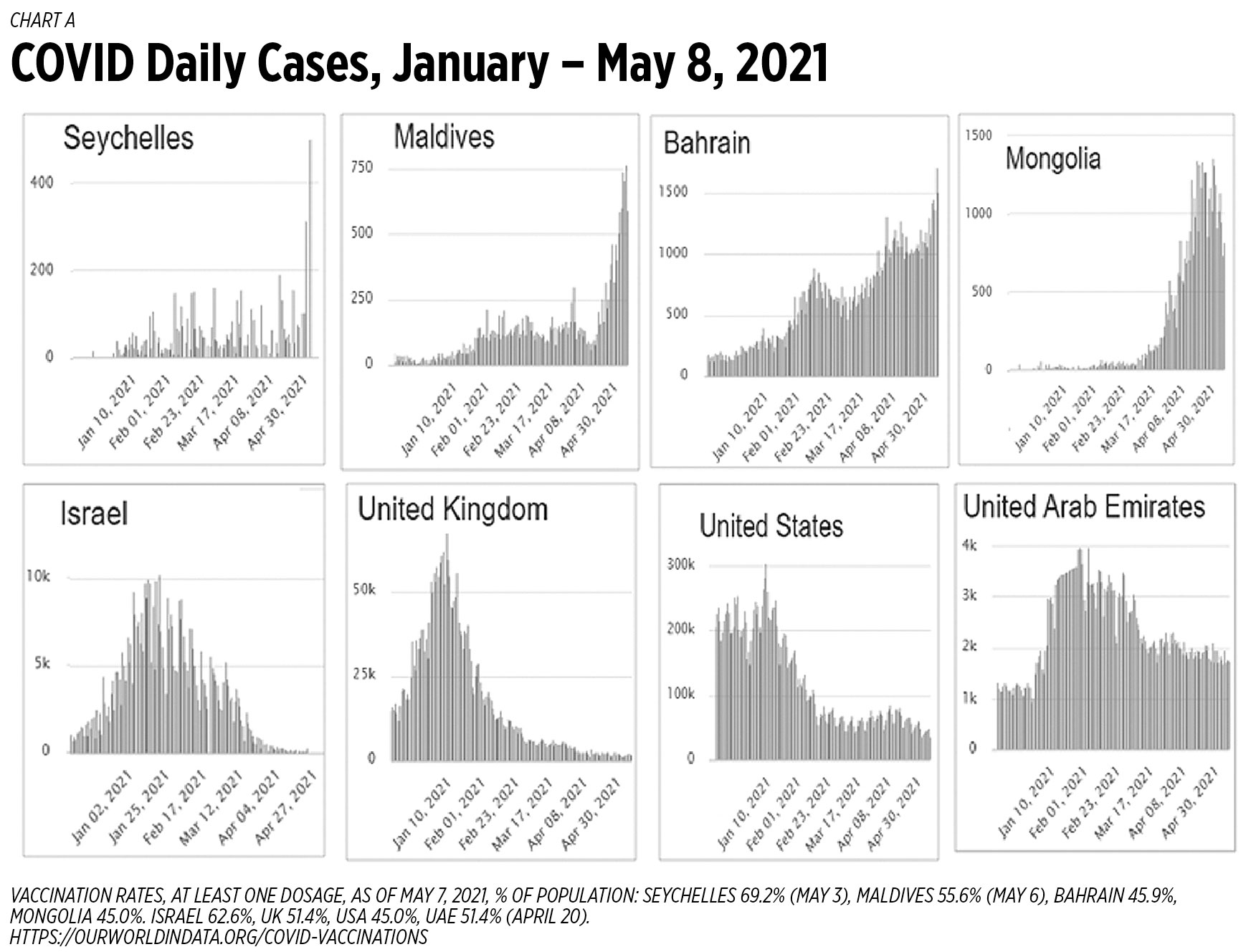 And there are countries with high vaccination rates of 32% to 44% and cases are fluctuating or mildly declining but still at high levels. These are Chile, Qatar, Canada, Uruguay, and Germany.
I added Japan and the Philippines, with low vaccination rates of only 2.4% and 1.7%, respectively. The Philippines experienced cases of 4,000 per day starting March 12, two weeks after Sinovac started being administered on March 1, then 6,000 to 10,000 per day has become normal from mid-March to the present (see Chart B).
These results are not exactly inspiring or assuring for people to get the rushed vaccines.
Meanwhile, the indefinite lockdown, 14 months straight, continues to damage the Philippine economy. See this column's previous piece, https://www.bworldonline.com/10-reasons-to-lift-the-lockdown/, and here are additional indicators.
One, the Philippine Stock Exchange remains the worst performer in the Asia Pacific region, year to date (Jan. 1 to May 7, 2021) contraction of -12.3% vs growth in Hong Kong of 5.1%, Japan of 7%, Thailand of 9.4%, South Korea of 11.3%, Singapore of 12.5%, and so on.
Two, government borrowings are worsening. In 2019, government borrowings to cover the budget deficit and other obligations was P0.88 trillion, this rose to P2.5 trillion in 2020 (a nearly threefold increase), and P1.19 trillion in the first quarter 2021 or nearly one half of the full year 2020 level. The outstanding debt stock in 2019 was P8.22 trillion, this rose to P10.25 trillion in 2020 or an increase of P2.03 trillion, and P10.77 trillion in Q1 2021.
Three, more government debt means more taxes, fees, fines and penalties that will be imposed on the public. Among the new taxes being pushed are: 1.) a wealth tax, pushed by former National Economic and Development Authority Secretary Winnie Monsod, 2.) a carbon tax of $25 per ton of CO2 emission, pushed by the IMF, and, 3.) a real property valuation tax hike, pushed by the Bureau of Local Government Finance of the Department of Finance.
Four, the country's first quarter 2021 GDP (to be released on May 11) is expected to see a continued contraction of -2.6% based on a BusinessWorld poll of 18 analysts. In contrast, our neighbors that already reported their Q1 2021 GDP have already shown recovery: Taiwan's is 8.2%, Hong Kong's 7.8%, Vietnam's 4.5%, South Korea's 1.8%, and Singapore's 0.2%.
On May 3, the Concerned Doctors and Citizens of the Philippines met with Senate President Pro Tempore Ralph Recto, and a week before that, on April 29, the group also met with Senator Francis Tolentino. Both Senators plus Sen. Bong Revilla have expressed support for the group's efforts and advocacies to lift the lockdown via a Focused Protection Plan of frontliners and vulnerables (elderly and with comorbidities) with ivermectin and early treatment, and home care treatment for those with symptoms to avoid hospitalization.
The government body, led by the Department of Health, that decided on these 14 months of indefinite lockdown has become the Inter-Agency to Terminate Functional businesses (IATF). The country's 2020 GDP of P17.5 trillion was even lower than 2018 GDP of P18.3 trillion even though the population has increased by around 3.4 million people. The IATF officials must have the humility to accept that 14 months of lockdown have produced no meaningful decline in cases and deaths. Making people economically and mentally stressed out for more than a year is itself an immune system-depressing policy.
Now that ivermectin can be mass produced with Food and Drug Administration's pullback from hard opposition to this drug, the IATF must lift the lockdown starting May 15, or at least move to the lowest level of quarantine, Modified General Community Quarantine, nationwide and remove many travel and business restrictions.
Bienvenido S. Oplas, Jr. is the president of Minimal Government Thinkers