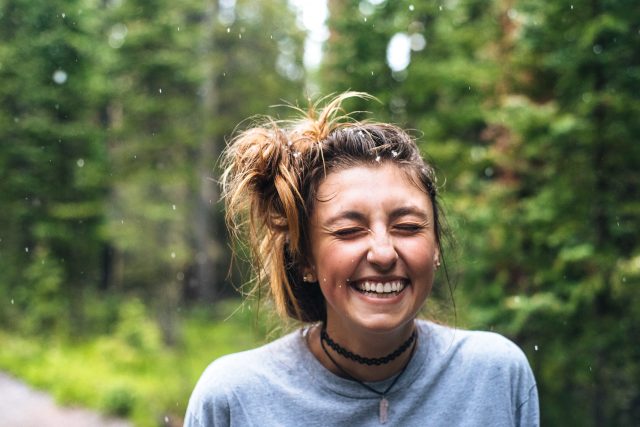 BEING JOYFUL can mitigate health risks, said doctors and fitness coaches at a well-being conference held by FWD Life Insurance Corp. (FWD Insurance) on Nov. 22.  
"There's ample evidence that unhappiness, depression, anxiety, and stress are related to poorer health outcomes. These chronic negative states can dampen immunity and increase inflammation in the body, leading to multiple diseases and conditions," said Dr. Geraldine "Ging" T. Zamora, a rheumatologist and internist. "This is why choosing to be in a state of joy is an important exercise we must strive to do every day."  
Citing the World Health Organization (WHO), she pointed out the holistic definition of health as "a state of complete physical, mental, and social well-being."  
"Studies show that laughter, joyfulness, and happiness contribute to better health. Even if it's not the best medicine, it complements the traditional medicine that we give our patients," said Dr. Zamora.  
Along with proper diet and exercise and regular medical check-ups, joyfulness can deter the progression of diseases like cancer, human immunodeficiency virus (HIV), cardiovascular disease, and autoimmune disorders, she added.  
To improve mental health, Dr. Sheila Marie "Shake" Guevarra-Hocson, psychologist and guidance director at the Far Eastern University, recommended recalibrating your thoughts.  
"Growth requires new ways of seeing and that is a matter of open-mindedness and perspective," she said. "In order for us to really recalibrate, we have to identify our strengths and acknowledge and develop them."  
Taking care of the body, meanwhile, entails fitness and exercise. 
Just a minute of exercise, according to Jim and Toni Saret, ABS-CBN's resident fitness coaches and founders of The Fit Filipino Movement, can release hormones — endorphins, serotonin, dopamine, and testosterone — that trigger joy. 
"When we exercise, even for just one minute, we're not after the weight loss. We want to release all these hormones to help us become more joyful," said Ms. Saret. 
Added Mr. Saret: "These messengers control physiological functions as well as psychological health, and they're important in maintaining homeostasis, or balance, in the body."  
Those who have gotten used to a sedentary lifestyle can begin with one-minute exercises that can be done while sitting down, such as making the legs march or sprint in place, with arms swinging and knees being lifted in large movements to burn more calories; and holding a towel or shirt in front or above the head and pulling it apart to activate muscles in the arms.   
"Aside from changes in your physique, exercising extends all the way to improving your general mood, your mental health, the quality of your sleep, and even the strength of your immune system," said Ms. Saret.   
FINANCIAL HEALTH
Rochelle R. Vandenberghe, vice-president and head of marketing of FWD Life Insurance, discussed financial fitness as an important part of health and well-being.  
"Financial health means not being afraid to spend, being able to save, splurge, and invest at your own terms, being confident about your finances, and having different funds to pull from when needed," she said.  
FWD offers health protection plans and variable universal life plans. KanMend, a starter plan, covers critical illnesses and gives cash rewards for confinement due to coronavirus or vaccination. 
"Money can't buy happiness, but it can help build joyfulness in your life if you use it wisely," she said. — Brontë H. Lacsamana