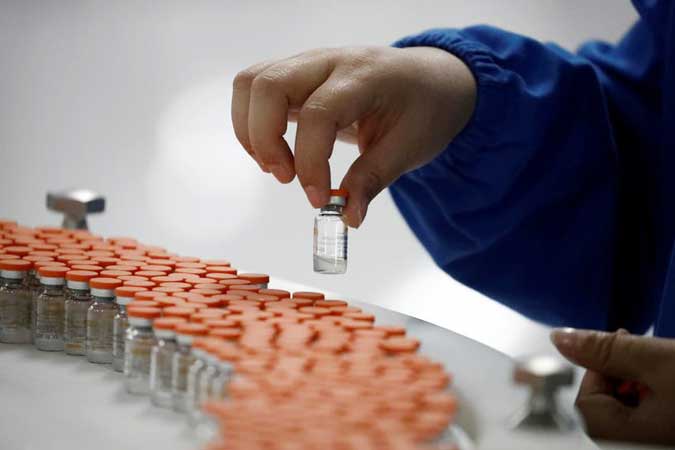 There have been more than 200 million confirmed cases of coronavirus disease 2019 (COVID-19), including over 4 million deaths, globally. The rise of different variants is also threatening previous public health gains. 
The World Health Organization (WHO) has designated at least four variants of concern (VOCs), meaning that their transmissibility or virulence could have a significant impact on global public health. VOCs pose a threat to the effectiveness of social measures, diagnostics, and vaccines. 
Vaccines help prevent people from getting critically ill or dying from COVID-19. As of this time, the WHO said that close to 4 billion doses have been administered. In the race against time to save lives, increasing vaccine production is crucial in ensuring that there are enough doses for vulnerable populations. However, bottlenecks in the supply chain and a shortage of raw materials are hampering these efforts. 
A scarcity of critical input supplies including bioreactor bags, single-use assemblies, cell culture media, filters, lipids, vials and stoppers is another challenge, said Greg Perry of the International Federation of Pharmaceutical Manufacturers & Associations (IFPMA). 
These ingredients are also used in the manufacture of other vaccines for hepatitis, measles, shingles and biological medicines for cancer. 
According to Mr. Perry, a skilled workforce is important in ensuring the continued production of vaccines as it is a complex process that requires experts in manufacturing, quality, regulation, engineering, and logistics; trainers; lab technicians; maintenance crews; as well as scientists for the various stages of safety and quality controls.  
The time needed to manufacture a single batch of vaccines can take up to 120 days. Since any delay along the supply chain can push production by months, manufacturers are doubling their efforts to shorten production time. 
In a council meeting this July, AstraZeneca Chief Executive Officer Pascal Soriot (CEO) said: "We know the challenges of increasing global capacity when expertise is in limited supply, and how restrictions in international trading create ripple effects through supply chains. It is also clear that vaccine donations are essential and we are working with COVAX to unlock further supplies." 
A similar commitment was echoed by Paul Stoffels, Chief Scientific Officer of Johnson & Johnson, at the same event. "We are also a strong supporter of the dose sharing initiatives that are now gathering momentum around the world. As industry rises to this challenge, we are focused on scaling up global production capacity. We are also advocating for the free flow of vaccines and raw materials between countries, to ensure vaccines can be produced and reach everyone who needs them," he said in the Access to COVID-19 Tools (ACT) Accelerator Facilitation council meeting. 
Pfizer, meanwhile, is working on a shortened timeline of 60 days to contribute to equitable access of vaccines. 
"Our recently announced plans … to provide 500 million doses of the Pfizer-BioNTech vaccine to the world's poorest nations further demonstrates our commitment to equitable access and our support for the work of the COVAX facility," said Pfizer CEO Albert Bourla in the ACT-Accelerator meeting. 
There are close to 300 agreements aiming to increase vaccine manufacturing capacity. Novartis signed an initial agreement to support the production of the Pfizer-BioNTech COVID-19 vaccine. "Novartis plans to take bulk mRNA active ingredient from BioNTech and fill this into vials under aseptic conditions for shipment back to BioNTech for their distribution," it said in a statement. 
Sanofi, too, will support the manufacturing and supply of the Pfizer-BioNTech COVID-19 vaccine. In a statement, it said: "Sanofi will provide BioNTech access to its established infrastructure and expertise to produce over 125 million doses of COVID-19 vaccine." 
Merck (known as MSD in the Philippines) has also entered into agreements to support the manufacturing and supply of Johnson & Johnson's COVID-19 vaccine. "Merck will use its facilities in the United States to produce drug substance, formulate and fill vials of Johnson & Johnson's vaccine," the company said. 
GlaxoSmithKline (GSK), meanwhile, has reached an agreement in principle to support manufacturing of up to 60 million doses of Novavax's COVID-19 vaccine candidate for use in the UK. "GSK will provide 'fill and finish' manufacturing capacity … with a rapid technology transfer between the two companies beginning immediately," it said. 
For its part, Takeda said that it reached an agreement to utilize capacity at IDT Biologika for three months previously reserved for its dengue vaccine candidate to manufacture the Johnson & Johnson vaccine. 
Bayer, on the other hand, will leverage its capabilities to manufacture CureVac's mRNA-based candidate vaccine. It said that it is planning an "additional 160 million doses of CureVac's vaccine in 2022 to further expand their supply network and overall capacity."  
Teodoro B. Padilla is the executive director of the Pharmaceutical and Healthcare Association of the Philippines (PHAP). PHAP represents the biopharmaceutical medicines and vaccines industry in the country. Its members are at the forefront of research and development efforts for COVID-19 and other diseases that affect Filipinos.