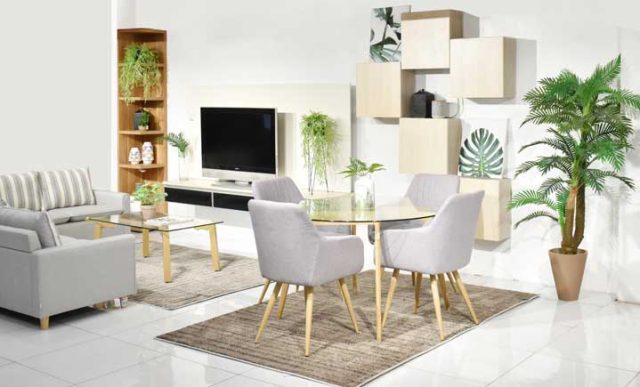 The dining room is an area in a home where we gather to share food, laughter, and conversations — and choosing the perfect dining set that matches our needs and style is crucial. And the right kind of furniture will ensure a comfortable and pleasant dining experience for everyone. 
Wilcon Depot, your one-stop-shop home store, is here to help you choose the perfect dining interior, so you, your family, and your friends can have a more enjoyable time in your dining space. Check out this guide for your next dining room upgrade.
Transitional 
The Transitional interior features a mix of both traditional and contemporary designs. Designing a transitional dining space can go from straight and bold lines to rounded and intricate patterns. Like a traditional setup, you can also see dark wood, textured fabrics, and light colors. In addition, it showcases both feminine and masculine characteristics to provide a harmonious setup.
Japanese
The Japanese style is a superb choice if you're aiming for a peaceful and space-saving dining area. It exudes an organic aesthetic, a serene ambiance, and natural elements. This dining set provides style and space efficiency. Chairs are ergonomically designed to fit seamlessly under the table. It brings out a unique Asian touch with its wooden structures, low-seating cushioned chairs, and flawless textures.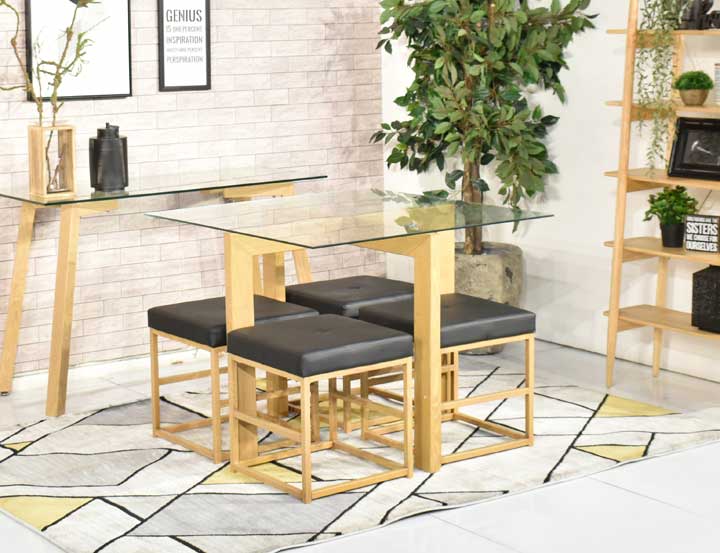 Contemporary
Contemporary interior design plays with a variety of tones often seen in current styles. It encapsulates unconventional curves that result in a unique style for your space. You can achieve the eccentricity of a contemporary design by adding an accent color then building a palette around that color. It is essential to maintain a complementing color scheme to avoid a chaotic look for your space. 
Mid-Century Modern
Known as one of the most popular interior themes, the mid-century modern is composed of muted tones, elegant lines, and earthy elements like wood, stone, and leather. This interior stood the test of time after it was popularized in the '40s to '60s. The glass table and leather chairs offer a timeless appeal with a boxy design and an open space concept perfect for a more conducive dining space.
British Colonial
The British Colonial interior focuses on dark-colored wood to achieve an opulent look paired with neutral shades to create an elegant contrast for your space. You can often see a monochromatic touch of colors, including white, beige, and browns, that make up the whole dining setup. The intricate designs in the legs of the chairs and table welcome a subtle regal ambiance, often festooned with greenery and lightweight fabric for a fresher feel. 
Mission
Simplicity and warmth are what make a Mission interior design stand out. Also known as the "craftsman" style, it draws out its color palette mostly from different earthy elements and shades. It offers a heavy and solid look coming from edgy-style furniture. In this setup, wood is always the main character that lifts the whole space. Japanese style is a superb choice if It requires little to no detailing for a smoother effect. 
Dine in style and design your dining space with remarkable chairs and tables from Wilcon Depot. Shop at any of their 68 Wilcon Depot and Wilcon Home Essentials stores nationwide or shop online at Wilcon Online Store by visiting shop.wilcon.com.ph.
Explore the limitless product selections that Wilcon offers, ranging from Tiles, Sanitarywares, Plumbing, Furniture, Home Interior, Houseware, Outdoor Living, Building Materials, Hardware, Electrical, Appliances, Tools, Automotives, Paints & Sundries, and other DIY items.
To ensure a safe and convenient shopping environment in all Wilcon stores, the company continuously implements safety protocols for the health and well-being of both employees and valued customers.
You can also shop through your Personal Shopper with the Browse, Call, and Collect/Deliver service. For the list of participating stores with their pick-up and delivery contact details, click this link: www.wilcon.com.ph/content/328-bcc-branches.
Another shopping alternative is the Wilcon Virtual Tour. An online shopping option wherein customers can contact the nearest Wilcon store via Facebook Messenger App. Customers can contact the nearest stores, and the Wilcon team will take you on a virtual tour where you can explore the available products inside their physical stores.
Wilcon also provides contactless payment options to its customers like bank transfers, GCash, PayMaya, InstaPay, PesoNet, WeChat, and Alipay for customers' convenience.
For more information about Wilcon, you can log on to www.wilcon.com.ph or follow their social media accounts on Facebook and Instagram. Subscribe and connect with them on Viber Community, LinkedIn, and YouTube.