Shelby Super Snake slithers into town
AMID this time of uncertainty, the Autohub Group tells customers it is sure of one thing: That it has kept its promise to bring in the Shelby brand into the Philippine market.
Autohub now introduces the newest iteration of the Shelby Super Snake, which builds on the Ford Mustang GT and reworks it with aesthetic and performance enhancements "for a faster and more thrilling drive." Shelby's top-of-the-line, high-performance Mustang imbues Ford's iconic 5.0-liter V8 with forced induction via an Edelbrock supercharger for an increased output of up to 825 horses.
Dissipating the additional heat generated by the engine is an external cooling upgrade specifically designed by Shelby American, Inc. This consists of a new radiator, aluminum tank, and heat exchanger. Performance half shafts, transmission, and a Ford Performance exhaust complete the drivetrain upgrades. Handling is sharpened as well with additional stability brought by a Ford Performance Track Pack suspension set.
Exterior modifications include a new front bumper, hood, grille, rocker panels, front splitter, rear spoiler, tail panel, rear diffuser, and more. The Super Snake runs on Shelby 20-inch forged aluminum wheels wrapped with Shelby performance-spec tires. For enhanced braking, the system has been bestowed with Shelby by Brembo brakes, which consist of red six-piston calipers up front and four-piston calipers at the rear.
The cabin of the Shelby Super Snake Mustang features new floor mats and door sill plates, and gauge cluster. It bears custom Shelby badging on the dashboard and engine cover. Shelby-exclusive components were developed and tested with original equipment manufacturers. On pump gasoline and street-legal tires, the Shelby Super Snake can reach 100kph from standstill in 3.5 seconds.
"We are thrilled to finally unleash the Shelby brand to our market," said Willy Tee Ten, president of Autohub Group of Companies. "Indeed, the iconic Shelby brand will bring more excitement and fuel passion to motorists and petrol-heads alike," he added. The Shelby Super Snake is now available for retail at Autohub Car Care Services (ACCS).
---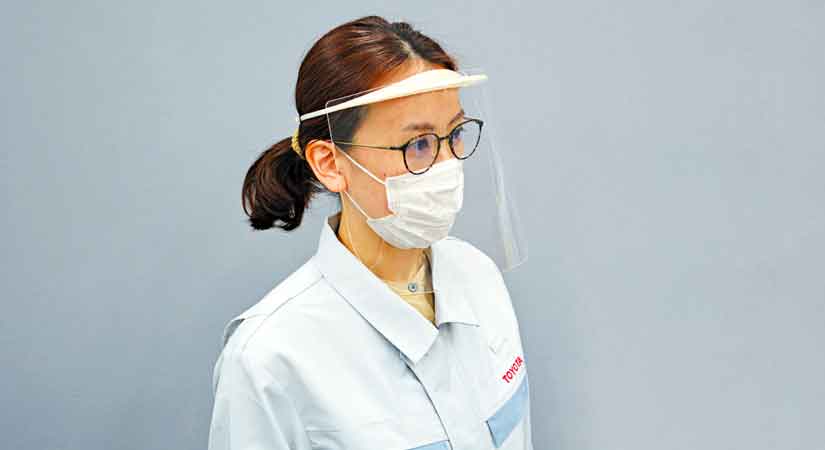 Toyota significantly ramps up production of face shields
TOYOTA MOTOR Corporation and Toyota Group companies are exponentially scaling up production of medical face shields by around 20 times as they envision producing 40,000 units per month for distribution to frontliners in the fight versus the pandemic.
From 500 to 600 units per week, the auto conglomerate has started making 2,000 units a day since April 27. Toyota plans to further expand in-house production to approximately 70,000 pieces per month (approximately 3,600 pieces per day).
Toyota Group companies engaged in producing medical face shields include Toyota Motor East Japan, Inc., which provided 3,000 units it produced to the Miyagi Prefecture on April 20; Toyoda Gosei Co., Ltd.; Daihatsu Motor Co., Ltd.; and Hino Motors, Ltd. The firms have all started trial production, with Daihatsu and Hino providing face shields to medical facilities in their immediate areas.
Toyota Industries Corporation also plans to produce 10,000 units per month, and Toyota Auto Body Co., Ltd. is furthering considerations toward starting production of medical face shields from mid-May onwards.
The production of personal protective equipment is part of Toyota's Kokoro Hakobu Project. The Toyota Group is prioritizing the provision of the medical face shields it produces to medical facilities and local governments in the localities of the various companies of the group.