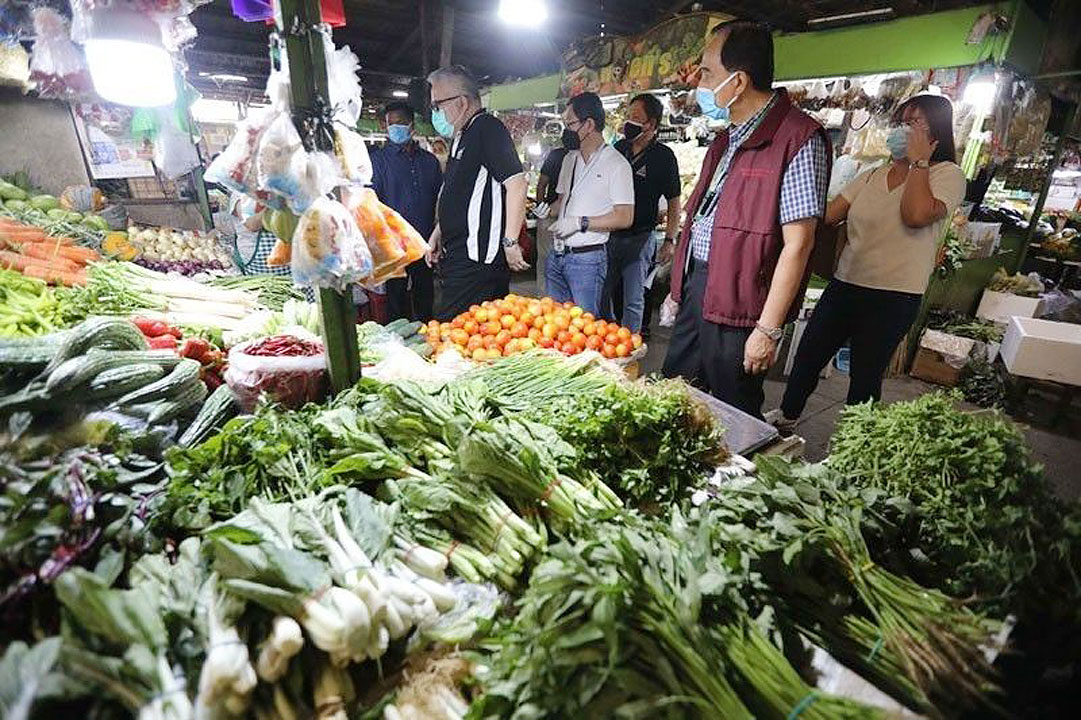 PRODUCTION of most major vegetables and root crops rose in the second quarter, according to the Philippine Statistics Authority (PSA).
PSA said in a report that cabbage production for the three months to June rose 13.1% year on year to 25,274.80 metric tons (MT).
Cordillera Administrative Region (CAR) accounted for 81.1% or 20,509.30 MT of the crop, followed by Central Visayas with 5% and Ilocos Region 3.4%.
Eggplant output rose 2.1% to 106,656.02 MT with 59.9% or 63,856.51 MT grown in the Ilocos Region, followed by the Cagayan Valley with 7.6% and Central Luzon 6.8%.
Potato output rose 24.8% to 15,628.98 MT led by CAR with 88.2% or 13,790.93 MT, followed by Davao Region with 7.4% and Cagayan Valley 2.2%.
Tomato production increased 3% to 76,469.59 MT led by the Ilocos Region with 37.8% or 28,874.88 MT, followed by Central Luzon, 10.9% Cagayan Valley 9.7%.
Ampalaya (bitter gourd) output rose 2.7% to 31,494.92 MT led by Central Luzon with 42.2% or 13,289.67 MT followed by Calabarzon (Cavite, Laguna, Batangas, Rizal, and Quezon), 12.7% and Ilocos Region 11.4%.
Production of Bermuda onion rose 22% to 67,021.69 led by Mimaropa (Mindoro, Marinduque, Romblon, and Palawan) with 68.1% of overall output or 45,621.11 MT, followed by Central Luzon, 29.2% and Ilocos Region 1.4%.
Native onion production rose 22.9% to 1,252.11 MT compared led by Ilocos Region with 79.4% or 993.94 MT, followed by Central Luzon, 15.6%, and Cagayan Valley 4.7%.
Second quarter production of sweet potato rose 0.1% to 157,681.91 MT led by the Bicol Region with 31% or 48,877.60 MT, followed by Central Luzon, 18.2% and the Eastern Visayas 14%.
Mung bean output fell 8.5% to 21,773.17 MT. Top producers were the Ilocos Region with 41.3% or 8,988.58 MT, followed by Central Luzon, 26.9% and Cagayan Valley 21.7%.
Cassava production fell 4.2% to 692,600.41 MT, with 37.3% or 258,034.74 MT produced by Northern Mindanao, 32% by the Autonomous Region in Muslim Mindanao and 7% by the Cagayan Valley.
In a separate report, the PSA said banana production in the second quarter rose 1.3% to 2.26 million MT. Cavendish bananas, the main type for export, were the top variety, accounting for 52.3% or 1.18 million MT, followed by Saba, 28.2% and Lakatan 10.4%.
Davao Region produced 38.9% or 878,648.65 MT, followed by Northern Mindanao 19% and Soccsksargen (South Cotabato, Cotabato, Sultan Kudarat, Sarangani, and General Santos City) 12.2%.
Pineapple production rose 4.6% to 744,824.15 MT led by Northern Mindanao with 48.6% or 362,000.13 MT, followed by Soccsksargen, 25.2%, and the Bicol Region 11.5%.
The PSA said mango output for the period fell 0.2% to 556,815.09 MT, with 80.9% consisting of the carabao mango variety. Ilocos Region was the top producer with 22.4% of the total or 124,684.87 MT, while Zamboanga Peninsula and Soccsksargen both accounted for about 9.8%, or 54,296.52 MT and 54,452.50 MT, respectively.
Calamansi production during the quarter fell 7.8% to 13,380.91 MT, with the Zamboanga Peninsula accounting for 20.1% or 2,692.12 MT, followed by Mimaropa, 15.5%, and Central Luzon 14.9%. — Revin Mikhael D. Ochave