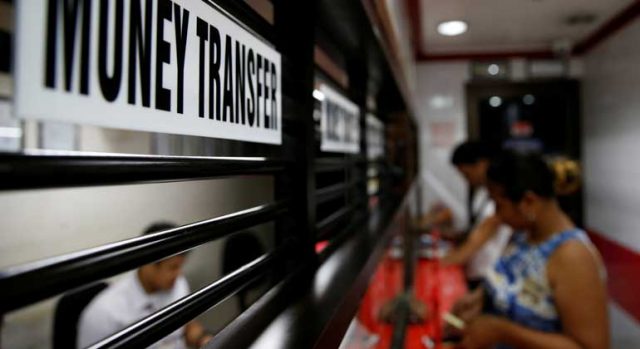 CASH REMITTANCES in March were still declining in real terms and considering foreign exchange movements, according to Nomura Global Research.
"In local currency and inflation-adjusted terms, we estimate 'real' remittances growth was a much weaker minus 4.2% in March, picking up only slightly from the minus 4.7% in February," Nomura chief ASEAN economist Euben Paracuelles and analyst Rangga Cipta said in a note Tuesday.
The peso closed at P47.55 to the dollar on Monday against its P48.023 close on Dec. 29, the last trading day of 2020. The peso's appreciation means remittances in dollars yield lower peso values.
Inflation has exceeded the central bank's 2-4% target band since January.
The Bangko Sentral ng Pilipinas estimated on Monday that remittance inflows rose for a second straight month in March, growing 4.9% year on year to $2.514 billion.
"This underlying (remittance) weakness is consistent with disappointing private consumption growth in the first quarter gross domestic product data. It also indicates that the support from remittances for household spending remains weak," Nomura Global said.
Household spending declined 4.8% in the three months to March, reversing the 0.2% rise posted a year earlier. The contraction, however, was smaller than the minus 7.3% posted in the fourth quarter of 2020. Household spending accounts for up to three-fourths of the economy.
"The outlook for remittances is still uncertain, in our view. While some host countries like the US are recovering, worker deployments from the Philippines may be slow to recover due to the local COVID-19 (coronavirus disease 2019) situation and the latest border restrictions in Taiwan and Singapore may pose additional headwinds in the near term," the analysts said.
Taiwan and Singapore were considered relatively successful in containing the virus, though both economies have reimposed restrictions in light of the increase in cases in recent weeks.
Nomura expects cash remittances to grow 5.1% this year, reflecting the low base from a year earlier. This is higher than the central bank's 4% outlook.
Last year, remittance inflows dipped 0.8% to $29.903 billion, the first contraction since 2001. — Luz Wendy T. Noble