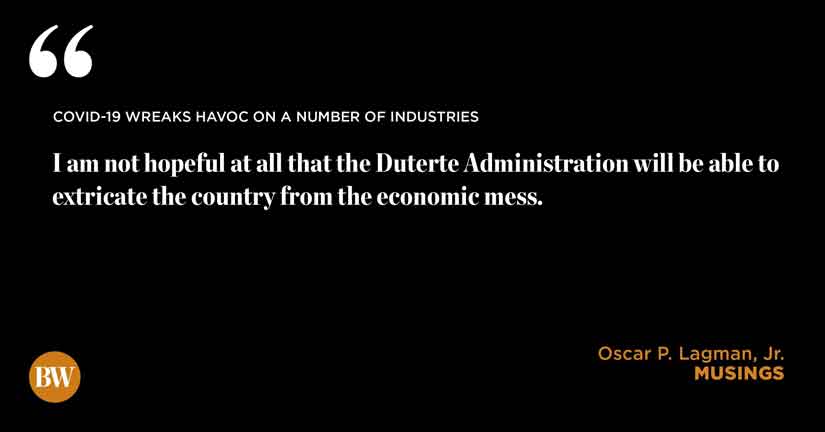 In order to prevent the novel coronavirus SARS-CoV-2 from spreading uncontrollably all over the land, the country's health authorities recommended the imposition of social or physical distancing. To ensure the strict observance of the physical distancing protocol, the national government, on the recommendation of the Inter-Agency Task Force on Emerging Infectious Diseases (IATF), ordered the closure of certain establishments while the quarantine was in force.
The government directive virtually shut down the tourism industry, which consists of several segments: Accommodation or Lodging, Restaurants and Bars, Land Transportation or Tours, and Recreation Facilities or Resorts. All segments are heavy in personal contact interaction or face-to-face interaction between provider of service and customer. While the closure of these amenities is only for the duration of the enhanced community quarantine, many of them would eventually close down permanently due to the sharp decline in patronage as the IATF strongly recommends the continued observance of physical distancing even after the lifting of the lockdown.
Even without any directive from the IATF, the fear of contracting COVID-19 from a service provider who might be an asymptomatic carrier will deter people from availing themselves of the pleasures of tourist destinations. That would be unfortunate as the country was counting on the tourism industry to serve as the catalyst of the country's economy, for which reason both the public and private sectors had invested heavily in the development of the infrastructure required by the booming industry.
The outbreak of COVID-19 caused the suspension of the frenzied building of roads, bridges, airports, seaports, hotels, and recreational facilities. The expected prevalence of SARS-CoV-2 does not portend the resumption of frenzied building of tourism-related infrastructure, maybe not even a soft resumption of it.
Even restaurants that do not cater to tourists will experience considerable loss of business as well. Fear of contracting COVID-19 not only from the establishment's personnel but from other customers will deter people from eating in those places. Severely affected would be the fast-food type food outlets where customers can share tables or are often back-to-back as tables are set close to each other to accommodate more customers.
Food courts in malls and cafeterias in office buildings will have fewer dine-in or table-served customers and will have to downsize their operations. Convenience stores that serve ready-to-eat meals will most probably discontinue that part of their business due to much reduced patronage.
Many of these food outlets will be converted into take-out counters or take-off points for delivery service — that is if they do not decide to cease operations.
The decline of the restaurant industry will have a domino effect on industries with close links to the industry. Suppliers of raw materials and consumables (table napkins, food bags, etc.), labor contractors, security agencies, other service providers (maintenance, garbage disposal, laundry, etc.) will lose considerable business.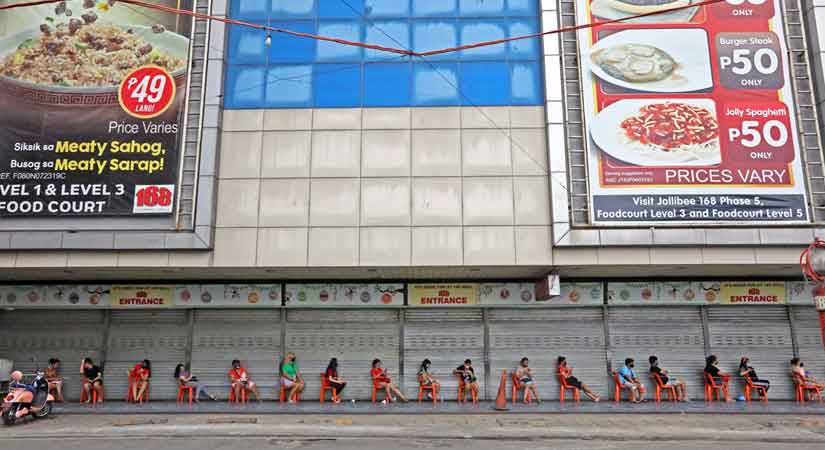 The physical distancing protocol will have a great impact on industries that rely heavily on face-to-face interaction. Among these are personal care services such as beauty salons, reducing clinics, fitness centers, and massage parlors. For fear of being infected by the service provider, instructor, or attendant, many regular clients will opt for self-service.
The avoidance of physical contact with other people will also have an impact on establishments that normally draw a large number of customers like department stores, supermarkets, and school/office supplies stores. They will no longer draw window shoppers and consequently lose the impulse buyers among them.
As I had written in my April 14 column, movie houses, live-show theaters, and concert halls will suffer a sharp fall in ticket sales as people would not want to be seated less than six feet away from another person for fear of being infected with SARS-CoV-2 by them. Likewise, sports arenas will draw much fewer spectators even if men's basketball, whether pro or college, or women's volleyball, also whether pro or college, is the billed event.
I wonder how the premier hospitals in Metro Manila and prominent physicians will observe the physical distancing rule in the hospitals' patient waiting halls or in the physician's office. Physicians have their consulting hours posted on their door or shown in their calling card and prescription pad. But they usually come one hour later than the supposed start of their consulting time. This is deliberate so that their patients fill up the waiting areas before they (the physicians) come. When they have arrived, their secretary calls in the patient one after the other. There is no time gap between patient consultations. A gap of 10 to 15 minutes could mean the loss of a consultation fee worth P1,000.
Public transportation was already chaotic before the imposition of physical distancing rules. The new normal in public transportation may paralyze the entire system. With fewer passengers allowed, and an increase in fare totally unacceptable to the riding public, jeepney and bus operators will incur tremendous losses, forcing many of them to cease operations. That would throw out into the streets hundreds of commuters, which in turn would disrupt commerce. Neither the Metro Manila Development Authority nor the national government is financially and administratively capable of taking over the metropolitan transport system. Both failed miserably in rehabilitating the light railway system. The disruption of commerce in the National Capital Region would approximate the impact on the economy of the imposition of the enhanced community quarantine in Metro Manila.
I am not hopeful at all that the Duterte Administration will be able to extricate the country from the economic mess it has placed the country in, especially with the only independent-minded economist, National Economic Development Authority Director-General Ernesto Pernia (University of California, Berkeley PhD) now gone from the Duterte Cabinet.
Bangko Sentral ng Pilipinas Governor Benjamin Diokno, is also a trained economist, with an MA from Johns Hopkins and a PhD from Syracuse. But his many stints in government during the presidencies of Cory Aquino, Joseph Estrada, and Rodrigo Duterte have turned him into a wily politician. Remember his unforgettable statement in 2017 as Budget Secretary, "The budget is a political tool to reward administration allies and punish political enemies. If you're with us, then you get something. If you're not with us, then you don't get something." When he was writing a column in this paper, he repeatedly wrote that the use of the budget by President Benigno Aquino III as a political tool had a deleterious effect on the economy.
Oscar P. Lagman, Jr. is a retired corporate executive, business consultant, and management professor. He has been a politicized citizen since his college days in the late 1950s.