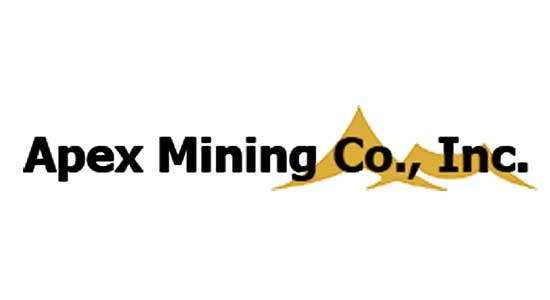 APEX MINING Co. Inc. saw a 133.3% increase in its attributable net income to P278.81 million for the first quarter on the back of better revenues and metal prices.
The listed mining company said in a regulatory filing on Tuesday that its consolidated revenues for the January-to-March period rose 30.3% to P1.55 billion from P1.19 billion last year.
Gold revenues increased 29.5% to P1.45 billion after the sale of 17,051 ounces of gold during the period.
Silver revenues also climbed 56.7% to P103.02 million, with 85,681 ounces of silver sold for the quarter.   
According to Apex Mining, the milling throughput of its Maco Mine in Davao De Oro for the quarter fell 0.8% to 157,552 tons against 158,834 tons last year.
"While tonnage milled was slightly lower this quarter, a higher recovery rate was achieved at 87.06% from 86.84% a year ago," the company said in the regulatory filing.
It added that the average ore grade in Maco Mine during the quarter reached 3.14 grams of gold per ton, a 3.3% improvement from the 3.04 grams per ton last year.
The company's gold sales reached 15,878 ounces, a 14.1% increase, against 13,916 ounces sold in 2020.   
Meanwhile, Apex Mining's Sangilo mine in Itogon, Benguet posted a milling throughput of 11,898 tons with a gold recovery rate of 90.74%. The mine's gold sales reached 1,173 ounces during the period.
"Partly cushioning the negative effect in revenue of the lower metal outputs were the stronger metal prices which averaged $1,752 per ounce for gold and $25 per ounce for silver, as compared to $1,585 and $17, respectively, in 2020," the company said.
Apex Mining's cost of production during the quarter increased 21.8% to P1.06 billion from P871.68 million last year.
"There are no know trends, events or uncertainties that would have any material impact on liquidity and revenues of the company except for the coronavirus disease 2019 (COVID-19) pandemic," the company said.
On Tuesday, shares of Apex Mining at the stock exchange dropped 1.16% or two centavos to finish at P1.70 per share. — Revin Mikhael D. Ochave