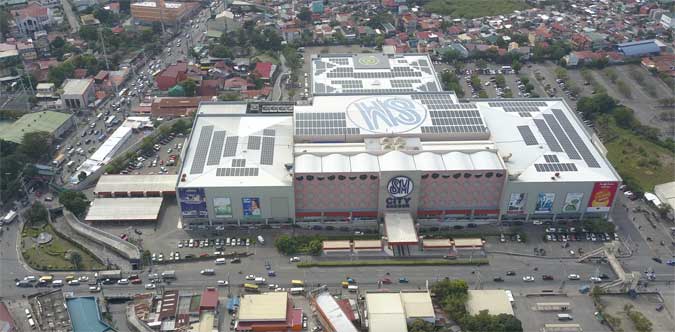 SM City Bacoor unveiled on Friday a 1.3-megawatt (MW) rooftop solar-powered facility which it hopes will help save P10.3 million in annual power bills and reduce its dependence on the grid.  
Designed by local solar firm Green Heat Corp., the facility is made up of over 3,100 solar panels covering 6,230 square meters. It can produce an average of 128,000 kilowatt-hours (kWh) of energy per month.  
SM City Bacoor expects to reduce its carbon footprint by over 8,400 metric tons by the first year of the facility's operations, SM Supermalls Assistant Vice President for Operations for South 1 Region Lorenzo Leon A. Calingasan IV said during the virtual launch. 
"SM recognizes its impact on the environment and continuously takes measures to prioritize the efficient management of its resources, which in this case is our mall's vast rooftop space that, aside from its use as shelter, is now a reliable source of power," he was quoted as saying. 
Green Heat Director Glenn Tong said that they were excited to move forward with the partnership, supporting the mall's initiative to complete its green business model. 
"Our group guarantees providing top quality systems that will perform for many years for our partners, who in turn can expect to make significant savings while making a lasting impact on the environment," Mr. Tong said.   
During the rainy season, the installed solar rooftop facility can generate up to 15% of energy. The panels currently have a lifespan of 25 years. 
Mr. Calingasan said that the Cavite mall's foray into harnessing power from the sun is part of SM Supermalls' many environmental projects. 
Seven years ago, SM City Bacoor started using light-emitting diode lights to become conserve energy. The management also started recycling treated wastewater in its toilets to manage water consumption and began a "Trash-to-Cash" campaign that promoted the trade of recyclables, among others.  
SM Supermalls is owned by SM Prime Holdings, Inc., a listed company. Shares of SM Prime in the stock exchange inched up by 1.79% or 65 centavos to finish at P36.90 apiece on Friday.