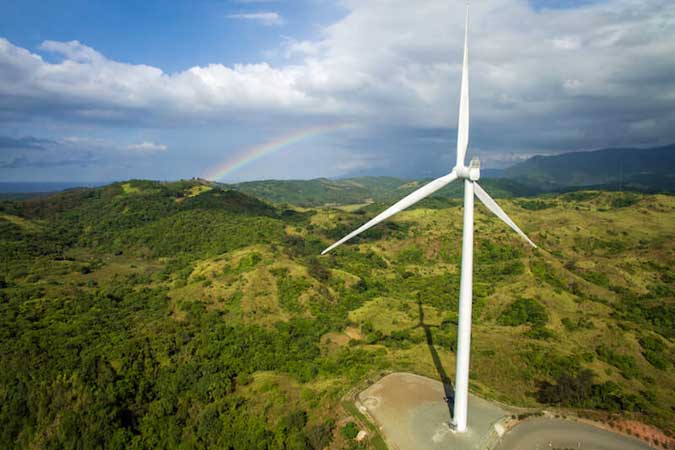 AYALA-LED AC Energy Corp. said on Monday that it had committed to supply over 28,900 megawatt-hours of renewable energy (RE) to the Laguna-based plant of consumer goods firm Pacific Synergy Food & Beverage Corp.
Under the deal, AC Energy will provide 100% RE to support Pacific Synergy's plant during its peak operating hours for the next two years. The Ayala Corp. unit's supply will come from its wind, solar and geothermal portfolios, the firm said in a press release.
The agreement will help eliminate an estimated 1,500 tons of carbon dioxide equivalent for the duration of the deal, which translates into offsetting the emissions of over 320 cars per year, AC Energy said.
It marks Pacific Synergy's first RE purchase for its electricity requirements.
"The switch to renewable energy through our partnership with AC Energy is a major milestone for us, not only in reducing the carbon footprint of our expanding operations, but also in supporting the sustainable development and low-carbon future of the country," Pacific Synergy President Charles Stewart Lee said.
"We are proud to enable the development of new renewable energy plants and encourage the growth of the green energy sector and help create much needed jobs," he added.
In the same statement, AC Energy said that its retail renewable electricity program allows firms to "green" their sources by directly buying energy from the operating RE plants, purchasing carbon credits to offset emissions, and becoming "direct enablers" of the energy transition as their investments are channeled into the construction of more RE facilities.
AC Energy Executive Director and Head of Commercial Operations Roman Miguel G. de Jesus said Pacific Synergy's move to source RE has boosted the program.
"We aim to rapidly expand these positive switches to green energy in the Philippines and across the region and play a meaningful role in the green-led recovery," he said.
AC Energy aspires to become the largest listed RE platform in Southeast Asia as it targets to reach a net attributable capacity of 5,000 MW by 2025. The company currently has around 1,200 of attributable capacity in the Philippines, with renewables accounting for more than half.
In the first quarter, its attributable net income rose by 54% to P829.32 million from the P539.58 million in the same period in 2020, on the back of higher revenues from electricity sales.
AC Energy shares at the local bourse inched down by 0.71% or five centavos to close at P6.97 apiece on Monday. — Angelica Y. Yang