Yields on gov't debt move sideways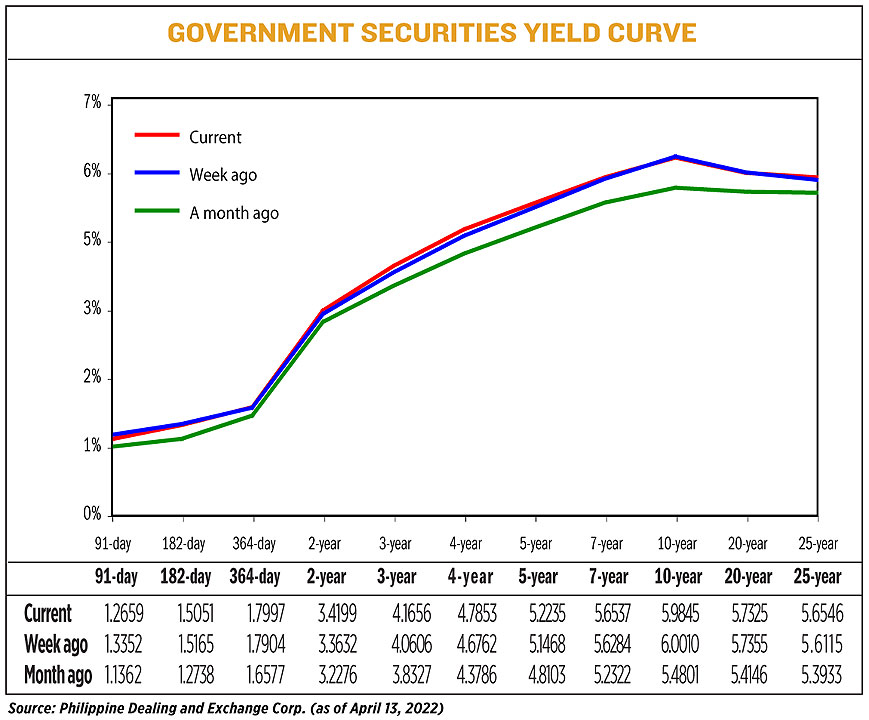 YIELDS on government securities (GS) ended mixed last week as trading was cut short due to non-working days for Holy Week.
GS yields, which move opposite to prices, rose by an average of 2.95 basis points (bps) week on week, according to the PHP Bloomberg Valuation (BVAL) Service Rates published on the Philippine Dealing System's website on April 13.
"Pretty much sideways trading [last] week as market players were on the defensive ahead of long weekend," a bond trader said in a Viber message.
Local financial markets were closed on April 14-15 in observance of Maundy Thursday and Good Friday.
At the short end of the curve, yields on the 91- and 182-day Treasury bills (T-bills) went down by 6.93 bps and 1.14 bps on Wednesday from their finish on April 8 to 1.2659% and 1.5051%, respectively. Meanwhile, the one-year paper went up by 0.93 bp to 1.7997%.
The belly of the curve climbed as rates of the two-, three-, four-, five-, and seven-year Treasury bonds (T-bonds) climbed by 5.67 bps (to 3.4199%), 10.5 bps (4.1656%), 10.91 bps (4.7853%), 7.67 bps (5.2235%), and 2.53 bps (5.6537%), respectively.
At the long end, yields on the 10- and 20-year debt dropped by 1.65 bps (to 5.9845%) and 0.3 bp (5.7325%), respectively. Meanwhile, the 25-year bond went up by 4.31 bps to 5.6546%.
"Yields were mixed, with most short-term tenors slightly easing again week on week," Rizal Commercial Banking Corporation Chief Economist Michael L. Ricafort said in a text message on Wednesday.
The belly rose slightly "partly due to the recent increase in comparable US Treasury yields to new three-year highs," he said.
"But the 10-year to 15-year PHP BVAL yields eased slightly week on week…despite the recent increase in comparable long-term US Treasury yields," Mr. Ricafort said.
US inflation surged to 8.5% year on year in March, the biggest gain in four decades but in line with market expectations, amid record high fuel costs. This could bolster the case for a more aggressive 50-bp hike from the Federal Reserve on its May 3-4 meeting, Reuters reported.
Ahead of the release of March US inflation data, the yield on benchmark 10-year US bonds went up to its highest level in more than three years on Monday.
The latest inflation print caused the benchmark 10-year US Treasuries to decline to 2.721%, its first drop in eight sessions.
"[This] week, market will probably watch clues from FOMC (Federal Open Market Committee) members who will speak in the next few days to see if they will become more aggressive on hawkish rhetoric, especially with CPI (consumer price index) at 40-year high," the bond trader said.
The market players should expect the yield curve to steepen as a response to the US Federal Reserve's tightening, the trader added.
"Expect the curve to steepen since BTr (Bureau of the Treasury) will issue 7- and 10-year bonds next," the trader said. "After that, we expect market players to prefer shorter tenors on risk aversion."
The Treasury will auction off reissued seven-year papers on Tuesday. The bonds have a remaining life of six years and three months.
The BTr plans to borrow P200 billion — P60 billion via T-bills and P140 billion via T-bonds — from the domestic market this month.
The government raises funds from local and external sources to help fund a budget deficit capped at 7.7% of gross domestic product this year. — M.I.U. Catilogo with Reuters